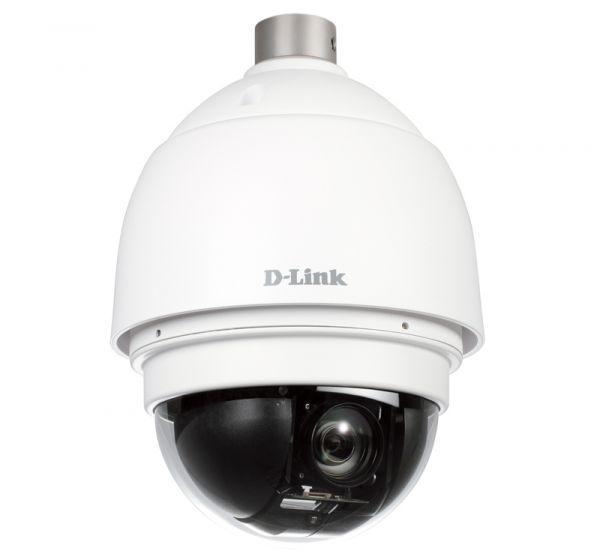 DCS-6915
Project
20X Full HD High Speed Dome Network Camera
Where to buy
Description
The DCS-6915 20X Full HD High Speed Dome Network Camera is a high-definition professional surveillance and security solution suitable for small, medium, and large enterprises. The DCS-6915 features a 3 megapixel sensor capable of Full HD 1080P resolution, allowing for very clear surveillance footage to be taken. The powerful 20X optical zoom and 8X digital zoom ensure that you can see even the smallest details with ease.
Proportional Pan, Tilt, and Zoom Speeds
Proportional pan and tilt make it easy to precisely adjust the camera's view. When the camera zooms in, the panning speed is automatically slowed to improve camera tracking and control. PTZ presets allow the camera to monitor specified areas along predefined paths.
Built for Tough Environments
Specially designed for use in challenging environments the DCS-6915 has a toughened metal, industry-certified IK-10 (vandal-proof) and IP-66 (weather-proof) housing. This means that it is able to withstand sudden high impacts, as well as adverse weather conditions. Additionally, the DCS-6915 carries a Power over Ethernet (PoE) port which allows you to connect the camera to your network and power it through a single cable. The camera apparatus is housed in a weatherproof enclosure (IP-66 standard), and features a built-in heater and fan which enable the camera to operate in extreme environments at temperatures ranging from -40 to 50 °C.
Wide Dynamic Range (WDR)
The Wide Dynamic Range (WDR) function of a camera provides clear images even under backlit conditions where the intensity of illumination can vary significantly. The DCS-6915 is recommended for extreme high-contrast environments. For example, when placed indoors, the DCS-6915 will adjust itself to the intense sunlight that may be streaming in through a nearby window. This makes it an ideal solution for security applications.
Removable IR Cut Filter for Continuous Monitoring
The IR Cut Filter can be manually applied, or set to automatically adjust based on lighting conditions. This feature enables the camera to capture crisp color images during the daytime, and grayscale images in low-light.
Robust Management Software
The included D-ViewCam camera management software allows you to view
up to 32 cameras on a single computer screen from a central location. Motion detection and digital input devices trigger automated e-mail alerts that can instantly inform administrators of unusual activities.
General features
Camera Hardware Profile
• Sony Exmor 1/2.8" progressive 3 Megapixel CMOS sensor
• Minimum illumination 0.1 lux (Color); 0.01 Lux (B/W)
•Built-in Infrared-Cut Removable (ICR) Filter
• S/N ratio > 50 dB (AGC off)
• Electronic shutter 1/1 to 1/10,000 sec.
• Variable 20x optical zoom, 8x digital zoom
• Focal length 4.7 to 96 mm
• Angle of View
(D) 64.42° to 4.65°
(H) 52.27° to 4.07°
(V) 33.4° to 2.33°
PTZ Hardware Profile
• Pan travel: 360° endless
• Tilt Travel: -10° to 190°
• Presets: 256 points
• Preset Accuracy: ± 0.225°
• Preset Speed: 5° to 400°/s
• Sequence Paths: 8
• Auto Pan Paths: 4
• Cruise Paths: 8
• Pan and tilt speed proportional to zoom ratio
• Resume after power loss
• Home Function: Preset, Sequence, Auto pan, Cruise
• Auto Flip: Mechanical/Digital/Off
• Digital Slow Shutter
• Image Freeze
• Image Inverse
Image Features
• Configurable image size, quality, frame rate, and bit rate
• Time stamp and text overlays
• Configurable motion detection windows
• 16 configurable privacy masks
• Configurable white balance, shutter speed, brightness, saturation, contrast, sharpness
Video Compression
• Simultaneous H.264/MJPEG format compression
• H.264 multicast streaming
• JPEG for still images
Video Resolution
• 1920 x 1080 (1080P)
• 1280 x 720 (720P)
• 640 x 480 (VGA)
• 800 x 600 (SVGA)
• 1024 x 768 (XGA)
• 1280 x 1024 (SXGA)
• 640 x 480 (VGA)
• 320 x 240 (CIF)
Audio Support
• G.726
• G.711
External Device Interfaces
• 4 alarm inputs
• 2 alarm outputs
• Audio input/output
Network Protocols
• IPv4
• TCP/IP
• UDP
• ICMP
• DHCP Client
• NTP Client (D-Link)
• DNS Client
• DDNS Client (D-Link)
• SMTP Client
• FTP Client
• HTTP
• PPPoE
• UPnP Port Forwarding
• RTP/RTSP/RTCP
• IP filtering
• IGMP
• IEEE802.1x
• QoS
• SNMP
• ONVIF Compliant
Security
• Administrator and user group protection
• Password authentication
System Requirements for Web Interface
• Microsoft Windows 8/7/Vista/XP/2000
• Internet Explorer, Chrome, or Firefox
Event Management
• Motion detection
• Tamper detection
• Event notification and upload snapshots/video clips via SMTP or FTP
• Multiple event notification
• Multiple recording methods for easy backup
• Supports multiple HTTP, SMTP and FTP servers
Remote Management
• Configuration accessible via web browser
• Take snapshots/video clips and save to local hard drive
Mobile Support
• Windows 7/Vista/XP/2000
D-ViewCam™ System Requirements
• Operating System: Microsoft Windows 7/Vista/XP
• Web Browser: Internet Explorer 7 or higher
• Protocol: Standard TCP/IP
D-ViewCam™ Software Functions
• Remote management/control of up to 32 cameras
• Viewing of up to 32 cameras on one screen
• Supports all management functions provided in web interface
• Scheduled motion triggered, or manual recording options
Power Input
• AC 24 V, 3 A
Max. Power Consumption
• Max 65 W with heater on
Operating Temperature
• -40° to 50°C
Storage Temperature
• -20° to 70°C
Weatherproof
• IP-66 standard
Vandal-proof
• IK-10 standard
Humidity
• 20% to 80% non-condensing
Weight
• 2.32 kg, with sunshield
Certifications
• CE (Class A)
• CE LVD (EN60965-1)
• FCC (Class A)
• ICES-003
• C-Tick
Dimensions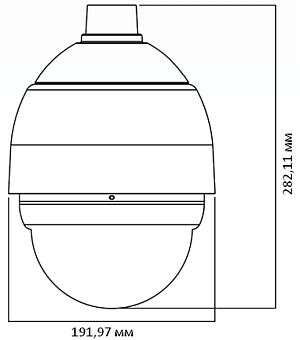 Order info
DCS-6915 20X Full HD High Speed Dome Network Camera