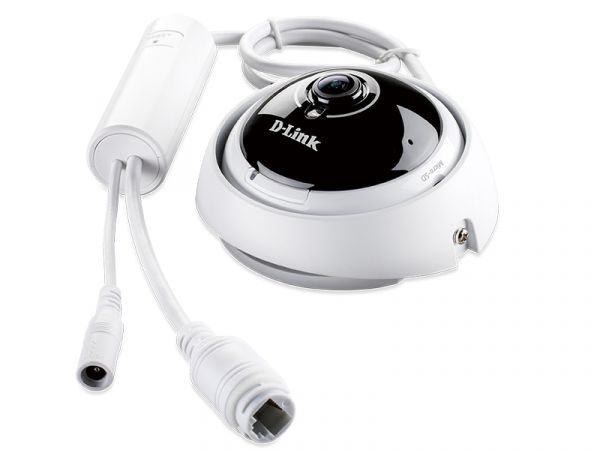 DCS-4622
EOL
Vigilance 360В° Full HD PoE Network Camera
Where to buy
Description
The all-seeing-eye of the DCS-4622 Vigilance 360В° Full HD PoE Network Camera gives you 360В° coverage that captures it all. With its fisheye lens, a high-resolution 3 megapixel sensor, and distortion correction, it`s the ideal solution for monitoring large areas with a single camera.
360 Degree Surveillance
The DCS-4622 uses a fisheye lens to provide incredible wide angle coverage; simply place it on a wall for panoramic 180В° wall-to-wall coverage of a room, or place it on a ceiling for a full 360В° view without blind spots. Distortion correction fixes the camera video so you can use ePTZ to zoom in, zoom out, and pan across your camera`s video to survey a large area with ease.
Keep Watch 24/7
Day or night, the Vigilance 360В° Full HD PoE Network Camera watches over your home or office to keep you informed of what`s going on. Night vision with IR illuminators makes sure nothing is hidden in the shadows, even in complete darkness. Motion detection lets you record events with ease and can even save snapshots and video before the event even happens so you can compression get the whole picture. Two-way audio not only lets you hear what`s happening, but also lets you talk back, so you can greet visitors or scare off intruders.
A Complete, Expandable Surveillance Solution
The DCS-4622 is a self-sufficient surveillance solution, capable of recording snapshots and video to a microSD card without requiring a PC or network storage device. If you want to expand your surveillance options, D-ViewCam management software is also included, giving you the ability to manage up to 32 cameras with a robust set of features, including multi-camera views and automated e-mail alerts to keep you informed of suspicious or unusual activities.
General features
Hardware Profile 
• 1/3.2` 3 megapixel progressive CMOS sensor
• 8 meter (25 feet) IR illumination distance
• Minimum illumination:
  • Day Mode: 0.5 lux
  • Night Mode (LEDs off): 0.25 lux
  • Night Mode (LEDs on): 0 lux
• Built-in Infrared-Cut Removable (ICR) Filter module
• Focal length: 1.1 mm
• Aperture: F2.0
• Angle of view:
  • (H) 180В°
  • (V) 180В°
  • (D) 180В°
• Angle of adjustment:
  • (V) 15В°
• Minimum object distance: 0.3 m
• Built-in microphone and speaker
Image Features 
• Configurable image size, quality, frame rate, and bit rate
• Time stamp and text overlays
• Flip and mirror
• Configurable motion detection windows 
• Desktop, wall, and ceiling display modes
• Configurable privacy mask zones
• Configurable shutter speed, brightness, saturation, contrast, sharpness
• WDR
• 3D filter
Display Modes: 
• Fisheye View
• Normal View
• Multi-View with Panorama 
• Panoramic View
• Mixed View (with Fisheye)
• Multi View
Video Compression 
• Simultaneous H.264/MJPEG format compression
• H.264/MJPEG multicast streaming 
• JPEG for still images
Video Resolutions 
• 1920 x 1536, 1440 x 1152, 1280 x 1024, 960 x 768, 640 x 512 up to 25 fps*
Audio Support 
• G.711 
• AAC
External Device Interface 
• 10/100 BASE-TX Fast Ethernet port
• Supports 802.3af PoE (Class 2) 
• microSD/SDHC/SDXC card slot, accepts cards up to 128 GB**
Network Protocols 
• IPv4, IPv6, ARP, TCP, UDP, ICMP
• DHCP client
• NTP client (D-Link)
• DNS client
• SMTP client
• DDNS client (D-Link)
• SMTP client
• FTP client
• HTTP server
• HTTPS for configuration
• Samba client
• PPPoE
• UPnP port forwarding
• RTP/RTSP/RTCP
• IP filtering
• QoS/DSCP
• CoS
• Multicast
• SNMP
• IGMP
• ONVIF compliant
• Bonjour
Security 
• Administrator and user group protection
• Password authentication 
• HTTP and RTSP authentication
System Requirements for Web Interface 
• Browser: Internet Explorer, Firefox, Safari
Event Management 
• Motion detection
• Event notification and uploading of snapshots/video clips via e-mail or FTP 
• Supports multiple SMTP and FTP servers
• Multiple event notifications
• Multiple recording methods for easy backup
Remote Management 
• Take snapshots/video clips and save to local hard drive 
• Configuration interface accessible via web browser
D-ViewCam System Requirements 
• Operating System: Microsoft Windows 10/8/7/Vista
• Web Browser: Internet Explorer 7 or higher 
• Protocol: TCP/IP
D-ViewCam Software Functions 
• Remote management/control of up to 32 cameras
• Supports all management functions provided in web interface 
• Viewing of up to 32 cameras on one screen
• Scheduled motion triggered, or manual recording options
Physical Parameters
Weight
• 188 g В± 5%
Dimensions  
• Diameter: 97 mm
• Height: 48.3 mm
External Power Adapter (not included)
• Input: 100 to 240 V AC, 50/60 Hz
• Output: 12 V DC, 1.5 A
Power Consumption 
• 4.6 watts max.
Temperature 
• Operating: 0В° to 40В°C
• Storage: -20В° to 70В°C
Humidity 
• Operating: 20 to 80% non-condensing 
• Storage: 5% to 95% non-condensing
Certifications 
• CE
• CE LVD
• FCC
• C-Tick
* Frame rates when streaming video may vary depending on network conditions and method used.
** microSD/SDHC/SDXC v3.1 compatible.
Order info
DCS-4622  Vigilance 360В° Full HD PoE Network Camera