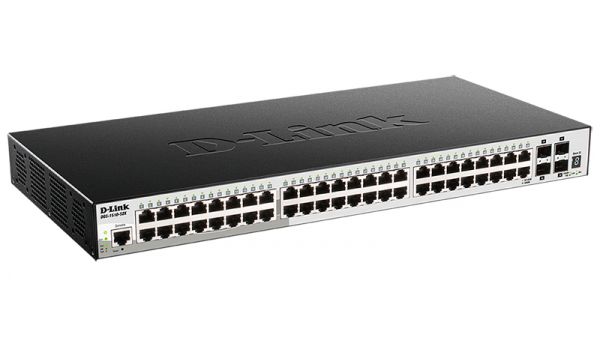 DGS-1510-52X
מיועד לפרויקטים
מתג מנוהל WEB עם 48 פורטים ג'יגהביט וארבע יציאות 10G SFP
היכן לקנות
תאור


DGS-1510 Series includes SmartPro Switch with 10G ports and is ideal for deployment in networks of small and medium-sized businesses (SME / SMB). DGS-1510 Series provides a reliable connection and allows you to easily scale your existing network. Switches in this series are equipped with 16, 24 or 48 ports of 10/100/1000 Mbit / s and 2 ports of 10G SFP +, used for stacking or uplink-connection.

PoE switches are ideal for corporate customers in the networks that use VoIP-services, wireless access points and network cameras. Switch DGS-1510-28P 24-port PoE support standard 802.3at (up to 30 W output power per port) and provides power to various devices with PoE, allowing you to expand the existing network as your business grows and put to use the latest technology without excessive costs.

2-port 10G SFP +, used for stacking or uplink-Connection
Depending on the topology implemented stacking (linear or circular) to create a physical stack users may use one or two ports 10-Gigabit SFP +. Using additional cables can be stacked up to 6 devices (288 Gigabit ports) and get bandwidth at an affordable price. Furthermore, in the same stack can use any switch DGS-1510 series in order to ease of configuration, management, and troubleshooting. Maintaining a speed of 20 Gbit / s in full duplex mode, the switch DGS-1510 allows you to connect to the core network and servers, while providing high performance.

Traffic Management Level 3
Switches DGS-1510 Series supports static routing, which creates an opportunity for communication between different groups of users in different segments of the VLAN network. Since switches can control the routing within the local network, handling external traffic routing only can instruct a network router.

Advanced Layer 2 features
Series Switches DGS-1510 series supports Layer 2 features including IGMP Snooping, Port Mirroring, Spanning Tree and Link Layer Discovery Protocol (LLDP). IEEE 802.3x Flow Control allows you to directly connect servers to the switch for fast, reliable data transfer. Switches support function and Cable Diagnostics function Loopback Detection. Loopback Detection is used to determine the loop and automatically disable the port or VLAN, in which a loop was detected. Cable Diagnostics is designed to determine the quality of the copper cables and the type of cable error.

QoS, bandwidth management
Switches DGS-1510 Series supports Auto Surveillance VLAN (ASV), and Auto Voice VLAN, and are the ideal solution for deploying VoIP and video surveillance. Auto Surveillance VLAN - this is a new, industry-leading technology built into the switches Smart D-Link. This technology combines data and video transmission through a single switch SmartPro, reducing thus the cost of equipment and facilities. ASV also ensures high-quality video in real time and control without compromising the transmission of conventional network data. Auto-sensing equipment connected VoIP allows you to put "voice" traffic to a dedicated VLAN. Thanks to the highest priority and individual VLAN, this feature provides high-quality and secure transmission of VoIP-traffic. In addition, DSCP marks packets with Ethernet-purpose network traffic of different services. In addition, bandwidth management feature allows network administrators to reserve bandwidth for a variety of applications that require high bandwidth or highest priority.

Network Security
Function D-Link Safeguard Engine protects the switches against traffic flooding caused by virus. Authentication based on 802.1X port allows you to use an external RADIUS server to authenticate users.
In addition, the Access Control List (ACL) enhances network security and helps to protect your network by filtering traffic from unauthorized MAC-address or IP-addresses.
Switches DGS-1510 series support the prevention of attacks ARP Spoofing, protects against network attacks Ethernet, which can cause a change in traffic or delay by sending false ARP-posts. To prevent ARP Spoofing attacks switch uses the Packet Control ACLs to block packets containing false ARP-posts. To improve security, use the function DHCP Server Screening, prohibiting unauthorized access DHCP-servers.
Support for IPv6
In DGS-1510 series supports functional IPv6, including MLD Snooping, IPv6 ACL / QoS and IMPB (IP-MAC-Port Binding), which promotes easy equipment integration in next-generation networks. In addition, this series supports both protocol stacks IPv4/v6, allowing switches to act as a bridge between IPv4 and IPv6.

Management flexibility
DGS-1510 Series supports the Single IP Management (SIM), which allows you to manage a virtual stack of 32 devices through one IP-address. This feature greatly simplifies the management of both small workgroups and telecommunications centers, while allowing the network to scale and increase capacity if necessary.
Using Web-based switch management DGS-1510 series and utility D-Link Network Assistant allows administrators to remotely manage the network port level. Utility D-Link Network Assistant supports automatic detection and display switches the D-Link Web Smart, belonging to the same network segment L2. Web-based interface provides access to the switch from anywhere on the network without the need to enter IP-address or subnet mask that allows you to configure the basic setup and found devices, including password changes and software updates.
Switches DGS-1510 Series also supports command-line interface (CLI) and SNMP MIB, enabling centralized management in a large network. Management command-line interface (CLI) via the console port and Telnet. Due to the presence on the switch console port to connect to it even in case of high network load.

Saving energy
Switches DGS-1510 series support JavaScript D-Link Green 3.0, which provides energy savings without sacrificing performance or functionality. Support standard 802.3az Energy Efficient Ethernet allows you to automatically reduce power consumption with a small amount of traffic. The power saving feature automatically powers down ports, indicators and off the system from hibernation on a schedule. Schedule can also be applied to a switch that supports PoE, allowing you to avoid unnecessary energy consumption during the downturn.
מאפיינים כללים
Standards and functions on ports
IEEE 802.3 10BASE-T Ethernet, IEEE 802.3u 100BASE-TX Fast Ethernet, IEEE 802.3ab 1000BASE-T Gigabit Ethernet, 802.3ae 10 GbE, IEEE 802.3x flow control for full-duplex mode, Auto Negotiation for Speed
 
Number of ports
48 ports 10/100/1000 Mbit / s, 4-port 10G SFP +
 
Network Cables
• UTP Cat. 5, Cat. 5e (max. 100 m)
• EIA/TIA-568 100th STP (max. 100 m)
 
Polu-/polny duplex
Full / half duplex for 10/100 Mbit / s
 
Auto detect cable polarity
Automatically or manually configurable MDI / MDIX
 
Performance
• Switching Matrix: 176 Gbit / s
• Transmission Method: Store-and-forward
• Table MAC-addresses: 16 000 entries per device
• Update MAC-addresses:
   - Up to 512 static MAC-address records
   - Enable / disable auto-learning of MAC-addresses
• Speed ​​forwarding 64-byte packets: 130,95 Mpps
• Packet Buffer: 3 MB on device
 
Software Functions
stacking
• Virtual Stacking
   o D-Link Single IP Management
   o Up to 32 devices in a virtual stack
• Bandwidth: up to 20 GB
• Physical Stacking
   o linear or ring topology
   o bandwidth in full duplex mode: up to 40 GB
• Up to 6 devices in the stack
 
Function L2
• Table MAC-addresses: 16K
• Flow Control
   o 802.3x Flow Control
   o HOL Blocking Prevention
• Jumbo-frames up to 9000 bytes
• IGMP Snooping
   o IGMP v1/v2 Snooping
   o IGMP v3 awareness
   o Support for up to 512 IGMP-groups
   o Supports up to 128 static multicast groups
   o IGMP on VLAN
   o Supports IGMP Snooping Querier
   o IGMP Snooping Fast Leave on the basis of unit
• MLD Snooping
   o Supports MLD v1/v2 awareness
   o Support 512 groups
   o Support 128 static multicast groups
• MLD Snooping VLAN-based
• MLD Fast Leave on the basis of unit
• MLD Snooping Querier
• Spanning Tree Protocol
   o 802.1D STP
   o 802.1w RSTP
   o 802.1s MSTP
• The Loopback Detection
• 802.3ad Link Aggregation
   o Max. 32 groups per device / 8 ports per group
• Port Mirroring
• Support 4 groups mirroring
• One-to-One, Many-to-One
• mirroring support for inbound / outbound / traffic in both directions
• Multicast Filtering
• Forward all unregistered groups
• Filters all unregistered groups
 
VLAN
• 802.1Q Tagged VLAN
• Group VLAN: 4K
• Custom VID: 0 ~ 4094
• GVRP • Asymmetric VLAN
• Auto Voice VLAN
• Auto Surveillance VLAN
 
Quality of service (QoS)
• CoS based on:
   o 802.1p Priority Queues
   o VLAN
   o MAC-address
   o Ether type
   o IP-address
   o DSCP
   o The type of protocol
   o Non TCP / UDP port
   o DSCP for IPv6 traffic class
• IPv6 flow label
• 802.1p Quality of Service
• Processing Queues
   o Strict Priority Queue (SPQ)
   o Weighted Round Robin (WRR)
   o Deficit Round Robin (DRR)
   o SPQ + WRR
• 8 queues per port
• Bandwidth Management
   o Port-based (Ingress / Egress, with a minimum value of 64 kbit / s for 10/100/1000 BASE-T)
 
L3 functions
• ARP
   o 256 static ARP entries
   o Support Gratuitous ARP
• IPv6 Neighbour Discovery (ND)
• 8 IP-interfaces
• Default Route
• Static Routing
   o Max. count of records static routes IPv4: 64
• Max. count of records static routes IPv6: 32
 
Access Control Lists (ACL)
• ACL based on:
   o 802.1p Priority Queues
   o VLAN
   o MAC-address
   o Ether type
   o IP-address
   o DSCP
   o The type of protocol
   o Non TCP / UDP port
• DSCP for IPv6 traffic class
• IPv6 flow label
• Actions ACL
   o Allow
   o Reject
• Max. count of ACLs: 256
• Max. Number of rules: 768
• One or more ports (each rule)
• ACL schedule
• ACL Statistics
 
Security
• Port Security
   o Supports up to 128 MAC-addresses per port
• Protection from the broadcast / multicast / unicast storm
• Dynamic ARP Inspection
• Static MAC-address
• D-Link Safeguard Engine
• DHCP Server Screening
• Prevent ARP Spoofing Attacks
   o Max. Number of records: 64
• SSH
   o Support for SSH v2
   o Support IPv4/IPv6
• BPDU Attack Protection
• Prevent DoS attacks
• SSL
   o Support v1/v2/v3
   o Support IPv4/IPv6
• Traffic Segmentation
• Binding IP-MAC-Port Binding
   o DHCP snooping
   o IP Source Guard
   o Dynamic ARP inspection
   o DHCPv6 Guard
   o RA Guard
   o IPv6 Snooping
   o IPv6 Source Guard
• IPv6 ND Inspection
 
AAA
• Mixed Authentication
• 802.1X and MAC-address
   o Support local database / RADIUS-server
   o Support for EAP, OTP, TLS, TTLS, PEAP
• Based Access Control Web (WAC)
   o Based Access Control Port
   o Based Access Control node
   o Dynamic VLAN Assignment
• Guest VLAN
• Authentication RADIUS and TACACS + for access to the switch
• RADIUS and TACACS + accounting
• Access control based on MAC-address (MAC)
   o Based Access Control Port
   o Based Access Control node
• Dynamic VLAN Assignment
• Access control based on the Japanese Web-interface (JWAC)
   o Based Access Control Port
   o Based Access Control node
• Dynamic VLAN Assignment
 
OAM
• Diagnostic cable
• Restore the factory default settings
 
Management
• Command Line Interface (CLI)
• Telnet-server
• TFTP-client
• IPv6 Neighbor Discovery
• Configurable MDI / MDIX
• SNMP
   o Support for v1, v2c, v3
• SNMP Trap
• System Log
   o Max. count of log entries: 10,000
• Debug commands
• Support for multiple versions of the software
• DHCP-client
• Support Utility D-Link Network Assistant
• SNTP
• ICMPv6
• Support protocol stack IPv4/v6
• Automatic configuration via DHCP
• RMON v1
• LLDP, LLDP-MED
• DHCP relay
• Web-interface
• TFTP-client
 
Technology D-Link Green 3.0
• Energy savings
   o Depending on the connection status
   o Shutdown indicators or ports
• Sleep mode
• PoE on the basis of time (only for models that support PoE)