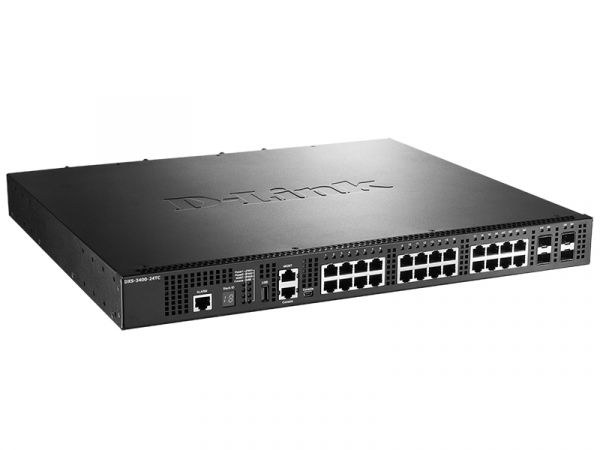 DXS-3400-24TC
מיועד לפרויקטים
מתג מנוהל עם 20 פורטים במהירות +10G SFP, ארבע יציאות משולבות 10 ג'יגהביט/אופטי (+SFP)
היכן לקנות
תאור
D-Link's DXS-3400 Series Lite Layer 3 Stackable 10 GbE Managed Switch consists of new compact, high-performance switches that feature wire speed 10-Gigabit Ethernet switching, routing, and ultra-low latency. The 1U height and high port density make the DXS-3400 Series suitable for enterprise and campus environments where space is at a premium. The DXS-3400 Series switches also include 20 10GBASE-T or 10G SFP+ ports and 4 10GBASE-T/SFP+ combo ports, making them suitable for datacenter, core, and distribution applications.
 
High Availability and Flexibility
The DXS-3400 Series switches feature a modular fan and power supply design for a high availability architecture. The hot-swappable design means that fans and power supplies can be replaced without affecting switch operation. Physical and virtual switch stacking allow the switches to be managed from a single IP address and provide redundancy for connected devices. The Switch Resource Management (SRM) feature allows the hardware table size to be changed, so that switch functions can be optimized based on the use of the switch. The DXS-3400 Series switches come with 3 modes; IP Mode, LAN Mode and L2 VPN Mode, which modify the size of the Layer 2 and 3 tables for optimum efficiency.
 
Feature Rich Software
The DXS-3400 Series switches include feature rich software which satisfies the needs of Small Medium Business, Small Medium Enterprise, and campus users. It supports a wide range of Layer 2 and 3 functions such as VLANs, inter-VLAN routing, multicasting, Quality of Service (QoS), Virtual Router Redundancy Protocol (VRRP), Routing Information Protocol (RIP) v1/2, Next Generation RIP (RIPng), Policy-Based Routing (PBR), and security features. The DXS-3400 Series also includes an easy-to-use web interface and an industry standard CLI for improved management.
 
Lossless Ethernet
Data Center Bridging (DCB) is an essential set of enhancements to Ethernet for networking in data center environments. The DXS-3400 Series switches support several core components of Data Center Bridging (DCB) such as IEEE 802.1Qbb, IEEE 802.1Qaz, and IEEE 802.1Qau. IEEE 802.1Qbb (Priority-based Flow Control) provides flow control on specific priority to ensure there is no data loss during network congestion. IEEE 802.1Qaz (Enhanced Transmission Selection) manages the allocation of bandwidth amongst different traffic classes. IEEE 802.1Qau (Congestion Notification) provides congestion management for data flows within network domains to avoid congestion.
 
Energy Efficient
The DXS-3400 Series switches feature front-to-back airflow which facilitates  the building of energy-efficient data centers. The front-to-back airflow optimizes air circulation inside the rack, allowing hot and cold isles in data centers, increasing energy efficiency in comparison to a mix of front-to-back and side-to-side airflow. The switches also feature in-built smart fans; internal heat sensors monitor and detect temperature changes, and react accordingly by utilizing different fan speeds for different temperatures. At lower temperatures, the fans will run more slowly, reducing the switch's power consumption and noise.
 
מאפיינים כללים
Interfaces
• 20-port 10GBASE-T and 4-port 10GBASE-T/SFP+ Combo Port
 
Console Port
• RJ45 and Mini USB console ports for out-of-band CLI management
 
Management Port
• 10/100/1000BASE-T RJ-45 Ethernet for out-of-band IP management
 
USB Port
• 1 port
 
Switching Capacity
• 480 Gbps
 
Max. Forwarding Rate
• 357.12 Mpps
 
Packet Buffer Memory
• 4 MB
 
MAC Address Table
• Up to 48K entries

Stackability
• Physical Stacking
• Up to 80G stacking bandwidth
• Up to 4 switches in a stack
• Ring/chain topology support
• Virtual Stacking/Clustering of up to 32 units
• Supports D-Link Single IP Management
 
L2 Features
• MAC Address Table
• Up to 48K entries
• Flow Control
• 802.3x Flow Control when using Full Duplex
• Back Pressure when using Half Duplex
• HOL Blocking Prevention
• Spanning Tree Protocol
• 802.1D STP
• 802.1w RSTP
• 802.1s MSTP
• Root Guard
• Loop Guard
• Jumbo Frame
• Up to 12KB
• 802.1AX Link Aggregation
• Max. 32 groups per device, 8 ports per goup
• ERPS (Ethernet Ring Protection Switching)
• Port Mirroring
• Supports One-to-One, Many-to-One
• Supports Mirroring for Tx/Rx/Both
• Supports 4 mirroring groups
• Flow Mirroring
• Supports Mirroring for Rx
• VLAN Mirroring
• L2 Protocol Tunneling
 
L2 Multicast Features
• MLD Snooping
• MLD v1/v2 Snooping
• Supports 256 groups
• Host-based MLD Snooping Fast Leave
• Supports 64 static MLD groups
• MLD Snooping Querier
• Per VLAN MLD Snooping
• MLD Proxy Reporting
• IGMP Snooping
• IGMP v1/v2/v3 Snooping
• Supports 256 IGMP groups
• Supports 64 static IGMP groups
• IGMP per VLAN
• IGMP Snooping Querier
• Host-based IGMP Snooping Fast Leave
• PIM Snooping
 
L3 Features
• ARP
• 512 Static ARP
• Supports Gratuitous ARP
• IP Interface
• Supports 256 interfaces
• Loopback Interface
• IPv6 Tunneling
• Static
• ISATAP
• GRE
• 6to4
• IGMP Proxy Reporting
• VRRP v2/v3
 
L3 Routing
• Static Routing
• Max. 256 IPv4 entries
• Max. 128 IPv6 entries
• Supports route redistribution
• Supports secondary route
• Default Routing
• Policy-based Route (PBR)
• Route Redistribution
• Supports 512 hardware routing entries shared by IPv4/IPv6
• Max. 512 IPv4 entries
• Max. 256 IPv6 entries
• Supports 32K hardware L3 forwarding entries shared by IPv4/IPv6
• Max. 32K IPv4 entries
• Max. 16K IPv6 entries
• RIP
• RIP v1/v2
• RIPng 2
 
VLAN
• 802.1Q
• 802.1v
• Double VLAN (Q-in-Q)
• Port-based Q-in-Q
• Selective Q-in-Q
• Port-based VLAN
• MAC-based VLAN
• Subnet-based VLAN
• Private VLAN
• VLAN Group
• Max. 4K static VLAN groups
• Max. 4094 VIDs
• ISM VLAN (Multicast VLAN)
• Voice VLAN
• Auto Surveilliance VLAN
• VLAN Trunking
• GVRP
• Up to 255 dynamic VLANs
 
AAA
• 802.1X Authentication
• Supports Port-based access control
• Supports Host-based access control
• Identity-driven Policy Assignment
• Dynamic VLAN Assignment
• QoS Assignment
• ACL Assignment
• Web-based Access Control (WAC)
• Identity-driven Policy Assignment
• Dynamic VLAN Assignment
• QoS Assignment
• ACL Assignment
• MAC-based Access Control (MAC)
• Identity-driven Policy Assignment
• Dynamic VLAN Assignment
• QoS Assignment
• ACL Assignment
• Compound Authentication
• Microsoft NAP
• Support 802.1X NAP
• Support DHCP NAP
• RAIDUS and TACACS+ Authentication
• Authentication Database Failover
• Guest VLAN
 
Quality of Service (QoS)
• 802.1p Quality of Service
• 8 queues per port
• Queue Handling
• Strict
• Weighted Round Robin (WRR)
• Strict + WRR
• Deficit Round Robin (DRR)
• Weighted Deficit Round Robin (WDRR)
• Bandwidth Control
• Port-based (Ingress/Egress, min. granularity 64 Kb/s)
• Flow-based (Ingress/Egress, min. granularity 64 Kb/s)
• Per queue bandwidth control (min. granularity 64 Kb/s)
• Support for following actions:
• Remark 802.1p priority tag
• Remark TOS/DSCP tag
• Bandwidth Control
• Committed Information Rate (CIR)
• QoS based on
• 802.1p Priority Queues
• DSCP
• IP address
• MAC address
• VLAN
• IPv6 Traffic Class
• IPv6 Flow Label
• TCP/UDP port
• Switch Port
• Ether Type
• ToS/IP Preference
• Protocol Type
• Three Color Marker
• trTCM
• srTCM
• Congestion Control
• WRED
 
Data Center Bridging (DCB)
• 802.1Qbb Priority-based Flow Control (PFC)
• 802.1Qaz Enhanced Transmission Selection (ETS)
• 802.1Qau Congestion Notification (CN)
 
Access Control List (ACL)
• ACL based on:
• 802.1p priority
• VLAN
• MAC address
• EtherType
• IP address
• DSCP
• Protocol type
• TCP/UDP port number
• IPv6 Traffic Class
• IPv6 Flow Label
• Max. ACL entries:
• Ingress
• IPv4: 1792
• IPv6: 448
• Egress
• IPv4: 512
• IPv6: 256
• 3K VLAN access map
• Time-based ACL
 
Security
• Port Security
• Supports up to 12K MAC addresses per port/system
• Broadcast/Multicast/Unicast Storm Control
• D-Link Safeguard Engine
• DHCP Server Screening
• IP-MAC-Port Binding
• Dynamic ARP Inspection
• IP Source Guard
• DHCP Snooping
• IPv6 Snooping
• DHCPv6 Guard
• IPv6 Route Advertisement (RA) Guard
• IPv6 ND Inspection
• ARP Spoofing Prevention
• Max. 64 entries
• Duplicate Address Detection (DAD)
• L3 Control Packet Filtering 2
• Unicast Reverse Path Forwarding (URPF)
• Traffic Segmentation
• SSL
• Supports v1/v2/v3
• Supports IPv4/v6 access
• SSH
• Supports SSH v2
• Supports IPv4/v6 access
• BPDU Attack Prevention
• DOS Attack Prevention
 
Operations, Administration, and Maintenance
• Cable Diagnostics
• 802.3ah Ethernet Link OAM
• D-Link Unidirectional Link Detection (DULD)
• Dying Gasp
• 802.1ag Connectivity Fault Management (CFM)
• Y.1731 OAM
• Optical Transceiver Digital Diagnostic Monitoring (DDM)
 
Management
• Web-based GUI
• CLI
• Telnet
• TFTP Server
• TFTP Client
• FTP Client
• Secure FTP (SFTP) Server
• Traffic Monitoring
• SNMP
• Supports v1/v2c/v3
• SNMP Trap
• System Log
• DHCP Client
• DHCP Server
• DHCP Relay options 60, 61, 82
• Multiple Image
• Multiple Configuration
• Flash File System
• DNS Client
• CPU Monitoring
• MTU Setting
• ICMP Tools
• Ping
• Traceroute
• LLDP & LLDP-MED
• DNS Relay
• SMTP
• DHCP Auto Configuration
• NTP
• RCP (Remote Copy Protocol)
• RMONv1
• RMONv2
• Trusted Host
• Password Encryption
• Debug Command
• sFlow
• Switch Resource Management (SRM)
• Microsoft Network Load Balancing (NLB) 2
• Openflow v1.3
 
MIB & RFC Standards
• MIB Structure: RFC1065, RFC1066, RFC1155, RFC1156, RFC2578
• Concise MIB Definitions: RFC1212
• MIBII: RFC1213
• MIB Traps Convention: RFC1215
• Bridge MIB: RFC1493, RFC4188
• SNMP MIB: RFC1157, RFC2571, RFC2572, RFC2573, RFC2574, RFC2575, RFC2576
• SNMPv2 MIB: RFC1442, RFC1901, RFC1902, RFC1903, RFC1904, RFC1905, RFC1906, RFC1907, RFC1908, RFC2578, RFC3418, RFC3636
• RMON MIB: RFC271, RFC1757, RFC2819
• RMONv2 MIB: RFC2021
• Ether-like MIB: RFC1398, RFC1643, RFC1650, RFC2358, RFC2665, RFC3635
• 802.3 MAU MIB: RFC2668
• 802.1p MIB: RFC2674, RFC4363
• Interface Group MIB: RFC2863
• RADIUS Authentication Client MIB: RFC2618
• MIB for TCP: RFC4022
• MIB for UDP: RFC4113
• MIB for Diffserv.: RFC3298
• RADIUS Accounting Client MIB: RFC2620
• Ping & TRACEROUTE MIB: RFC2925
• Running configuration writes and backup (D-Link MIB)
• TFTP uploads and downloads (D-Link MIB)
• Trap MIB (D-Link MIB)
• IPv6 MIB: RFC2465
• ICMPv6 MIB: RFC2466
• Entity MIB: RFC2737
• VRRP MIB: RFC2787
• RIPv2 MIB: RFC1724
• OSPF MIB: RFC1850
• IPv4 Multicast Routing MIB: RFC5132, RFC2932
• PIM MIB for IPv4: RFC2934
• IP Forwarding Table MIB: RFC4292
• IPv6 SNMP Mgmt Interface MIB: RFC4293
• DDM MIB (D-Link MIB)
• Private MIB (D-Link MIB)
• DIFFSERV MIB (D-Link MIB)
• MIB for D-Link Zone Defense (D-Link MIB)
• IP: RFC791
• UDP: RFC768
• TCP: RFC793
• ICMPv4: RFC792
• ICMPv6: RFC2463, RFC4443
• Extended ICMP to Support Multi-Part Messages: RFC4884
• ARP: RFC826
• CIDR: RFC1338, RFC1519
• Definition of the DS Field in the IPv4 and IPv6 Headers: RFC2474, RFC3168, RFC3260
• Extensible Authentication Protocol (EAP): RFC1321, RFC2284, RFC2865, RFC2716, RFC1759, RFC3580, RFC3748
• SNMP Framework: RFC2571
• SNMP Message Processing and Dispatching: RFC2572
• SNMP Applications: RFC2573
• User-based Security Model for SNMPv3: RFC2574
• Expedited Forwarding PHB (Per-Hop Behavior): RFC3246
• Supplemental Information for the New Definition of the EF PHB (Expedited Forwarding Per-Hop Behavior): RFC3247
• DNS extension support for IPv6: RFC1886
• Path MTU Discovery for IPv6: RFC1981
• IPv6: RFC2460
• Neighbor Discovery for IPv6: RFC2461, RFC4861
• IPv6 Stateless Address Auto-configuration: RFC2462, RFC4862
• IPv6 over Ethernet and definition: RFC2464
• Dual Stack Hosts using the "Bump-In-the-Stack" Technology: RFC2767
• IPv6 Addressing Architecture: RFC3513, RFC4291
• IPv4/IPv6 dual stack function: RFC2893, RFC4213
• Default Address Selection for Internet Protocol version 6: RFC3484
• IP-IP tunnel: IP Encapsulation within IP: RFC2003
• IP-IP tunnel:Allow MTU = 1500 or 1520: RFC1191
• L2 distributed tunnel - CAPWAP Encapsulation: RFC5415