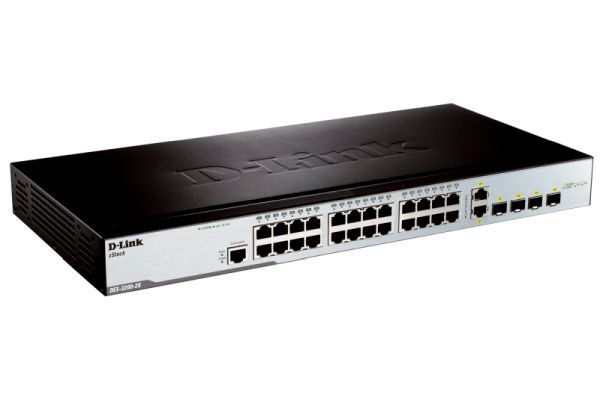 DES-3200-28_RFB
24 10/100Base-TX ports + 2 100/1000Base-X SFP ports + 2 Combo 100/1000Base-T/SFP ports L2 Managed Switch
היכן לקנות
תאור
The DES-3200 Series is a member of D-Link's Layer 2 managed switch family designed for the ETTX, FTTX, and enterprise markets. The DES-3200 Series provides 8/16/24, or 48 10/100 Mbps Fast Ethernet connections and 2/4 combo Gigabit/SFP ports. The DES-3200-10/18 comes in a 9/11-inch compact size and incorporates a fanless design suitable for desktop, telecom cabinet, or distribution box deployment. The DES-3200-26,28,28/ME,28F, and 52 models are 1U 19" rack mount size and provide 24/48 copper or fiber connections on Fast Ethernet with the beneficial design of 2/4 Gigabit/SFP Combo ports which provide up to 4 Gbps uplink bandwidth or dual Ethernet ring topology support. The DES-3200-10-DC,18-DC,26-DC, and 52-DC provide 48 V DC input which is adequate for the power systems of telecommunication facilities. The DES-3200-28/ME is a purpose-made device for telecom cabinets where devices have only one manageable side and operators or engineers have to do troubleshooting very quickly. The DES-3200-28/ME has all of its interfaces in the front including the power supply to meet specific metropolitan market requirements. Also, it can support an alarm interface for event detection and alarm actions. The DES-3200-28F is the ideal solution for FTTX deployments. It provides direct Ethernet fiber connectivity to the home CPEs. Without the crosstalk problem of traditional copper cables, DES-3200-28F extends the coverage of ETTX up to 20 km. The DES-3200-28P/52P are IEEE 802.3af and IEEE 802.3at Power over Ethernet (PoE) compliant switches and provide 15.4 W per port and up to 30 W in the first four/eight ports. The PoE/PoE+ powers devices such as video IP phones, wireless access points, and IP cameras directly through Ethernet cables which makes the deployment of the network much easier. All switches of the DES-3200 series feature embedded 2 or 4 Gigabit SFP uplinks, which provides flexible network topology choices such as ring, tree, or mixed.
Security and Availability
The DES-3200 Series supports 802.1X port-based/host-based access control, Guest VLAN and RADIUS/TACACS/XTACACS/TACACS+ Authentication for strict access control over the network. The IP-MAC-Port Binding feature allows administrators to bind a source IP address with an associated MAC for a defined port number to enhance user access control. Furthermore, with the DHCP snooping feature, the switch automatically pairs the IP/MAC by snooping DHCP packets and saving them to the IMPB white list. These features play a significant role in keeping the network secure and auditable. The built-in D-Link Safeguard Engine identifies and prioritizes "CPU interested" packets to prevent malicious traffic from interrupting normal network flows and protects switch operation. In addition, the DES-3200 Series provides various multi-layer Access Control List (ACL) rules. Administrators are able to limit the network services or access rights without impacting the switch performance.
Resilience/Performance Enhancement
For mission critical environments the DES-3200 Series supports 802.1D-2004 edition, 802.1w and 802.1s Multiple Spanning Tree (MSTP). STP allows you to configure the switch with a redundant backup bridge path, so transmission and reception of packets can be guaranteed in the event of any failed switch on the network. The switches also support 802.1AX and 802.3ad Link Aggregation, enabling you to group multiple ports in parallel to form a single port, increasing bandwidth and redundancy for higher availability. For Quality of Service (QoS) , the switch supports 802.1p and advanced packet
classification based on TOS, DSCP, MAC address, IP addresses, VLAN ID, TCP/UDP port number, protocol type, and user-defined packet content. This enables flexible configuration for specific multi-media applications such as VoIP or IPTV. Furthermore, the DES-3200 series supports automatic, effective QoS function for voice traffic. The Voice VLAN includes the voice end points automatically in to a dedicated VLAN with higher priority to guarantee the quality and security of the voice traffic.
Traffic and Bandwidth Control
The bandwidth control feature allows network administrators to define the ingress/egress throughput levels for each port with granularity down to 8 kpbs. The switch also supports the storm control feature which minimizes damages within the network. Port mirroring helps administrators facilitate traffic diagnostics or track switch performance and make changes if necessary. The DES-3200 Series supports a two rate and single-rate Three Color Marker (trTCM/srTCM) to classify traffic streams into conforming and nonconforming groups to guarantee the minimum bandwidth for important traffic.
Multicast Applications
The DES-3200 series provides full L2 multicast functions, including IGMP snooping, IGMP filtering, fast leave, and multicast traffic configuration for specific ports. With L2 Multicast support, the DES-3200 series shows its ability
to handle growing IPTV application. The Host-based IGMP/MLD Snooping allows multiple multicast subscribers per physical interface and ISM VLAN sends multicast streams in a multicast VLAN to save bandwidth in the backbone network. The ISM VLAN profiles allow users to bind/replace the pre-defined multicast registration information to subscription ports quickly and easily.
OAM
The DES-3200 series provides cable diagnostics to check the status of network cables and pinpoint the cause of any network cable malfunction without requiring on-site operator support. The 802.1ag Connectivity Fault Management (CFM) feature provides tools to monitor and troubleshoot end-to-end Ethernet networks, allowing service providers to check connectivity, isolate network issues, and identify customers affected by network issues. The 802.3ah Ethernet OAM, Dying Gasp, and D-Link Unidirectional Link Detection (DULD) functions can improve network management on the Ethernet and
help maintain a stable network connection and support fault locating.
Management Capability
The DES-3200 series supports standard management protocols such as SNMP, RMON, Telnet, SSH/SSL security authentication, and DHCP relay option 82. The switch series also features a web-based GUI that provides a user-friendly interface and easy management. DHCP auto-configuration is an enhanced management feature that allows administrators to preset a configuration on a TFTP server and apply to switches automatically when the switch is trying to get IP addresses from DHCP. It makes the switch deployment easier and quicker, especially in a large scale network. LLDP and LLDP-MED provide quick discovery of Ethernet equipment especially for endpoint devices. According to the discovery result, administrators can easily push the configurations to corresponding devices and build up a topology drawing through the network management system (NMS) quickly. D-Link Single IP Management (SIM) simplifies and speeds up management tasks, allowing multiple switches to be configured, monitored and maintained from any workstation running a web browser through one unique IP address. The DES-3200 Series also works with D-Link's D-View 6.0 software. D-View 6.0 is a Network Management System that allows for the central management of critical network characteristics such as availability, reliability, resilience, and security. D-View 6.0 provides a useful set of tools for network administrators who want to effectively manage device configurations, fault tolerance, performance, and security.
IPv6 Ready
The DES-3200 Series has been certified with IPv6 Ready Logo Phase 2 which guarantees the connectivity and manageability in an IPv6 network. Furthermore, it supports IPv4/v6 dual stack function that allows the switch to act as a bridge between IPv4 and IPv6 networks. As networks grow and the need for larger addressing and higher security becomes critical, the DES-3200 Series supports various IPv6 ACL, IMPBv6, and L3 Control Packet Filtering functions to protect the network against attacks and meet the requirements for the design of the IPv6 architecture.
מאפיינים כללים
Number of Ports
• 24 x 10/100Base-TX ports
• 2 x 1000Base-X ports
• 2 x Combo 100/1000Base/SFP ports
Console Port
• RJ-45 console port
Performance
• Switching Capacity: 12.8 Gbps
• Packet Forwarding Rate: 9.5 Mpps
• MAC Address Table: 16K entries
• SDRAM for CPU: 128 MB DDR2
• Packet Buffer: 1.5 MB
• Flash Memory: 32 MB
• 12 KB
Diagnostic LEDs
• Power
• Link/Active/Speed
Software Features
Virtual Stacking
• D-Link Single IP Management: up to 32 devices
L2 Features
• Spanning Tree Protocol
- 802.1D STP
- 802.1w RSTP
- 802.1s MSTP
- BPDU filtering
- Root restriction
• Loopback Detection
• 802.3ad/802.1AX link aggregation
- Max. 14 groups / 8 ports per group
• Port Mirroring: 1 group
- Supports one-to-one, many-to-one, flow-based
• ERPS
• L2PT
L2 Multicasting
• IGMP Snooping
- Supports 1024 IGMP groups
- IGMP v1/v2/v3 awareness Snooping
- Port/host-based IGMP Snooping Fast Leave
• Report Suppression
• MLD Snooping
- Support 1K MLD Groups
- MLD v1/v2/v2 awareness Snooping
- Fast Leave
• IGMP Authentication
• IGMP/MLD Proxy Reporting
VLAN
• 802.1Q Tagged VLAN
- 4K VLAN
• Port-based VLAN
• MAC-based VLAN
• GVRP
• VLAN Trunking
• Double VLAN Q-in-Q
- Port-based Q-in-Q
- Selective Q-in-Q
• VLAN translation
• Voice VLAN
• ISM VLAN
L3 Features
• IPv6 Neighbor Discovery (ND)
QoS (Quality of Service)
• Bandwidth Control
- Port-based (Ingress/Egress, Min. Granularity 8 Kbps)
- Flow-based (Ingress/Egress, Min. Granularity 8 Kbps)
• DSCP
• 802.1p
• 8 queues per port
• Queue handling
- Strict Priority
- Weighted Round Robin (WRR)
- Strict + WRR
• CoS based on
- Switch port
- 802.1p priority queue
- VLAN ID
- MAC address
- Ether type
- TOS
- DSCP
- Protocol type
- TCP/UDP port number
- IPv6 traffic class
- IPv6 flow label
- User-defined packet content
• Supports following actions for flows:
- Remark 802.1p priority tag
- Remark TOS/DSCP tag
- Flow statistics
ACL (Access Control List)
• Up to 1024 rules
• ACL based on
- Switch port
- 802.1p priority
- VLAN ID
- MAC address
- Ether type
- TOS
- IPv4 address
- IPv6 address
- DSCP
- Protocol type
- TCP/UDP port number
- IPv6 traffic class
• ACL statistics
• Time-based ACL
• CPU interface filtering
AAA
• 802.1X
- Port-based access control
- Host-based access control
• Dynamic VLAN Assignment (VLAN, ACL, QoS)
• MAC-based Access Control (MAC)
- Port-based access control
- Host-based access control
• Web-based Access Control (WAC)
- Port-based access control
- Host-based access control
• Microsoft® NAP IPv4
• Microsoft® NAP IPv6
- Supports 802.1X NAP
- Supports DHCP NAP
• Guest VLAN
• RADIUS accounting
• RADIUS IPv4
• RADIUS IPv6
• TACACS
• TACACS+
• XTACACS
• Trusted Host
Security
• SSH v1/v2
• SSL v1/v2/v3
• Port security for up to 64 MAC addresses for port
• Broadcast/multicast/unicast storm control
• Traffic segmentation
• IP-MAC-port binding
- ARP packet inspection
- IP packet inspection
• DHCP snooping
• D-Link safeguard engine
• DHCP server screening
• DHCP client filtering
• ARP spoofing prevention
• BPDU attack protection
• DoS attack prevention
• NetBIOS/NetBEUI filtering
OAM (Operations, Administration,and Maintenance)
• Cable Diagnostics
• 802.3ah Ethernet Link OAM
• Dying Gasp
• 802.1ag Connectivity Fault Management (CFM)
• 802.3ah D-Link Unidirectional Link Detection (DULD)
• DDM (Digital Diagnostics Monitoring)
• D-Link Green 3.0 Technonlogy
Management
• Web-Based GUI
• Command Line Interface (CLI)
• Telnet Server (IPv6)
• Telnet Server/Client (IPv4)
• TFTP Client (IPv4)
• FTP Client (IPv4)
• SNMP v1/v2c/v3
• SNMP Traps
• SYSLOG
• RMON v1/v2
• LLDP
• 802.1AB
• LLDP-MED
• BootP/DHCP Client
• DHCP Auto Configuration
• DHCP relay
• DHCP relay option 12
• DHCP relay option 60
• DHCP relay option 61
• DHCP relay option 82
• PPPoE Circuit-ID Tag Insertion
• Flash File System
• SNTP
• CPU Monitoring
• Debug command
• Password recovery/ encryption
• Multiple IP Interface
Physical
Weight
• 1.8 kg
Dimensions
• 441 x 210 x 44 mm
Power Input
• 100 to 240 V AC, 50/60 Hz
MTBF
• 540,424 hours
Heat Dissipation
• 61.039 BTU/hr
Maximum Power Consumption
• 20.83 W
Acoustics
• 0 dB
Ventilation
• Fanless
Surge Protection
• 6 kV surge protection on all Ethernet access ports
Operating Temperature
• -5 to 50 °C
Storage Temperature
• -40 to 70 °C
Humidity
• 10% to 90% non-condensing
Safety Certifications
• CE, LVD, UL/cUL, CB, BSMI
EMI
• FCC Class A, CE Class A, VCCI Class A, IC, C-Tick, BSMI
Third-party Certification
• IPv6 Ready Logo Phase 2
הורדות
DES-3200-28F_RFB 24 10/100Base-TX ports + 2 100/1000Base-X SFP ports + 2 Combo 100/1000Base-T/SFP ports L2 Managed Switch