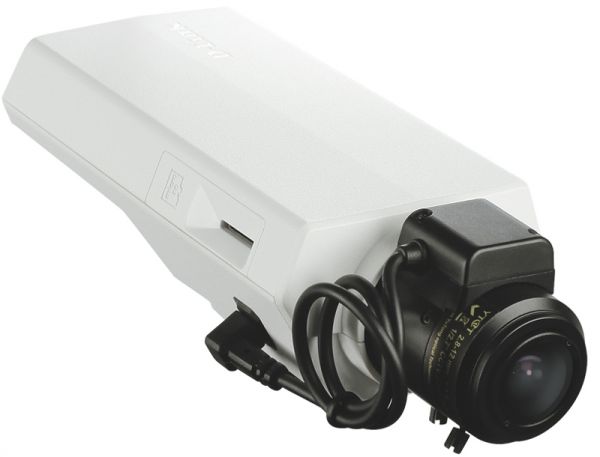 DCS-3511
מצלמת מעקב רשת באיכות HD עם תמיכה ב - PoE
היכן לקנות
תאור
HD- Camera D-Link DCS- 3511 is equipped with a 1- megapixel CMOS-sensor with progressive scan and varifocal lens with 2.8-12 mm focal length . The camera enables you to capture HD- video with a resolution up to 1280x800 at up to 30 frames per second. You can save snapshots and videos on a network drive or on SD- card connected to the camera.

High-resolution video monitoring
Built- megapixel sensor produces snapshots and video quality with resolution up to 720p, providing high-definition video capture with all the details. Functions ePTZ provide digital zoom in / zoom out the video , and pan the image obtained from the camera . Thus , it is easy to monitor a large area . Support for Power over Ethernet (PoE) allows you to install the camera in locations where power outlets are not available.

Support for multiple video streams
To increase bandwidth efficiency and increase the image quality camera DCS- 3511 uses the simultaneous streaming of video formats MJPEG, MPEG- 4 and H.264. In addition , the camera can organize multicast data streams and provide access to video on demand.

Complete solution for conducting surveillance
Camera DCS- 3511 is a complete solution for surveillance , providing snapshots and record video to MicroSD- card, eliminating the need to use a computer or network storage device. To enhance the video surveillance package includes free software D-ViewCam, designed to control the 32 cameras with a wide range of functions , such as viewing the images from multiple cameras at the same time and send to e-mail notifications of suspicious events or emergency situations .
מאפיינים כללים
Hardware profile camera
• Megapixel 1/4-inch CMOS-sensor
• Lens with a focal length of 2,8-12 mm
• Aperture : F1.4
• Built-in ICR filter
• Shutter speed: 1/5 to 1 /10, 000 sec
• Min. illumination : 0.1 Lux ( color mode ), 0.05 Lux ( B / W )
• Angles:
• 77,5-22,7 ( horizontal)
• 53,3-14,5 ( vertical)
• 82,5-27 ( diagonal)
• Minimum Object Distance : 0.2 m

Image characteristics
• Setting the image size and quality , frame rate and bit rate
• The timings and paste text
• 3 configurable motion detection windows
• 5 customizable zones of private masks
• Adjust brightness , color saturation , contrast and sharpness

Video compression
• Compression formats H.264/MPEG-4/MJPEG
• Multicast streaming video formats H.264/MPEG-4
• JPEG for still images

Video resolution
• 16:9 - 1280 x 800 , 1280 x 720 , 800 x 450 , 640 x 360 , 480 x 270 , 320 x 176 up to 30 kadrov/s1
• 4:3 - 1024 x 768 , 800 x 600 , 640 x 480 , 480 x 360 , 320 x 240 up to 30 kadrov/s1

Audio support
• Audio Encoding MPEG- 4 AAC, transfer rate : 16 kbit / s to 128 kbit / s
• Audio Coding G.711, bit rate: 8 kbit / s to 64 kbit / s

Interfaces to external devices
• Port 10/100 BASE-TX Fast Ethernet
• Supports 802.3af PoE
• Connectors DI / DO for external devices
• RS- 485 port for connecting external devices / tilt
• Card slot Micro SD / SDHC
• External audio-vhod/vyhod

Network protocols
• IPv4
• IPv6
• TCP / IP
• UDP
• ICMP
• DHCP- Client
• NTP- Client (D-Link)
• DNS- client
• DDNS- Client (D-Link)
• SMTP- client
• FTP- client
• HTTP / HTTPS
• 802.1x
• Samba- client
• PPPoE
• UPnP port forwarding
• RTP / RTSP / RTCP
• Filtering IP- addresses
• QoS
• CoS
• Multicast
• IGMP
• ONVIF
• SNMP v1/v2/v3

Safety
• Security administrator account and user groups
• Password authentication
• HTTPS encryption to access the web-based interface
• HTTP and RTSP authentication

System requirements for the web-based interface
• Web-browser : Internet Explorer, Firefox, Chrome

Event management
• Motion detection
• Event notification and download stop-kadrov/videoklipov via email or FTP
• Support for multiple SMTP servers , and FTP
• Multiple event notifications
• Several ways to create backups

Remote management
• Create stop-kadrov/videoklipov and save to a local hard disk through Web-browser
• Interface settings , available through the web- browser

System Requirements D-ViewCam ™
• Operating System : Microsoft Windows 8/7/Vista/XP
• Web- browser : Internet Explorer 7 or above
• Protocol : Standard TCP / IP

Software features D-ViewCam ™
• Remote management / control of up to 32 cameras
• Viewing images on a single screen : up to 32 cameras
• Recording Options for triggering a sensor or manually
• Supports all management functions available through the Web-based interface