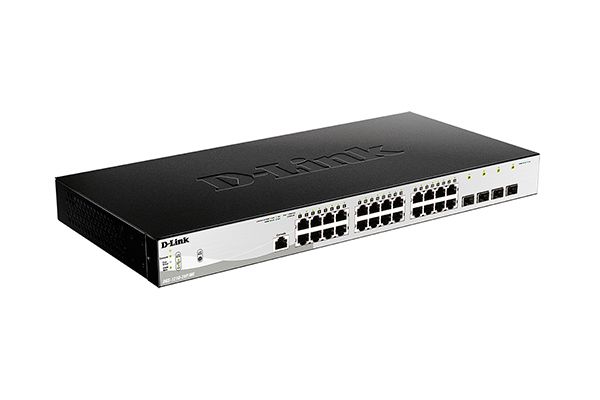 DGS-1210-28P/ME
מתג Metro עם 24 פורטים במהירות ג'יגהביט, ארבע יציאות ג'יגהביט/אופטי (SFP) ותמיכה ב PoE
היכן לקנות
תאור
The series switches DGS-1210 / ME is the ideal solution for use in networks Metro Ethernet. The devices in this series are equipped with 8/16/24/48 Gigabit Ethernet ports for connecting twisted pair, and SFP-port used for the organization to connect to high-speed line. Protection against static electricity ensures the stability of the surge voltage, and the full set of security and authentication protects the network from internal and external threats.
 
High performance
Series Switches DGS-1210 / ME equipped with 10/100/1000 Mbit / s Ethernet, provides the highest network performance. All models are equipped with SFP-ports also switches DGS-1210-10P / ME, DGS-1210-28P / ME, DGS-1210-52P / ME and DGS-1210-54MP / ME equipped with PoE ports that allow to place a network device, for example, IP-cameras PoE in locations where power outlets are not available. To do this, simply connect the device to the PoE Ethernet-cable that will transmit not only data but also power.
 
Resilience / performance
Series Switches DGS-1210 / ME supports protocols Spanning Tree (STP): 802.1D-2004 edition, 802.1w and 802.1s. STP allows you to organize data backup route used in the event of a malfunction of the switch. The switches also support 802.3ad Link Aggregation, which enables clustering of multiple ports and, consequently, increased bandwidth and increased resiliency compounds. These models support 802.1p for Quality of Service (QoS), which enables to classify traffic in real time to 8 queues with strict priority handling mechanisms and Weighted Round Robin (WRR). Packet classification is based on TOS, DSCP, MAC, IPv4, VLAN ID, port number, TCP / UDP, protocol type, or the contents of packages, user-defined, and provides a flexible adjustment for certain multimedia applications such as VoIP or IPTV.
 
Security and Authentication
Series Switches DGS-1210 / ME supports access control 802.1X port-based / node, the possibility of creating a guest VLAN, and authentication and RADIUS / TACACS + for strict access control on the network. Function IP-MAC-Port Binding to D-Link switch allows you to control access to computers in the network based on their IP and MAC-addresses as well as the connection port, thereby expanding possibilities of access control. Built-in D-Link Safeguard Engine ™ provides identification and prioritization of packets destined for processing by the processor switch, in order to prevent malicious attacks that could interfere with the normal operation of the switch. In addition, the Access Control List (ACL) improves network security and performance.
 
Management functions
The user-friendly Web-based interface for easy management and automatic configuration DHCP provides advanced management, enabling administrators to pre-configure the settings and save them to a TFTP-server. After that, the individual switches can receive IP-addresses from the server and load the preset configuration. Protocol LLDP (Link Layer Discovery Protocol) allows network equipment to notify local network of its existence and characteristics that help better manage the network topology. In addition, each port of the switch supports cable diagnostics to help identify the different faults, such as cable length discrepancy or its characteristics.
 
Traffic Control and Bandwidth
Bandwidth control allows network administrators to define bandwidth per port increments up to 64 kbit / s for incoming traffic. Series Switches DGS-1210 / ME also support the protection from broadcast storms, which minimizes the likelihood of virus attacks on the network. Port Mirroring facilitate traffic diagnostics and helps administrators to monitor switch performance and alter it if necessary. Support for IGMP Snooping reduces the amount of multicast traffic and to optimize network performance.
 
Multicasting
Series Switches DGS-1210 / ME supports the full set of features for Layer 2 multicast, including IGMP Snooping, IGMP filtering, Fast Leave, and the setting for multicast traffic on specific ports. With the support of functional series switches DGS-1210 / ME provide an opportunity to work with IPTV-services, enjoys a growing demand in the market. IGMP / MLD Snooping allows host-based connection of multiple customer multicast group to a single network interface. When you use the ISM VLAN multicast traffic for the purpose of efficient spending of bandwidth transferred in a separate VLAN. ISM VLAN profiles allow users to quickly and easily assign / change the preset settings on ports multicast subscribers.
מאפיינים כללים
Interfaces
• 24-port 10/100 / 1000Base-T with PoE
• 4-port 1000Base-X SFP
• Automatic MDI / MDIX on all ports
Indicators
• Power (per device)
• Console (per device)
• Link / Active / Speed ​​(per port)

Network Cables
• UTP Category 5, 5e (max. 100 m)
• To set the size of a standard 11-inch rack, 1U height

Console port
• RJ-45

Switching matrix
• 56 Gbit / s

Switching Method
• Store and Forward

Table MAC-address
• 16K entries

Updating the MAC-address table
• Up to 256 static MAC-address records

Speed ​​forwarding 64-byte packets
• 41,7 Mpps

RAM
• 128 MB of DDR3

Packet buffer
• 1.5 MB

Half / full duplex
• Half / full duplex for 10/100 Mbit / s
• Full duplex for Gigabit speed

Flash-memory
• 32 MB

Standards and functions
• IEEE 802.3 10Base-T Ethernet (copper twisted pair)
• IEEE 802.3u 100Base-TX Fast Ethernet (copper twisted pair)
• IEEE 802.3ab 1000Base-T Gigabit Ethernet (copper twisted pair)
• IEEE 802.3az
• Auto-negotiation
• IEEE 802.3x Flow Control
• IEEE802.3, IEEE802.3u, IEEE802.3ab
• IEEE802.3az
• IEEE802.3z

L2 Features
• MAC-address table: 16K entries
• Spanning Tree Protocol
   • 802.1D STP
   • 802.1w RSTP
   • 802.1s MSTP
   • BPDU Filtering
   • Root restriction
• Loopback detection
• Mirroring
  • Supports 1 Mirroring group
   • Modes: One-to-One, Many-to-One, Flow-based (ACL) for incoming traffic
• L2 Protocol Tunneling (L2PT)
• Link aggregation
   • Compatible with 802.3ad
   • Max. 8 groups on 8 groups device

Multicast Layer 2
• IGMP Snooping
   • IGMP v1 / v2 snooping, v3 awareness
   • Filter / authentication IGMP
   • Supports 256 groups
   • IGMP snooping fast leave based on VLAN / unit
   • Report suppression
• MLD snooping
   • MLD v1, MLD v2 awareness
   • Supports 256 groups

VLAN
• 802.1Q tagged VLAN
• Group VLAN:
   • Max. 4094 groups
• VLAN-based port
• GVRP
• Asymmetric VLAN
• Max. 256 Dynamic VLAN
• 802.1v protocol VLAN
• VLAN trunking
• VLAN MAC-based address
• Q-in-Q port-based
• ISM VLAN

Function level 3
• Max. 256 ARP entries
• Supports 255 static ARP entries
• Support Gratuitous ARP

Quality of service (QoS)
• CoS based on:
   • The switch port
   • 802.1p Priority Queues
   • VLAN ID
   • MAC-address
   • IPv4 / IPv6-Address
   • DSCP
   • TOS
   • TCP / UDP-port
   • Class IPv6-traffic
• Bandwidth management:
   • Based on the port (included with increments of 64 kbit / s)
   • On the basis of the stream (incoming, in increments of up to 64 kbit / s)
   • To turn off (in increments of up to 64 kbit / s)
• Mechanisms for queuing:
  • Strict Priority
   • Weighted Round Robin (WRR)
• 8 queues per port

Access Control Lists (ACL)
• ACL on the basis of:
   • The switch port
   • 802.1p Priority Queues
   • VLAN ID
   • MAC-address
   • Ether type
   • TOS
   • IPv4 / v6-address
   • DSCP
  • the type of protocol
   • Non-TCP / UDP-port
   • ICMP
   • Class IPv6-traffic
• Up to 256 access rules for incoming traffic
• Action ACL (enable / disable / mirroring)
• ACL schedule
• ACL statistics
• CPU Interface Filtering

AAA
• 802.1X
   • Based Access Control Node
   • Access control based on port
• Guest VLAN
• Maintaining RADIUS accounting
• Maintain accounts TACACS +
• 4-level user account

Security
• SSH v2
• SSL v1 / 2/3
• Port Security (support up to 64 MAC-addresses per port)
• Detection of the problems associated with the coincidence of network addresses
• Linking IP-MAC-Port Binding (IMPB)
   • ARP-packet inspection
   • Inspection of IP-packages
   • Support for DHCP Snooping IPv6
• Protection from the broadcast / multicast / unicast storm
• D-Link Safeguard Engine
• DHCP Server Screening
• Filtering DHCP-enabled clients
• Prevention of ARP Spoofing
• Protection against attacks BPDU
• Prevention of DoS attacks
• Traffic Segmentation

OAM
• 802.3ah Ethernet Link OAM
   • Support for 802.3ah link layer remote loopback and discovery (Syslog and SNMP)
   • 802.3ah D-Link extension: D-link Unidirectional Link Detection (DULD), (Syslog and SNMP)
• Diagnosis cable

Management
• Web-interface (supports IPv4 / IPv6)
• Command Line Interface (CLI)
• Telnet-server / client (support IPv4 / IPv6)
• TFTP-client (IPv4 / v6)
• Registration of teams
• SNMP v1 / v2c / v3
• SNMP Traps
• System Log
• RMON v1
• RMON v2
• LLDP
• BootP / DHCP-Client
• Auto DHCP
• The configuration file is in text format
• Trusted host
• DHCP relay (IPv4 / IPv6)
   • DHCP relay agent / local relay
   • DHCP relay option 12, 37, 38
   • DHCP relay option 82
• Tagging PPPoE Circuit-ID
• Trap / alarm / log severity control
• Monitoring the CPU
• SNTP
• LLDP
• Debug commands
• Restoration of the password
• Password Encryption
• Bypass password

MIB
• RFC1213 MIB II
• RFC1493 Bridge MIB
• RFC1907 SNMPv2 MIB
• RFC1757, 2819 RMON MIB
• RFC2021 RMONv2 MIB
• RFC1398, 1643, 1650, 2358, 2665 Ether-like MIB
• RFC2674,4363 802.1p MIB
• RFC 2233, 2863 IF MIB
• RFC 2618 RADIUS authentication client MIB
• RFC 2620 RADIUS accounting client MIB
• RFC 2925 ping & traceroute MIB
• Private MIB
• D-Link Zone Defense MIB

IETF
• RFC768 UDP
• RFC791 IP
• RFC792 ICMPv4
• RFC2463, 4443 ICMPv6
• RFC793 TCP
• RFC826 ARP
• RFC 2474 to 3260 the definition of the DS field in the IPv4 header and IPv6
• RFC 1321, 2284.2865, 3580, 3748 Extensible Authentication Protocol (EAP)
• RFC2571, RFC2572, RFC2573, RFC2574 SNMP

IPv6
• RFC1981 Path MTU Discovery
• RFC2460 IPv6
• RFC2461, 4861 Neighbor Discovery
• RFC2462, 4862 IPv6 Stateless Address Auto-configuration
• RFC2464 IPv6 Neighbor over Ethernet and definition
• RFC3513, 4291 IPv6 addressing architecture
• RFC2893, 4213 IPv4 / IPv6 dual stack