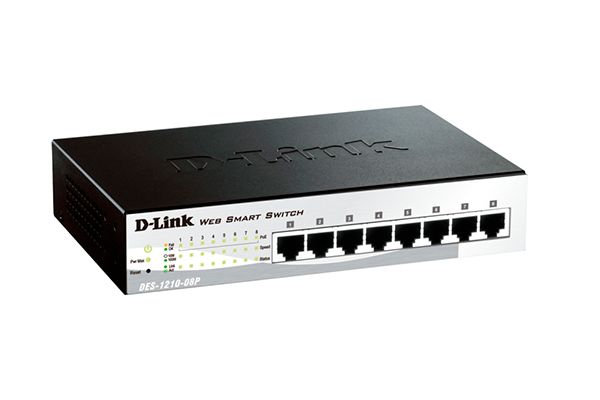 DES-1210-08P
מתג מנוהל WEB עם 24 פורטים במהירות 10/100Mbps ותמיכה ב - PoE
היכן לקנות
תאור
Switch D-Link DES-1210-08P is equipped with 8-port 10 / 100Base-TX PoE. This switch integrates advanced management and security, provide better performance and scalability. IPv6 support allows you to transition from IPv4 to IPv6, without prejudice to existing network infrastructure. Through 802.3af compliant switch can provide power up to 15.4 per port. With support for PoE ports switch allows users to easily connect and supply power over Ethernet (PoE) to devices such as IP-phones, wireless access points and IP-cameras. Control functions include SNMP, the management Web-based interface, the utility D-Link Network Assistant and Compact Command Line for easy deployment. Switch DES-1210-08P provides a complete and affordable solution for small and medium businesses.

Easy integration into an existing network
Web Smart Switch provides small and medium-sized business (SMB) full control over the network. All switch ports DES-1210-08P support auto MDI / MDIX cross-cable connections. This eliminates the need for crossover cables to the uplink ports and provides a connection of desktop computers.

Extensive Layer 2
Switch DES-1210-08P supports a number of Layer 2, including IGMP Snooping, MLD Snooping1, Port Mirroring, Spanning Tree and Link Aggregation Control Protocol (LACP). IEEE 802.3x Flow Control allows you to directly connect servers to the switch for fast, reliable data transfer. The switch supports a cable diagnostic feature and Loopback Detection. Loopback Detection is used to detect loops, and automatic shut-off port that detected the loop. Cable Diagnostics is designed to determine the quality of the twisted pair, and the type of cable error.

QoS, bandwidth control
Switch DES-1210-08P supports Auto Surveillance VLAN (ASV), and Auto Voice VLAN and is an ideal solution for the deployment of VoIP and video. Auto Surveillance VLAN - is a new, industry-leading technology, built-in switches, Web Smart D-Link. This technology integrates data and video transmission through a single switch Web Smart, reducing thus the cost of facilities and equipment. ASV also ensures that viewing of video in real time and management without prejudice to the transfer of conventional data network. The automatic determination of the connected VoIP equipment allows you to put the "voice" traffic to a dedicated VLAN. Because of the highest priority and individual VLAN, this feature provides high-quality and secure transfer VoIP- traffic. In addition, DSCP marks Ethernet-packs with the appointment of the network traffic of different services. In addition, bandwidth management feature allows network administrators to reserve bandwidth for a variety of applications requiring high throughput or maximize a priority.

Network Security
Function D-Link Safeguard Engine1 protects the switches against traffic flooding caused by virus. Authentication based on 802.1X port allows you to use an external RADIUS server to authenticate users. In addition, the Access Control List (ACL) feature enhances network security and helps to protect the internal IT-network. Switch DES-1210-08P supports attack prevention ARP Spoofing1, protecting against attacks on the network Ethernet, which can cause a change in the traffic or delay by sending false ARP-messages. To increase security, the DHCP Server Screening1, prohibiting access by unauthorized DHCP-servers.

Flexible management
Using the utility D-Link Network Assistant allows administrators to remotely manage the network at the port level. Utility D-Link Network Assistant supports automatic detection and display on the D-Link switches series Web Smart, belonging to the same network segment L2. The utility provides access to the switch from anywhere on the network without the need to enter the IP-address or subnet mask, which allows you to setup and basic installation of devices found, including password change and update software. Switch DES-1210-08P also supports the program D-View 6.0, and a command line interface (CLI) through Telnet. D-View 6.0 is a Network Management System that allows you to control the most important parameters such as performance, reliability, flexibility and security.
מאפיינים כללים
Number of ports
• DES-1210-08P - 8 ports

PoE Supported Models (Standard(s)/Number of Ports/Maximum Power Budget)
• DES-1210-08P (802.3af/8 ports/72W)

Switch Capacity
• DES-1210-08P - 1.6 Gbps

64-Byte Packet Forwarding Rate
• DES-1210-08P - 1.19 Mpps

MAC Address Table Size
• 8K

Packet Buffer
• DES-1210-08P - 384 KB

Flash Memory
• 16

Diagnostic LED Indicators
• Power (Per Device)
• Console (Per Device)
• Link/Activity (Per Port)

MAC Address Table
• 8K entries

Flow Control
• 802.3x Flow Control
• HOL Blocking Prevention

IGMP Snooping
• IGMP v1/v2 Snooping
• Supports 256 IGMP groups

Supports at least 64 static multicast addresses
• IGMP per VLAN
• Supports IGMP Querier

Spanning Tree Protocol
• 802.1D STP
• 802.1w RSTP

Loopback Detection
• 802.3ad Link Aggregation:4 groups per device

Port Mirroring
• One-to-One
• Many-to-One
• Supports Mirroring for Tx/Rx/Both

Cable Diagnostics
• Configurable Auto MDI/MDIX

Multicast Filtering
• Forwards all unregistered groups
• Filters all unregistered groups

VLAN
• 802.1Q
• VLAN Group
Max. 256 static VLAN groups
Max. 4094 VIDs
• Management VLAN
• Asymmetric VLAN
• Auto Voice VLAN
Max. 10 user-defined OUI
Max. 8 default OUI

QoS (Quality of Service)
• 802.1p Quality of Service
• 4 queues per port
• Queue Handling
Strict
Weighted Round Robin (WRR)
• CoS based on
802.1p Priority Queues
DSCP
ToS1
• Bandwidth Control
Port-based

Access Control List (ACL)
• Max. 50 profiles
• Max. 200 rules shared by profiles
• ACL based on:
MAC Address
IPv4 Address
ICMP/IGMP/TCP/UDP
VLAN ID
802.1p Priority Queues
DSCP
• ACL Actions
Permit
Deny

Security
• 802.1X
• Port Security
Supports up to 64 MAC addresses per port
• Broadcast/Multicast/Unicast Storm Control
• Static MAC
• D-Link Safeguard Engine
• DHCP Server Screening
• ARP Spoofing Prevention
Max. 64 entries
• SSL2
Supports v1/v2/v3
Supports IPv4
• Smart Binding

MIB
• 1213 MIB II
• 1493 Bridge MIB
• 1907 SNMP v2 MIB
• 1215 Trap Convention MIB
• 2233 Interface Group MIB
• D-Link Private MIB
• Power-Ethernet MIB
• LLDP MIB1

RFC Standard Compliance
• RFC 768 UDP
• RFC 791 IP
• RFC 792 ICMP
• RFC 793 TCP
• RFC 826 ARP
• RFC 854 Telnet Server
• RFC 855 Telnet Server
• RFC 856 Telnet Binary Transmission
• RFC 858 Telnet Server
• RFC 896 Congestion Control in TCP/IP Network
• RFC 903 Reverse Address Resolution Protocol
• RFC 951 BootP Client
• RFC 1155 MIB
• RFC 1157 SNMP v1
• RFC 1191 Path MTU Discovery
• RFC 1212 Concise MIB Definition
• RFC 1213 MIB II, IF MIB
• RFC 1215 Traps for use with the SNMP
• RFC 1239 Standard MIB
• RFC 1350 TFTP
• RFC 1493 Bridge MIB
• RFC 1519 CIDR
• RFC 1945 HTTP/1.0
• RFC 2131 DHCP
• RFC 2132 DHCP Options and BOOTP Vendor Extensions
• RFC 2138 Radius Authentication
• RFC 2233 Interface MIB
• RFC 2578 Structure of Management Information Version 2 (SMIv2)
• RFC 2647 802.1p
• RFC 3416 SNMP
• RFC 3417 SNMP
• RFC 3621 Power Ethernet

Management
• Web-based GUI
• Compact CLI through Telnet
• Telnet Server
• SmartConsole Utility
• TFTP Client
• SNMP
Supports v1/v2/v3
• SNMP Trap
• Trap for SmartConsole Utility
• System Log
Max. 500 log entries
Supports IPv4 log server
• BootP/DHCP Client
• Time Setting
SNTP
• LLDP, LLDP-MED
• Time-based PoE
• IPV6 Management
• RMON v1 group 1, 2, 3, 9
נתונים פיזיים
Power Consumption (Maximum PoE off/on)
• DES-1210-08P - 9.6W / 89.4W
Power Input
• 10 to 240 VAC, 50/60Hz internal universal power supply

Dimensions (W x D x H)
• DES-1210-08P - 190 x 120 x 38 mm

Size
• 19-inch Standard Rack-Mount Width, 1U Height

Ventilation
• DES-1210-08P - fanless

Heat Dissipation
• DES-1210-08P - 305.03 BTU per hour

MTBF
• DES-1210-08P - 274,382 hours

Temperature
• Operating: 0° to 40°C
• Storage: 10° to 70°C

Operating Humidity
• 5% ~ 95% Non-condensing

EMI/EMC
• FCC Class A, CE Class A, VCCI Class A, IC, C-Tick

Safety
• cUL, LVD