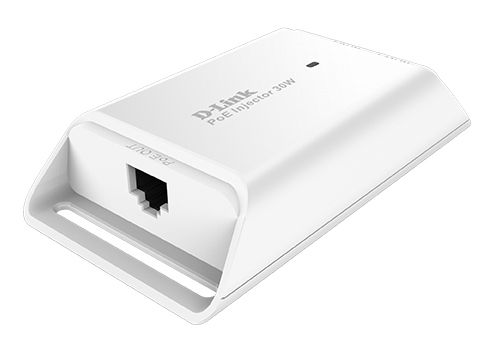 תאור
Gigabit PoE injector DPE-301 GI, standards-compliant IEEE 802.3at (PoE +) / 802.3af (PoE), designed for the simultaneous transmission of data and power (up to 30W) devices supporting PoE, which require high-power power supply, such as IP off-camera with the PTZ function, or wireless access point 802.11ac. When using the DPE-301GI can accommodate PoE device almost anywhere in the building, for example, on the ceiling or wall of a building, not caring that there are no nearby power outlet. PoE injector DPE-301GI allows you to take advantage of Gigabit Ethernet-connections, while providing the power supply for devices with support for PoE.

Connect more devices
DPE-301GI is a complete solution for connecting to the network devices that support PoE. New PoE-injector provides power to 30 W (with support for standard 802.3at), thereby expanding the range of compatible devices that can be powered by PoE from the DPE-301GI.

Affordable and effective solution
Using the DPE-301GI eliminates installation costs and accessories, as it provides an opportunity to place a PoE device virtually anywhere, without the organization of complex cabling, installation outlets in inconvenient locations. This saves time spent on the introduction of devices into operation.

High-speed connectivity
Gigabit PoE injector DPE-301GI recommended for use in solving network problems, which is required to provide high bandwidth for data transmission. For example, if necessary, supply power power-hungry devices such as network cameras with PTZ function and dual-band wireless devices (router or access point).
מאפיינים כללים
PoE + Data (out)
• Supports half / full duplex
• Port 10/100 / 1000BASE-T
• Compliance with IEEE 802.3
• Compliance with IEEE 802.3u
• Compliance with IEEE 802.3at
• Compliance with IEEE 802.3af
• Compliance with IEEE 802.3ab

Data (in)
• Supports half / full duplex
• Port 10/100 / 1000BASE-T
• Compliance with IEEE 802.3
• Compliance with IEEE 802.3u
• Compliance with IEEE 802.3ab

Indicators
• Blue: Power
• Green: Connect