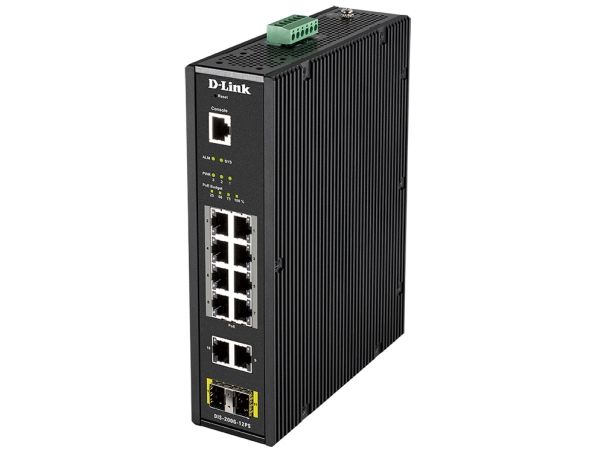 DIS-200G-12PS
מיועד לפרויקטים
מתג תעשייתי מנוהל Layer 2 עם 10 פורטים 10/100/1000Base-T (מתוכם 8 פורטים POE) ו2 פורטים 1000Base-X SFP
היכן לקנות
תאור
The DIS-200G-12PS Layer 2 Industrial Managed Switch is equipped with 8 PoE-capable 10/100/1000BASE-T ports, 2 10/100/1000BASE-T ports, and 2 SFP ports. This switch features a robust design making it ideal for deployment in industrial and outdoor surveillance settings, capable of withstanding the harshest environments. The DIS-200G-12PS furthermore integrates advanced management and security functions to provide a complete solution.
Durable and Reliable Design
The DIS-200G-12PS switch is housed in a highly resistant IP30-rated metal casing to protect the switch from harsh environmental conditions. The high electromagnetic compatibility (EMC) protects DIS-200G-12PS from unwanted effects when operating in environments with strong electromagnetic interference. Meanwhile, the fanless design extends the life of DIS-200G-12PS while also being able to operate in a wider temperature range of up to 65 °C. For increased flexibility, the DIS-200G-12PS switch can also be mounted on a DIN rail, wall mounted, or be installed in an equipment rack.
Additionally, the DIS-200G-12PS switch features 6 kV surge protection on all copper ports to help prevent damage to the switch and connected devices caused by sudden power surges and lightning strikes. The in-built surge protection of up to 6 kV can mitigate the damage to the switch from both indoor and outdoor devices and network connections by absorbing the excess energy while still letting the amount of power through required for the switch to operate normally. This increases network reliability, reduces repair costs, and removes the need for replacement hardware in the event of an electrical surge or lightning strike.
High Redundancy and Reliability
The DIS-200G-12PS switch supports ERPS quick failover recovery for ring topologies that ensures minimal downtime and avoids any loss of data in mission-critical deployment settings. Meanwhile, the dual power input allows for a redundant power supply to make sure the network continues to operate in the event of a primary power supply failure.
Surveillance Traffic Optimization
The DIS-200G-12PS switch supports the Auto Surveillance VLAN feature. This automatically detects surveillance devices and puts them into a dedicated surveillance VLAN, segmenting their traffic from the rest of the network. This provides increased security of surveillance data, and gives the traffic a higher priority through the switch, reducing the chances of the video freezing or being delayed on live streams. A single switch can be used for both surveillance and data networks, removing the need for dedicated surveillance hardware while simultaneously reducing maintenance costs.
Easy Troubleshooting
The DIS-200G-12PS switch features loopback detection and cable diagnostics to help network administrators find and solve network problems quickly and easily. Loopback detection is used to detect loops created by a specific port and automatically shuts down the affected port. Cable diagnostics helps network administrators quickly examine the quality of the copper cables, recognize the cable type, and detect cable errors.
Power over Ethernet Support
The DIS-200G-12PS is PoE-ready switch with a total PoE budget of 130 W, capable of supplying up to 30 W of power per port to connected PoE-enabled devices. This effectively reduces deployment times, reduces cable clutter, and eliminates the need for dedicated power supplies to allow PoE-devices to be installed in remote locations.
מאפיינים כללים
Hardware Version
• A1
Number of Ports
• 8 x 10/100/1000BASE-T PoE ports
• 2 x 10/100/1000BASE-T ports
• 2 x SFP ports
• 1 x RJ-45 Console port
• Alarm Relay: 1 A at 24 V
Diagnostic LEDs
• SYS
• ALM
• PWR1/2/3
• Link/Activity/Speed
• PoE status
• PoE budget
Port Functions
• IEEE 802.3 for Ethernet
• IEEE 802.3u for Fast Ethernet
• IEEE 802.3ab for Gigabit Ethernet
• IEEE 802.3z for Gigabit fiber
• IEEE 802.3az-compliant
Media Interface Exchange
• Auto-MDI/MDIX adjustment for all twisted pair ports
Switching Capacity
• 24 Gbps
Maximum Forwarding Rate
• 17.85 Mpps
MAC Address Table Size
• Up to 8K entries
Transmission Method
• Store-and-forward
PoE Standard
• IEEE 802.3af/at
PoE Capable Ports
• Ports 1 to 8
PoE Power Budget
• 130 W
Software Features
VLAN
• IEEE 802.1Q tagged VLAN
• Port-based VLAN
• Auto-Surveillance VLAN 2.0 (ASV 2.0)*
• Voice VLAN 
• Asymmetric VLAN
• VLAN group
  - Supports 128 static VLAN groups
  - Max. 4094 VIDs
• GVRP*
L2 Features
• Flow Control
  - IEEE 802.3x Flow Control
  - HDL Blocking Prevention
• Jumbo frames up to 9216 bytes
• IGMP Snooping
  - IGMP v1/v2
  - IGMP v3*
  - Supports up to 64 groups
  - IGMP Snooping Querier
• MLD Snooping
  - MLD v1
  - MLD v2*
  - Supports up to 64 groups
  - MLD Snooping Querier
• IEEE 802.3ad Link Aggregation
  - Supports 6 groups per device, 8 ports per group
• Ethernet Ring Protection Switching* (ERPS, ITU-T G.8032) 
• Loopback detection
• LLDP
• Port mirroring
  - One-to-One
  - Many-to-One
• Statistics
  - Tx Ok
  - Tx Error
  - Rx Ok
  - Rx Error
• Spanning Tree Protocol (STP)
  - IEEE 802.1D STP
  - IEEE 802.1w RSTP
  - IEEE 802.1s MSTP*
Quality of Service (QoS) 
• IEEE 802.1p Quality of Service (QoS)
• 4 queues per port
• Queue handling
  - Strict Priority Queue (SPQ)
  - Weighted Round Robin (WRR)
• Port-based bandwidth control (ingress: 8 kbps)
Security 
• D-Link Safeguard
• Traffic segmentation
• Broadcast/Multicast/Unknown Unicast Storm Control 
• DoS attack prevention
• SSL
• Port security
AAA 
• Web-based access control*
• IEEE 802.1X authentication* 
• RADIUS*
Management 
• Web-based UI (supports IPv4/IPv6)
• D-Link Network Assistant (DNA)
• Industry-standard CLI
• SNTP
• SNMP v1/v2c
• SNMP v3*
• SNMP trap
• Telnet server 
• System Log
• DHCP client
• TFTP client
• LLDP
• D-Link Discovery Protocol (DDP)
• Dual images
• Dual configurations
OAM 
• Cable diagnostics
• Dying Gasp* 
• Optical transceiver Digital Diagnostics Monitoring (DDM)*
Green Technology 
• Power saving by:
  - Link status detection
  - LED shut-off
  - Port shut-off
  - System hibernation
MIB/RFC Standards 
• RFC768 UDP
• RFC791 IP
• RFC792 ICMP
• RFC793 TCP
• RFC826 ARP
• RFC1213 MIB II
• RFC1493 Bridage MIB
• RFC1907 SNMPv2 MIB
• RFC2668 802.3 MAU MIB
• RFC4133 Entity MIB
• RFC4363 IEEE 802.1p MIB
• ZoneDefense MIB
• Private MIB
Physical Parameters
Power Input
• 46 to 54 V DC terminal block dual input
• 54 V DC 4-pin DIN single power input
Power Consumption
• Standby mode: 7.02 W
• Maximum: 260 W (PoE on) / 10.8 W (PoE off)
Heat Dissipation
• 887.16 BTU/h (PoE on) / 36.85 BTU/h (PoE off)
MTBF
• 205,689 hours
Weight
• 2.5 kg
Dimensions
• 210 x 171.2 x 48 mm
Ventilation 
• Fanless
Temperature 
• Operating: -40° to 65°C
• Storage: -40° to 85°C
Humidity 
• Operating: 0% to 95% non-condensing 
• Storage: 0% to 95% non-condensing
Material
• IP30-rated metal casing
Installation
• DIN rail/wall/rack mountable
Certifications
• CE, FCC, BSMI
Safety
• UL60950-1
EMI
• CISPR 22, FCC Part 15B Class A
EMS
• EN 61000-4-2 ESD
• EN 61000-4-3 RS
• EN 61000-4-4 EFT
• EN 61000-4-5
• EN 61000-4-6 CS
• EN 61000-4-8
IEC Standards
• IEC 60068-2-27 Shock
• IEC 60068-2-32 Freefall
• IEC 60068-2-6 Vibration
* This feature will be supported in a future firmware release.