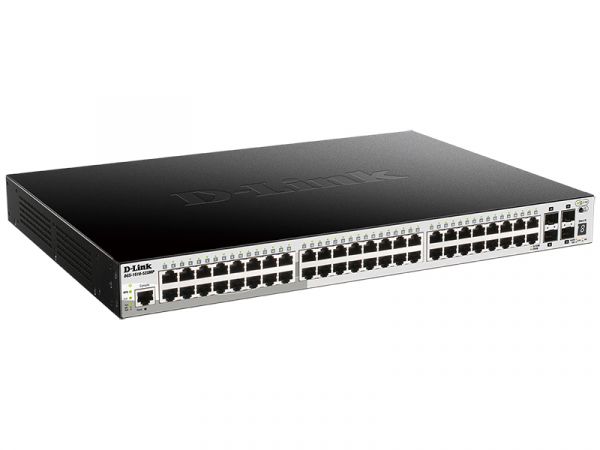 DGS-1510-52XMP
מיועד לפרויקטים
Gigabit Stackable SmartPro Switch with 48 10/100/1000 Mbps PoE-capable and 4 10G SFP+ ports
היכן לקנות
תאור
The D-Link DGS-1510 Series is the latest generation of SmartPro switches with 10G capability, available with 16, 24, or 48 10/100/1000 Mbps ports plus additional fiber ports for physical stacking or uplinks. The series includes three PoE-capable switches that provide additional flexibility for businesses looking to power IP phones, wireless access points, or IP cameras using existing network infrastructure. The combination of high bandwidth connections and PoE support make the DGS-1510 Series ideal for Small-Medium Enterprise (SME) and Small-Medium Business (SMB) environments.
10G SFP+ Stacking/Uplink Ports
The last two SFP+ ports of the DGS-1510 Series switches allow users to create a physical stack of up to 6 units in a fault-tolerant ring or linear topology using Direct Attach Cables (DACs) or any compatible SFP+ transceiver. This creates a total of 288 Gigabit ports, ensuring high bandwidth while staying cost-efficient. Meanwhile, the remaining uplink ports can be used for other functions, such as connecting to a larger network. Users can also easily configure and manage any of the DGS-1510 Series SmartPro switches in a single stack. With 20 Gbps full-duplex capabilities, the DGS-1510 Series offers 10G connectivity to core networks and servers while still maintaining fast data transfer rates.
Layer 3 Traffic Management
The DGS-1510 Series provides static routing, allowing you to segment your network into workgroups that communicate between VLANs and increase application performance. With these capabilities, you can reduce the load on your core devices, allowing you to create a scalable and efficient network.
Extensive Layer 2 Features
The DGS-1510 Series switches are equipped with a complete lineup of Layer 2 features, including IGMP Snooping, Port Mirroring, Spanning Tree, and Link Layer Discovery Protocol (LLDP). The IEEE 802.3x Flow Control function allows servers to directly connect to the switch for fast, reliable data transfer. Network maintenance features include Loopback Detection and Cable Diagnostics.
Loopback Detection automatically detects and shuts down loops created by a specific port or VLAN. The Cable Diagnostics feature, designed primarily for administrators and customer service representatives, can determine cable quality and can quickly discover sections of cabling that need to be replaced.
Traffic Classification and Quality of Service
The DGS-1510 Series supports Auto Surveillance VLAN (ASV) and Auto Voice VLAN, which are best suited for VoIP and video surveillance deployments. Auto Surveillance VLAN is a new, industry-leading technology built into D-Link Smart switches. This technology consolidates data and surveillance video transmissions through a single DGS-1510 Series SmartPro switch, saving businesses the costs of maintaining expensive dedicated hardware and infrastructure. ASV also ensures the quality of real-time video for monitoring and control without compromising the transmission of conventional network data by giving ASV traffic priority over other packets.
Keep Your Network Secure
D-Link's innovative Safeguard Engine helps to protect the DGS-1510 Series against traffic flooding caused by malicious attacks. The DGS-1510 Series supports both MAC and web-based access control. This gives network administrators multiple authentication options, reducing deployment times and removing the need for client software. The DGS-1510 Series supports IEEE 802.1X port-based authentication, allowing network users to be authenticated through external RADIUS servers. The Address Resolution Protocol (ARP) Spoofing Prevention feature helps to prevent attacks that may allow an intruder to intercept users' traffic while the DHCP Server Screening feature screens rogue DHCP server packets from user ports to prevent unauthorized IP assignment.
IPv6 Ready
The DGS-1510 Series is IPv6 ready and supports various IPv6 functions such as MLD Snooping, IPv6 security features, and IPv6 Quality of Service (QoS), ensuring seamless integration with next generation networks. The DGS-1510 Series also supports IPv4/v6 dual stack functionality, which allows the switches to act as a bridge between IPv4 and IPv6 networks.
Versatile Management
The DGS-1510 Series supports virtual stacking via D-Link's Single IP Management (SIM), allowing up to 32 devices to be managed through a single IP address. This simplifies management of small workgroups or wiring closets while significantly reducing the number of IP addresses needed to manage your network. The DGS-1510 Series provides the D-Link Network Assistant (DNA) utility and a web-based management interface that enables administrators to easily set up and remotely manage their networks, greatly reducing switch deployment time. The DGS-1510 Series also features an extensive Command Line Interface (CLI) and SNMP support, allowing centralized management of a large number of devices. Out-of-band management of the switches is also available via a designated console port. This provides access to devices in the event that there is a loss of connectivity or that the switch is overloaded with bulk or malicious traffic.
Energy Efficient
All of the DGS-1510 Series switches are capable of conserving power without sacrificing operational performance or functionality thanks to D-Link Green 3.0 technology. Using the IEEE 802.3az Energy Efficient Ethernet (EEE) standard, the network will automatically decrease power usage when traffic is low. For environments that do not fully support this standard, these switches offer advanced power-saving settings including port shut-off, LED shut-off, and system hibernation based on custom profiles. These profiles can also be applied to the PoE switches so that there is no unnecessary power consumption during off-hours.
מאפיינים כללים
Interfaces
• 48 x 10/100/1000 Mbps PoE-capable ports
• 4 x 10G SFP+ ports
Port Standards & Functions
• IEEE 802.3 10BASE-T Ethernet
• IEEE 802.3u 100BASE-TX Fast Ethernet
• IEEE 802.3ab 1000BASE-T Gigabit Ethernet
• IEEE 802.3ae 10 Gigabit Ethernet
• IEEE 802.3x Flow Control for full-duplex mode, auto-negotiation
Network Cables
• UTP Cat. 5, Cat. 5e (100 m max.)
• EIA/TIA-568 100-ohm STP (100 m max.)
Duplex Mode
• Full/half-duplex for 10/100 Mbps and full-duplex for 1000 Mbps speed
Media Interface Exchange
• Auto or configurable MDI/MDIX
Switching Capacity
• 176 Gbps
Transmission Method
• Store-and-forward
MAC Address Table
• Up to 16,384 entries per device
MAC Address Update
• Up to 512 static MAC entries
• Enable/disable auto-learning of MAC addresses
Maximum Packet Forwarding Rate
• 130.95 Mpps
Packet Buffer Memory
• 3 MB per device
MTBF
• 303,027 hours
PoE Standard
• IEEE 802.3af/at
PoE Capable Ports
• Ports 1 to 48: Up to 30 W
PoE Power Budget
• Max. 370 W (without RPS); Max. 740 W (with RPS, only supports DPS-700)
Diagnostic LEDs
• Power
• Link/Activity/Speed/PoE Mode (per 10/100/1000 Mbps port)
• Link/Activity/Speed (per SFP port)
• RPS
• Console
• Fan
• Stack ID
Physical Parameters
Power Support
• 3.3 V
Supply Current
• 300 mA
Temperature
• Operating: 0° to 70°C
• Storage: -40° to 85°C
Humidity
• Operating: 5% to 85%
• Storage: 5% to 95%
Dimensions
• 56.5 mm x 14.8 mm x 11.85 mm
הורדות
DGS-1510-52XMP Gigabit Stackable SmartPro Switch with 48 10/100/1000 Mbps PoE-capable and 4 10G SFP+ ports