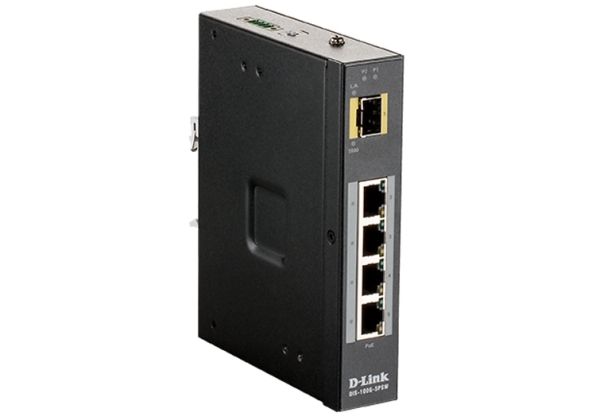 DIS-100G-5PSW
Industrial Unmanaged Switch with 4 10/100/1000Base-T PoE Ports and 1 1000Base-X SFP Port
היכן לקנות
תאור
The DIS-100G-5PSW Industrial Unmanaged Switch is equipped with 4 PoE-capable 10/100/1000Base-T ports and 1 SFP port. This switch features a robust design making it ideal for deployment in industrial and outdoor surveillance settings, capable of withstanding the harshest environments. In addition, the switch is Plug-and-Play, allowing for effortless and swift deployment.
Durable, Reliable, and Efficient
The DIS-100G-5PSW switch is housed in a highly resistant IP30-rated metal casing to protect the switch from harsh environmental conditions. The high electromagnetic compatibility (EMC) protects the DIS-100G-5PSW from unwanted effects when operating in environments with strong electromagnetic interference. Meanwhile, the fanless design extends the life of the DIS-100G-5PSW while also being able to operate in a wide temperature range from -40 В°C up to 75 В°C. For increased flexibility, the DIS-100G-5PSW can also be mounted on a DIN rail or conveniently mounted on a solid surface wall. In addition, the DIS-100G-5PSW supports dual power input which allows for a redundant power supply configuration to make sure the switches continue to operate in the event of a primary power supply failure.
Meanwhile, a powerful IEEE 802.1p Quality of Service (QoS) engine prioritizes network traffic so that time-sensitive data is delivered efficiently, even during bursts of high data traffic. This helps ensure an optimal experience for streaming critical data such as from surveillance and
recognition systems.
Power over Ethernet Support
The PoE-ready DIS-100G-5PSW features a total PoE budget of 120 W, capable of supplying up to 30 W of power per port to connected PoE-enabled devices leveraging existing conventional Ethernet cabling. This effectively cuts down deployment times, reduces cable clutter, and hardware queues per port eliminates the need for dedicated power supplies to allow PoE-devices to be installed in remote locations.
Green Ethernet Technology
The DIS-100G-5PSW features green technology, including IEEE 802.3az Energy-Efficient Ethernet (EEE), link status detection, and cable length detection. Energy Efficient Ethernet reduces the power consumption of the switches when network utilization is low, effectively lowering the cost of ownership during periods of inactivity. Link status detection automatically powers down ports when there is no link detected, saving power when the connected device has been shut down or disconnected. Cable length detection automatically adjusts the power output of the port based on the length of the cable, reducing the power requirements of the switch to only what is necessary for the installation.
מאפיינים כללים
Hardware Version
• A1
Number of Ports
• 4 10/100/1000Base-T PoE ports
• 1 SFP port
Diagnostic LEDs
• P1/P2
• Link/Activity/Speed
• PoE status
Port Functions
• IEEE 802.3 for Ethernet
• IEEE 802.3u for Fast Ethernet
• IEEE 802.3ab for Gigabit Ethernet
• IEEE 802.3z for Gigabit fiber
• IEEE 802.3x Flow Control
• IEEE 802.3az Energy-Efficient Ethernet (EEE)
Media Interface Exchange
• Auto-MDI/MDIX adjustment for all twisted pair ports
Switching Capacity
• 10 Gbps
Transmission Method
• Store-and-forward
Maximum Forwarding Rate
• 7.44 Mpps
MAC Address Table Size
• Up to 2K entries
Jumbo Frame
• 9 KB
Advanced Features
• Broadcast/Multicast/Unicast Storm Control
• IEEE 802.1p Quality of Service (QoS) - 4 hardware queues per port
PoE Standard
• IEEE 802.3af/at
PoE Capable Ports
• Ports 2 to 5
PoE Power Budget
• Max. 120 W*
Physical Parameters
Power Input
• 48 to 58 V DC terminal block dual input
Power Consumption
• Maximum: 4.46 W (PoE off)
• Maximum: 131.57 W (PoE on)
Heat Dissipation
• 15.22 BTU/hr (PoE off)
• 448.94 BTU/hr (PoE on)
MTBF
• > 25 years
Weight
• 0.5 kg
Dimensions
• 107 x 29 x 139 mm
Ventilation
• Fanless
Temperature
• Operating: -40В° to 75В°C
• Storage: -40В° to 85В°C
Humidity
• Operating: 5% to 95% non-condensing
• Storage: 5% to 95% non-condensing
Material
• IP30-rated metal casing
Installation
• DIN rail/wall mountable
Certifications
• UL/CE/FCC
• NEMA-TS2
• EN50121-4 compliant
• UL C1D2 compliant
Safety
• UL61010-1, UL61010-2-201, UL C1D2
EMI
• 47 CFR FCC Part 15 Subpart B (Class A)
• ICES-003 Issue 6 (Class A)
EMC
• EN61000-6-2
• EN61000-6-4
EMS
• EN 61000-4-2 ESD Level 3
• EN 61000-4-3 RS Level 3
• EN 61000-4-4 EFT Level 3
• EN 61000-4-5 Surge Level 3
• EN 61000-4-6 CS Level 3
• EN 61000-4-8
Environmental Tests
• IEC 60068-2-27 Shock
• IEC 60068-2-32 Freefall
• IEC 60068-2-6 Vibration
* The actual available PoE budget depends on the power supply connected to the switch.
הורדות
DIS-100G-5PSW Industrial Unmanaged Switch with 4 10/100/1000Base-T PoE Ports and 1 1000Base-X SFP Port