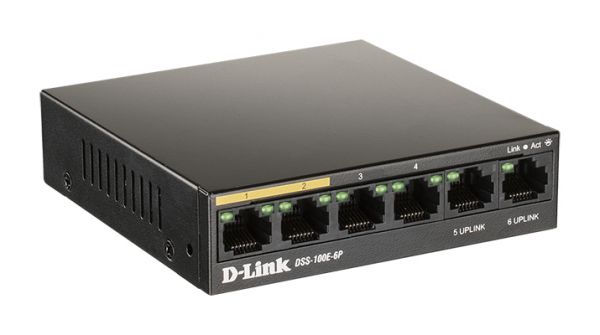 DSS-100E-6P
6-Port PoE Unmanaged Surveillance Switch
היכן לקנות
תאור
The D-Link DSS-100E-6P 6-Port PoE Unmanaged Surveillance Switch with 4 IEEE 802.3at compatible ports, the DSS-100E-6P enables users to easily connect and supply power to PoE-capable devices, such as wireless Access Points (APs), IP cameras, Network Attached Storage (NAS) and IP phones. Your network is at the center of any physical security system, responsible for securely streaming and saving surveillance footage. With robust security, ample network bandwidth and low latency connections, the DSS-100E-6P offers a cost-effective solution to maintain a secure, reliable and compliant surveillance network.
Surveillance-Minded DIP Switch
Effortlessly adjust the DSS-100E-6P's operation configuration with a dual-mode DIP switch, conveniently located on the device's rear panel. D-Link's DSS-100E-6P 6-Port PoE Unmanaged Surveillance Switch has two operating modes; Standard and Extend & Isolate modes, each with their own use cases. Standard mode optimally is for connections up to 100 m, supporting 10/100 Mbps per port with priority to ports 1-2 to optimize port cache. Extend & Isolate mode utilizes long-reach PoE connections, where ports 1-4 support 250 m connections. This mode also prevents port to port communications, permitting ports 1-4 to communicate solely through ports 5-6, where strengthened security measures are implemented
Long-Reach PoE Connection
The DSS-100E-6P supports long-range PoE connection configurations, simplifying the issues of distance, power source, and cable deployment for your network systems. Extend connection distances with reduced power transmission loss. Utilize 250 m PoE cable connections at transmission speeds of 10 Mbps. Take advantage of D-Link's GE PoE Extenders to power devices up to 650 m away, making the DSS-100E-6P 6-Port PoE Unmanaged Surveillance Switch the ideal choice for deploying PoE devices to your network, no matter your deployment's location.
Resilient Surge Protection
The DSS-100E-6P is equipped with surge protection, keeping this switch safe against lightning strikes or other power related incidents. This shield prevents PoE devices from electrical damage, ensuring your vital surveillance systems continue functioning, completely uninterrupted. In the event of an electrical emergency, the DSS-100E-6P will safeguard your cameras, storage devices while keeping your network running, providing reliability and robustness when it counts the most.
Power Over Ethernet IEEE 802.3af/at
The DSS-100E-6P features 4 IEEE 802.3af and IEE 802.3at PoE protocol compatible ports. Each of the PoE ports can supply up to 30 watts, with a total PoE budget of 55 watts, allowing users to attach an IEEE 802.3af or IEEE 802.3at-compliant device to the DSS-100E-6P without requiring additional power. PoE is especially suitable for devices that are far from power outlets or when users want to minimize the clutter of extra cables as power is supplied via the Ethernet cables themselves.
מאפיינים כללים
Interface
• 6 x 10/100 Mbps ports (4 ports with PoE support)
Port Standards & Functions
• IEEE 802.3 10Base-T
• IEEE 802.3u 100Base-TX
• IEEE 802.3af/802.3at
• IEEE 802.3x Flow Control
• Auto MDI/MDIX adjustment for all ports
Performance
Switching Capacity 
• 1.2 Gbps
Switching method
• Store and forward
MAC Address Table Size 
• 1K Entries
Maximum 64-byte Max.packet Forwarding Rate
• 0.89 Mbps
Packet Buffer
• 56 KB
LEDs
• Per unit: Power
• Per port: Activity/Link
• Per PoE port: PoE
PoE Standard
• IEEE 802.3af
• IEEE 802.3at
PoE Capable Ports
• Ports 1~4 up to 30 watts per port
PoE Power Budget
• 55 watts
Physical/Environmental
Surge Protection
• Ports 1~4 up to 6 kV
• Ports 5~6 up to 1 kV
• AC Power Inet up to 4 kV
MTBF (Hours) 
• 96 9571 hours
Heat Dissipation
• Power On (Standby, no PD device connected): 0.31 BTU/h
• Maximum: 7.73 BTU/h
Power Input 
• DC power adapter: 51 V / 1.25 A
Power Consumption
• Maximum Power Consumption: 64.2 watts (PoE on), 1.57 watts (PoE off)
• Standby Power Consumption: 1.07 watts (100 V), 1.15 watts (240 V)
Dimensions (W x D x H) 
• 100 mm x 100 mm x 26 mm
Weight
• 0.2005 kg
Acoustic
• 0 dB
Ventilation
• Fanless
Operating Temperature
• 0 to 40 В°C
Storage Temperature
• -40 to 70 В°C
Operating Humidity
• 0% to 95% non-condensing
Storage Humidity
• 0% to 95% non-condensing
Certificates
• CE, RoHS
Safety
• LVD
הורדות
DSS-100E-6P 6-Port PoE Unmanaged Surveillance Switch