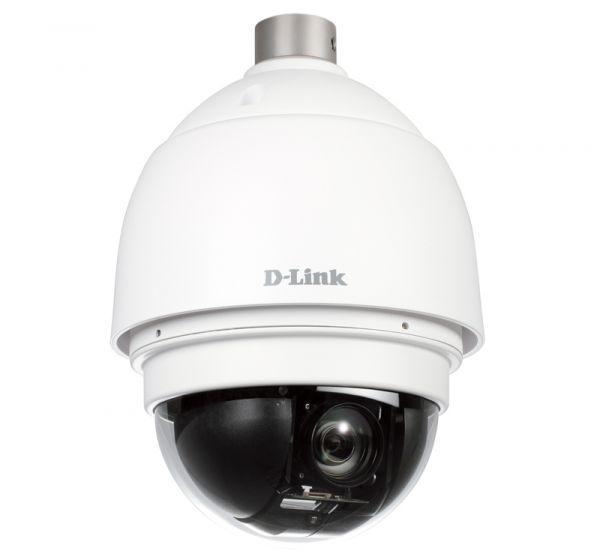 DCS-6915
EOL
מצלמת מעקב רשת באיכות Full HD עם מנוע מהיר ועם זום אופטי X20
היכן לקנות
תאור
Full HD Dome Camera D-Link DCS-6915 is the ideal solution for creating a system of professional high-definition video, and security of small, medium and large enterprises. 3-megapixel CMOS-sensor with progressive scan produces superb image quality at resolutions up to 1080p. The powerful 20x optical zoom and 8x digital zoom provides the ability to easily see even the smallest details.
 
Proportional speed control tilt, pan and zoom
Speed ​​control of pan and tilt allows you to easily and accurately adjust the field of view of the camera. When using the zoom function, the speed of rotation is automatically slowed to improve visibility and control. PTZ preset point tracking allows the camera to perform in a predetermined way.
 
Efficiency under all weather conditions
Designed to work in harsh conditions, the camera DCS-6915 is made in a metal vandal-resistant (standard IK-10) and weatherproof (IP-66 standard) package that is able to withstand different kinds of impact and protect your camera under adverse weather conditions. Support for Power over Ethernet simplifies installation of the device through the transfer of power and network connectivity, one Ethernet-cable. With a built-in heater and fan chamber can operate over a wide temperature range (from -40 ° C to 50 ° C).
 
Wide Dynamic Range (WDR)
Video Camera DCS-6915 with the WDR sensor delivers excellent image quality in a non-uniform illumination, thus allowing to identify the subject lit from behind, or shooting in very bright light. The camera can be successfully operated in areas with contrast lighting. For example, installing indoor DCS-6915 does all the settings to adapt to the intensity of the sunlight falling through the window. Thanks to the combination of these functions camcorder is the ideal solution for a variety of video surveillance systems.
 
Adjustable low-pass filter for continuous monitoring
The work of the infrared filter (ICR filter) can be adjusted manually or set to automatically adjust depending on lighting conditions. This feature allows the camera to capture crisp color images during the day and black-and-white pictures in low light.
 
Reliable management software
As with the camera DCS-6915 includes D-ViewCam - software for video surveillance systems, allowing you to view images, manage, and to record up to 32 cameras on a single computer. In addition, you can enable email alerts when motion is detected or when the signal on the digital input.
מאפיינים כללים
Hardware profile camera
• 1/2, 8-inch 3-megapixel CMOS-sensor Sony Exmor technology with progressive scan
• Minimum illumination: 0.1 lux (color), 0.01 lux (B / W)
• Built-in ICR-filter
• The ratio of the "signal-to-noise"> 50 dB (automatic gain control (AGC) is turned off)
• Electronic shutter from 1 to 1/10000 sec.
• 20x optical zoom, 8x digital zoom
• Focal Length: 4.7 to 96 mm
• Viewing angle:
from 64.42 to 4.65 (H)
from 52.27 to 4.07 (V)
from 33.4 to 2.33 (measured diagonally)

Hardware profile PTZ
• Rotation: 360
• Tilt: -10 to 190
• Preset points: 256 points
• The accuracy of the Pan / Tilt: ± 0,225
• The speed pan / tilt: from 5 to 400 per second
• Number of independent paths when operating in Sequence: 8
• The number of independent paths when operating in Auto Pan: 4
• Number of independent paths when operating in Cruise: 8
• The speed of rotation is proportional to the tilt and zoom level
• Resume operation after power loss
• Options Patrol: Preset, Sequence, Auto Pan, Cruise
• Automatic coup: the mechanical / digital / off
• Support for DSS (Digital Slow Shutter)
• Invert Image

Image characteristics
• Setting the image size and quality, frame rate and bit rate
• The timings and paste text
• Customizable windows for motion detection
• 16 customizable areas of private masks
• Setting the white balance, shutter speed, brightness, color saturation, contrast and sharpness

Video Compression
• Compression formats H.264/MJPEG
• Multicast streaming video in H.264
• JPEG for still images

Video Resolution
• 1920 x 1080 (1080P)
• 1280 x 720 (720P)
• 720 x 480 (D1)
• 800 x 600 (SVGA)
• 1024 x 768 (XGA)
• 1280 x 1024 (SXGA)
• 640 x 480 (VGA)
• 320 x 240 (CIF)

Audio Support
• G.711/G.726

External device interfaces
• 4 alarm sensor input
• 2 output sensor alarm
• Audio In / Out

Network
Network Protocols
• IPv4
• TCP / IP
• UDP
• ICMP
• DHCP-Client
• NTP-Client (D-Link)
• DNS-client
• DDNS-Client (D-Link)
• SMTP-client
• FTP-client
• HTTP
• PPPoE
• UPnP Port Forwarding
• RTP / RTSP / RTCP
• Filtering IP-addresses
• IGMP
• IEEE802.1x
• QoS
• SNMP
• ONVIF

Safety
• Security administrator account and user groups
• Password authentication

System control
System requirements for Web-based interface
• Microsoft Windows 8/7/Vista/XP/2000
• Web-browser: Internet Explorer, Firefox, Chrome

Event Management
• Motion detection
• Event notification and download stop-kadrov/videoklipov via SMTP or FTP
• Multiple event notifications
• Several ways to create backups
• Support for multiple servers, HTTP, SMTP and FTP

Remote management
• Interface settings, available through the Web-browser
• Create stop-kadrov/videoklipov and save to your local hard disk

Support for mobile devices
• OS Windows 7/Vista/XP/2000

System Requirements D-ViewCam ™
• Operating System: Microsoft Windows 7/Vista/XP
• Web-browser: Internet Explorer 7 or above
• Protocol: Standard TCP / IP

Software features D-ViewCam ™
• Remote management / control of up to 32 cameras
• Viewing images on a single screen: up to 32 cameras
• Supports all management functions available through the Web-based interface
• Recording Options for triggering a sensor or manually
נתונים פיזיים
Power Input
• 24 V AC, 3 A
 
Max. power consumption
• 65 W with heater turned on
 
Operating temperature
• -40 To 50 C
 
Storage temperature
• -20 To 70 C
 
Protection against dust and moisture
• Standard IP-66
 
Anti-vandal protection
• Standard IK-10
 
Humidity
• From 20% to 80% (non-condensing)
 
Weight
• 2.32 kg with sunshield
 
Certifications
• CE (Class A)
• CE LVD (EN60965-1)
• FCC (Class A)
• ICES-003
• C-Tick