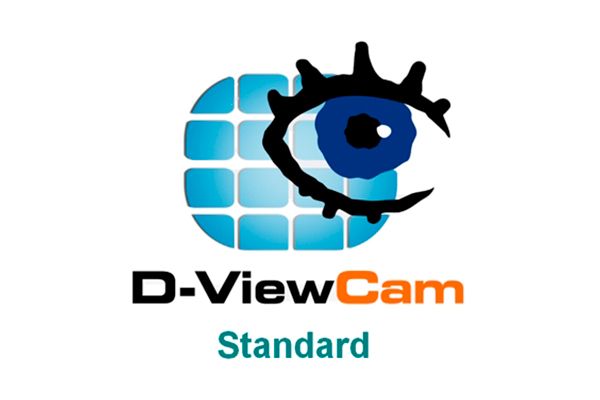 DCS-210
תוכנה למעקב וידאו D-View Cam Standard
היכן לקנות
תאור
Multifunctional software DCS-210 D-ViewCam Standard is an integrated surveillance system for corporate users. This software provides the ability to centrally manage and view up to 8 cameras and compatible with the current IP-cameras and video servers D-Link. DCS-210 provides the monitoring and recording of video, audio and events used in various applications to ensure security. Moreover, the software provides users with a wide range of features video recording and playback, and view real-time.

Monitoring in real time and centralized management
Multifunctional software DCS-210 provides centralized control of up to 8 cameras and displays in real time. Appendix "E-Card" allows you to create maps based on the location and position of the camera. All connected cameras are displayed for easy viewing in the tree of devices. Additional features, such as patrol, rotate, zoom and focus, provide optimal control in the conduct of surveillance.

Video recording and playback
D-ViewCam Standard supports scheduled recording, motion detection recording, or manually, depending on your requirements. Search for recorded files is performed according to their type or select a playback interface. Recorded videos can be edited or exported to AVI / ASF format.

Notification settings
Software DCS-210 provides enhanced monitoring and protection through notification of events detected thanks to smoke detectors, door sensor, alarm button, camera, card reader or other device I / O. Connect any of these devices to the I / O enabled camera D-Link, and when an event occurs D-ViewCam Standard will be notified immediately and will inform the user by e-mail or via an audible alarm.

Backing up the database
Software D-ViewCam Standard supports playback function that allows you to download and play the recorded file on a computer running Windows. In this case, users are able to monitor in real time on a single computer and view recorded video on the other. Software D-ViewCam Standard also provides users with database maintenance utility (DBTool), which can be used to restore the database or change the place of its location on a local or external drive. The software also supports the import / export of configuration files, allowing users to sync settings for a variety of surveillance devices.

Compatibility with third-party CMS (Central Management System)
CMS (Central Management System) provides the ability to manage network cameras, in any quantity, providing simultaneous operation of an unlimited number of workstations. The CMS is a feature-rich solution for large-scale projects, its use in the municipal surveillance system helps to prevent illegal acts and protects government organizations and businesses operating on an international level. It is compatible with the CMS software D-ViewCam Standard provides comprehensive protection.
מאפיינים כללים
Cameras
• Supports up to 8 cameras
• Support of megapixel network cameras

Video compression formats
• MJPEG/MPEG-4/H.264

Software features
• Working with two monitors
• Full Screen
• Setting the OSD (On-screen Display)
• Monitoring in real time
• Record up to 30 frames per second
• Automatic detection of network cameras
• Support for multiple languages
• Changing the settings in real time
• The auto restart
• Support DDNS
• SMS-notification
• Locking system to prevent unauthorized users

Account Management
• User Authentication
• Limit to change the password for the user
• Creating a User Profile
• Access rights

Record
• Specify multiple locations to store records
• Scheduled Recording
• Record when an event occurs
• Protection of the recorded data
• Pre-record (Pre-record) and Post-recording (Post-record)
• Manual Recording
• One-way audio recording from multiple channels
• Display and recording in real time at different frame rates and resolution

Search and playback
• Control playback
• Intelligent Search (Smart Search)
• Histogram method to quickly search videos
• Date / time stamp for video
• Get snapshots from video
• Convert video formats to AVI / ASF
• Remote Playback / Playback via Web-browser

Video Mode
• Split screen
• The ability to move the image on the screen using the «drag-and-drop» (drag and drop)
• View the video in full screen mode
• Information Window
• View multiple video streams
• Enable the PTZ to control the pan / tilt / zoom (PTZ)
• Digital zoom in and out
• Duplication of the camera
• Remote viewing in real time

E-map
• Support for multiple cards
• Notification of Emergency
• The background maps, user-selectable
• Preview Image
• Display the status of the camera and sensor I / O

PTZ function
• Auto Pan
• Manual control
• Points Patrol (depending on the device)
• Patrolling at predetermined points
• Supports multiple patrols

I / O
• Digital output control
• Digital Output
• Turning the camera to a preset position when the signal to the digital input from external sensors
• Sending an SMS when a signal to the digital input
• Sending messages CMS when the signal to the digital input
• E-mail Alerts

Backup
• Backup the database logs and videos
• Import / Export Configuration File
• Record the backup files to a DVD, if your computer is running Windows XP
• Automatic backup

Compatibility
• ONVIF
• Support Device Pack
• Compatible with D-Link NVR
• Compatible with the sides of the central control system (CMS)
• Support Adapter D-Link DWM-152-A3/156-A3/156-A6 3,5 G / 3,75 G
• Compatibility with network cameras, D-Link (for more information on the compatibility list, please visit www.dlink.ru)

Tools
• Program for remote viewing in real time (Remote Live Viewer)
• Playback system
• Backup System
• A utility for database maintenance DB Tool
• Utility Verification Tool (check tool)
• Remote Desktop
נתונים פיזיים
Minimum system requirements
• CPU: Intel Core 2 Duo E5300
• RAM: 2 GB
• Motherboard: On the chipset Intel P55, H55, X58, P45, P43 manufacturers ASUS, Gigabyte or MSI on Intel
• Video card: ATI Radeon 4650 or better (ATI Driver V11-2)
• Ethernet: 100Base-T or above, Gigabit LAN recommended
• Hard Drive2 250 GB or more
• OS
32-bit: MS Windows XP pro SP3 / Vista SP1 / Win 7 SP1
64-bit: Win 7 SP1 / Win Server 2008 R2