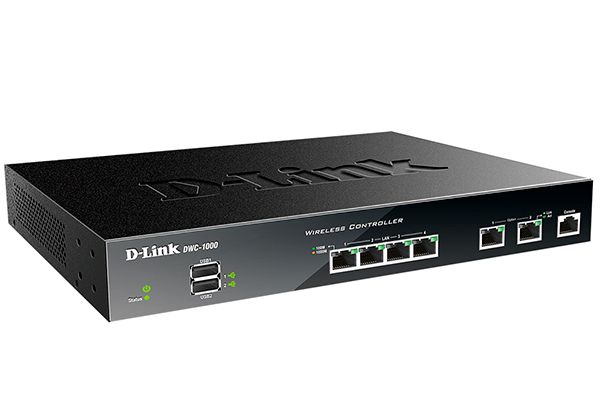 DWC-1000
מיועד לפרויקטים
בקר אלחוטי עם 2 פורטים במהירות ג'יגהביט WAN ו 4 פורטים ג'יגהביט LAN
היכן לקנות
תאור
Wireless Controller D-Link DWC-1000 provides centralized management of devices in a wireless LAN and is designed for network campuses, branch offices and small and medium business (SMB). With the ability to control from 6 to 24 wireless access points and up to 96 access points in the cluster controller, DWC-1000 is a full-featured and economical solution for small and medium businesses. Automatic detection of access points and centralized management allow users to purchase enterprise-class performance without the cost of large and complex configurations. Thanks to the reliable and versatile security DWC-1000 provides protection from potential attacks by unauthorized users and devices in a wireless network.
 
Robust and optimal network performance
DWS-1000 supports self-optimization and recovery, ensuring smooth operation of the wireless network. Thanks to periodically scans radio frequency channels, and performance analysis DWC-1000 automatically selects channels and adjusts power to avoid interference and ensure smooth operation of the network. In order to compensate for the lack of coverage due to failure of the access point, DWC-1000 automatically increases power output of the transmitter of neighboring access points to increase their coverage.
 
Advanced security features
DWC-1000 is a versatile solution to protect networks. The device supports Wireless Intrusion Detection System (WIDS), designed to detect unauthorized access points and clients, as well as various wireless security threats and unauthorized access. In addition, the device supports WEP, WPA Personal / Enterprise, WPA2 Personal / Enterprise, authentication based on MAC-addresses and the creation of adaptive portal feature that allows you to block access to customers unless they are identified. This two-tier authentication and authorization provides protection from network attacks.
 
Scalability, availability and flexibility
Many companies are often faced with the need to change the size and structure of enterprises. To meet the ever changing requirements of DWC-1000 offers the latest solution: licensed Business Wireless Plus, which provides updated product features. D-Link is offering two types of licenses Business Wireless Plus: Update license to TD and to update the license VPN.
 
Updating the license allows you to increase the number of APs managed access points. By default, the wireless controller DWC-1000 supports the management of six access points. After the upgrade license, you can control 24 access points per controller.
 
After updating the license VPN Controller DWC-1000 implements a functional VPN, router and firewall. Firewall features allow administrators to control network access through policy classification. Ports Option provides fault tolerance communication channel and backup channel for the Internet connection to provide Internet access. VPN features offer secure remote management of APs in branches offices. In constructing the VPN-tunnels are used protocols IPSec (IP Security), PPTP (Point-to-Point Tunneling Protocol) and L2TP (Layer 2 Tunneling Protocol) to facilitate the connection between the branch and main office via an encrypted virtual links. In addition, the use of Secure Sockets Layer (SSL) VPN tunnels provides mobile users with remote access to centralized corporate database.
 
Simple operation
A central remote control provides automatic detection of compatible wireless access point D-Link, add them to the list of controlled access points and quick setting with the same parameters as that of the previous access point. Due to the possibility of combining controllers in a cluster, administrators can configure and manage the entire group with a single controller. Maintenance of monitoring access points and stations connected in real-time ensures efficient use of network resources. Warnings about the dangers and collect statistics greatly simplify management and optimize network performance.
מאפיינים כללים
Interface
• Ethernet: 2-port 10/100/1000 Option *, 4-port 10/100/1000 LAN
• USB: 2 USB 2.0 ports
• The console port: RJ-45
 
Performance
• The maximum number of access points to the device (default / after the upgrade): 6/241
• The maximum number of access points in a cluster (default / after the upgrade): 24/961
• Number of concurrent users passing on an adaptive authentication portal (wired / wireless network): 124/400
• Dedicated tunnels VPN IPSec2: 70
• Dedicated tunnels VPN PPTP / L2TP2: 25
• Dedicated tunnels VPN SSL VPN2: 20
 
Office of the access points
• Compatible Managed AP: DWL-8600AP, DWL-6600AP, DWL-3600AP
• Control and detection of TH: Layer-2, Layer-3
• Monitoring the AP:
  - Managed AP
  - Unauthorized AP
  - TD is not authenticated
  - Autonomous APs
• Monitoring client
  - The authenticated client
  - Unauthorized client
  - The client is not authenticated
  - Client Ad-hoc
• Support for centralized management of security policy / RF
 
Roaming
• Fast roaming
• Roaming between controllers and access points connected to one controller
• Intra-and inter-subnet roaming
 
Security
• Wireless Network Security
  - WEP, Dynamic WEP
  - WPA Personal / Enterprise
  - WPA2 Personal / Enterprise
• Intrusion Detection System in Wireless Network (WIDS)
  - Classification of rogue access points and the actual
  - Rogue AP Mitigation
• Secure LAN
  - Access control 802.1x port-based and Guest VLAN
• Authentication
  - Adaptive Portal
  - Authentication by MAC-addresses
 
VLAN
• Group VLAN: Up to 255 entries
• 802.1q VLAN Tagging
• VLAN-based subnets
• VLAN-based port
 
Firewall
• Policies
  - Support for 100 rules for each function
  - Up to 600 firewall rules
• Dynamic mashrut: RIPv1, RIPv2
• Dynamic DNS
• NAT, PAT
• Web-content filtering
  - Static URL
  - Keywords
 
Installing
• Redundant route
• Load Balancing
 
Virtual Private Network (VPN)
• The types of encryption: DES, NULL
• IPSec NAT Traversal
• Detection of inactive nodes
• IP Encapsulating Security Payload (ESP)
• IP Authentication Header (AH)
• VPN Tunnel Keep Alive
• Hub and Spoke
 
SSL Virtual Private Network (SSL VPN) 2
• The types of encryption: DES
• Message integrity: MD5, SHA1
 
Management
• Web-interface: HTTP
• Command Line Interface
• SNMP: v1, v2c, v3