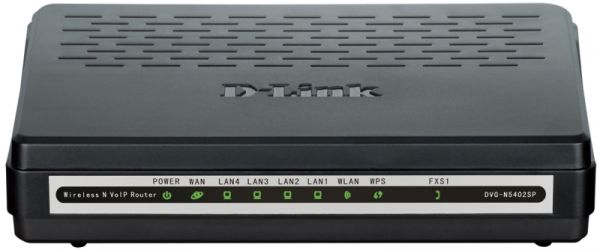 DVG-N5402SP/1S/C1A
נתב אלחוטי בתקן 802.11n עם כניסת FXS ו-4 כניסות LAN
היכן לקנות
תאור
SIP- telephony
VoIP- FXS- router has a port that allows you to connect an analog phone to make calls via the Internet.
 
Wireless Interface
Using Wireless Router DVG-N5402SP, you can quickly arrange high-speed wireless network at home or in the office, providing Internet access to computers and mobile devices almost anywhere (within range of a wireless network.) The Router can serve as a base station for wireless network devices of the standards 802.11b, 802.11g and 802.11n ( up to 300 Mbit / s) . Enable and disable the wireless network router , you can single click WLAN, located on the device .
 
In the router supports multiple functions for the wireless interface . The device supports several security standards (WEP, WPA/WPA2), filtering devices to be connected to MAC- address , as well as allows you to use WPS, WMM.
 
In addition, the device is equipped with a button to disable / enable the Wi-Fi- network. In case of need , such as leaving home , you can turn off the router's wireless network at the touch of a button , while the devices connected to the router's ports will remain in the network.
 
Security
Wireless Router DVG-N5402SP provides firewall . Enhanced security functions minimize threats of hackers and prevent intrusions to your network .
 
Configuration and צanagement
To manage and configure the wireless router DVG-N5402SP uses a simple and user-friendly web- interface (available in several languages ​) .
מאפיינים כללים
WAN interface
• 1 10/100BASE-TX Ethernet port for cable or DSL- modem or connect to a dedicated Ethernet- line

LAN interface
• 4-port 10/100BASE-TX Ethernet

WLAN interface
• IEEE 802.11n ( up to 300 Mbit / s)
• IEEE 802.11b / g

FXS interface
• 1 FXS port to connect an analog phone or fax machine

Frequency band
• 802.11b: 2400 ~ 2484 MHz ISM band
• 802.11g: 2400 ~ 2484 MHz ISM band
• 802.11n
◦ HT20: 2400 ~ 2483.5 MHz ISM band
◦ HT40: 2422 ~ 2452 MHz ISM band

​​Wireless speed
• 802.11b: 11, 5.5, 2 and 1 Mbit / c for each channel, with automatic speed
• 802.11g: 54, 48, 36, 24 , 18, 12 , 9 and 6 Mbit / s for each channel, with automatic speed
• 802.11n
◦ HT20: up to 150 Mbit / s
◦ HT40: up to 300 Mbit / s

Modulation schemes
• 802.11b: CCK, DQPSK, DBPSK
• 802.11g: 64QAM, 16QAM, QPSK, BPSK, DSSS
• 802.11n: 64 QAM, 16QAM, QPSK, BPSK

Software
Basic functions SIP
• Invite with Challenge
• Register for IP-address SIP- server or domain name
• Support the format of SIP URI (RFC3986)
• Support for outbound (outbound) proxy
• Timers sessions (update / re-invite)
• Support for DNS SRV
• Types of calls: Voice / Modem / Fax
• User-configurable dial plan (dial plan)
• Identify the source and destination (P2P- calls) manually
• Dialing E.164 ( with an exclusion rule ENUM)

Call functions
• Direct call IP-to-IP without SIP proxy
• Hold / resume a call
• Call Waiting
• Forwarding (unconditional , on busy , no answer )
• "Do not disturb"
• Message Waiting Indication (MWI)
• Lock Hidden Numbers
• AntiAON
• Speed ​​Dial
• "hotline"

Voice features
• Codecs : G.711 a / μ-law, G.729A, G.726, G.722
• DTMF detection and generation
• Comfort noise generation (CNG)
• Voice Activity Detection (VAD)
• Variable (dynamic ) jitter- buffer
• Generation of call progress tone (FXS)
• Program Gain
• In-band DTMF, out-of-band DTMF (RFC2833, SIP-INFO)
• Support for tone / pulse dialing
• Detection and generation Caller ID (Caller ID)
• T.30 FAX bypass to G.711, T.38 Real Time FAX Relay

Network features
• Types of WAN- connections:
◦ PPPoE
◦ Static IP
◦ Dynamic IP
◦ PPTP/L2TP
◦ PPTP/L2TP + Static IP
◦ PPTP/L2TP + Dynamic IP
• DHCP- Server and DHCP- Client
• DNS relay
• Skip VPN- tunnel (PPTP/L2TP)
• Dynamic DNS
• Static IP- routing
• Remote access
• Network statistics for each interface
• IGMP Proxy
• RIP
• UPnP
• VLAN support
• Supports ping from the external network (WAN ping respond)

Wireless connection
• Supported safety standards :
◦ WEP
◦ WPA/WPA2 Personal
◦ WPA/WPA2 Enterprise
• MAC- filter
• PIN and PBC methods of WPS
• WMM (Wi-Fi QoS)
• Advanced Settings

Firewall features
• Network Address Translation (NAT)
• Stateful Packet Inspection (SPI)
• IP- filters
• MAC- filter
• URL- Filter
• DMZ- zone
• The protection and ARP- DDoS-attacks
• Virtual servers

Configuration and management
• Web- based interface for configuration and management of multiple languages
• Access via TELNET
• Upgrade the firmware of the router through the web- interface
• Save and load configuration
• Support for remote logging
• Automatic synchronization of system time with a NTP-server and manually configure the date and time
• Ping
• Traceroute utility