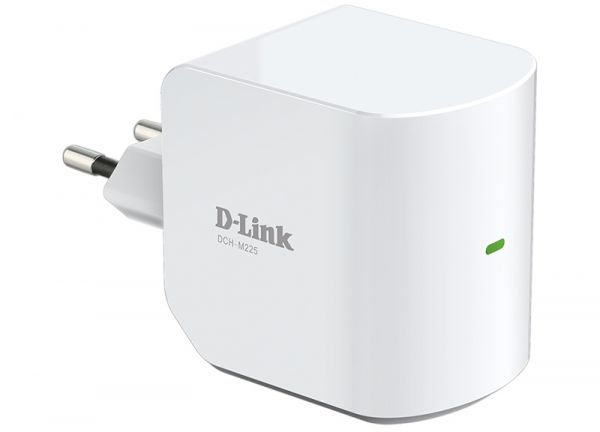 DCH-M225
מגדיל טווח אלחוטי Wireless N300 להגדלת טווח אלחוטי של רשת אלחוטית הקיימת עם יציאת אודיו
היכן לקנות
תאור
The DCH-M225 Wi-Fi Audio Extender is a portable plug-in repeater that lets you extend an existing wireless network. It also has the ability to stream your music library to anywhere within your extended wireless network. Tiny yet powerful, it supports Wireless N speeds of up to 300 Mbps* in a device that fits in the palm of your hand.
 
Compact, Convenient Design
The DCH-M225's compact design is ideal for use at home or a small office, as it does not take up much space and is ready to use by simply plugging it in. The repeater's small form means it can easily be plugged into a power outlet without blocking other outlets while its wall wart design saves you the hassle of dealing with a power cord. Its sleek, unobtrusive appearance means it blends easily into the background.
 
Conveniently Stream Audio
Expanding your audio capabilities has never been easier with the help of the DCH-M225. With support for both DLNA and AirPlay, simply plug in your speakers and you'll be able to stream audio to anywhere within your wireless network. The Wi-Fi WMM quality of service protocol ensures that you'll have no issues with bandwidth when streaming audio and performing other task such as surfing the Internet, checking email, or online gaming.
 
Easy to Set Up, Easy to Use
Setting up the Wi-Fi Audio Extender is simple to do with several convenient ways. You can use the supported QRS Mobile app on your iOS or Android mobile device to set up the DCH-M225 easily without needing to be at a computer.  Alternatively, you can use One-touch configuration by pushing the WPS push-button on the DCH-M225 and on the router or AP you want to extend. You can also simply plug the DCH-M225 in, connect to it wirelessly with a PC or mobile device, and follow the steps in the built-in Setup Wizard to configure the DCH-M225.
מאפיינים כללים
Device Interfaces
• 802.11n/g/b wireless
• WPS button
• Reset button
• 3.5 mm Stereo Jack
 
LED
• Status/WPS
 
Standards
• IEEE 802.11n/g/b
 
Wireless Frequency Range
• 2.4 GHz to 2.4835 GHz
 
Antennas
• Two internal antennas
 
Plug Type
• Region dependent
 
Security
• Wi-Fi Protected Access (WPA/WPA2)
• WEP 64/128-bit encryption
• WPS (PBC)
 
Advanced Features
• QRS app support (iOS, Android)
 
Device Management
• Web UI