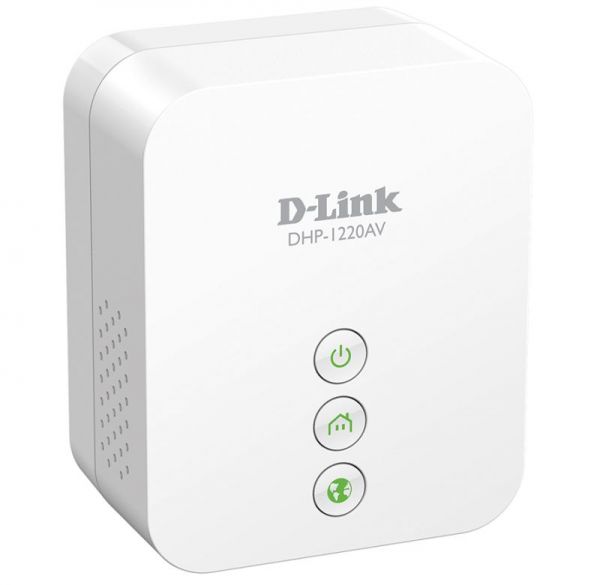 DHP-1220AV
EOL
נתב אלחוטי PowerLine עם תמיכה ב HomePlug AV, פועל בתקן 802.11n במהירות עד 150Mbps
היכן לקנות
תאור
The DHP-1220AV PowerLine AV Wireless N150 Mini Router uses your home's existing electrical wiring to create a network or extend your existing network.* Share the Internet connection in your study with a game console in your living room, or connect two PCs in different rooms, all without the need to install additional network cabling.

Data Transmission Over Electrical Wiring
The D-Link DHP-1220AV PowerLine AV Wireless N150 Mini Router turns every power outlet into a possible network connection to access digital media devices, game consoles, print servers, computers, and network storage devices throughout your home. Compliant with the HomePlug AV standard the DHP-1220AV is ensured compatible with older PowerLine devices.

Versatile Wired or Wireless Streaming
The DHP-1220AV is capable of delivering data transfer rates of up to 200 Mbps.** This fast transmission speed makes it suitable for smooth media streaming, VoIP calls, and lag-free online gaming. In addition, support for 802.11n means you can access the Internet and transfer your data wirelessly to your mobile, tablet, or laptop. Now you can experience high-quality
multimedia streaming throughout your home to all of your devices, all through your existing electrical wiring.

Convenient Setup And Secure Operation
The DHP-1220AV plugs directly into a power outlet, and does not require any additional cables. Extend your home network by connecting multiple devices in the farthest corners of your home, or attach a switch or wireless access point to the adapter for additional connectivity. Simply push the Wi-Fi Protected Setup button and connect your devices to your network securely. With hassle-free plug-and-play installation, the DHP-1220AV is an ideal solution to create a room-to-room home network.


* Power outlets and electrical wiring must all be part of the same electrical system. Certain electrical conditions in your home, such as wiring condition and configuration, may affect the performance of this product. Additional D-Link PowerLine AV series products are required to add new devices to the network. A minimum of two D-Link PowerLine AV series products are required to create a network. Connecting this product to a power strip with a surge protector may adversely affect the performance of this product. For best results, plug the adapter directly into a wall outlet.

** Maximum throughput is based on theoretical transmission PHY rate. Actual data throughput will vary. Network conditions and environmental factors, including volume of traffic and network overhead, may lower actual data throughput rate. Interference from devices that emit electrical noise, such as vacuum cleaners and hair dryers, may adversely affect the performance of this product. This product may interfere with devices such as lighting systems that have a dimmer switch or a touch-sensitive on/off feature, short wave radios, or other PowerLine devices that do not follow the HomePlug AV standard.
מאפיינים כללים
PowerLine Interface
• One PLC interface compatible with HomePlug AV specification up to 200 Mbps

Ethernet Interfaces
• One 10/100 Mbps Fast Ethernet WAN port
• One 10/100 Mbps Fast Ethernet LAN port

Antenna
• One internal antenna

Standards
• IEEE 802.11n
• IEEE 802.11g
• IEEE 802.11b
• IEEE 802.3u
• UPnP
• IEEE 1901
• HomePlug AV

Security
• 128-bit AES data encryption

LEDs
• Power
• Ethernet
• PowerLine

PowerLine Modulation Scheme
• BPSK
• QPSK
• 16QAM
• 64QAM
• OFDM

Wireless Frequency Range
• 2400 to 2497 MHz ISM band

Data Rate
• Ethernet: 10/100 Mbps (auto negotiation)
• WLAN: Up to 150 Mbps
• PowerLine: Up to 200 Mbps

Advanced firewall features
• Port forwarding
• MAC address filter
• Website filte