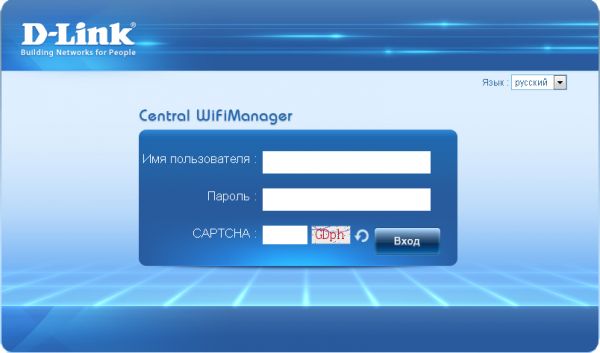 CWM-100
בקר אלחוטי לניהול נקודות גישה מבוסס תוכנה - D-Link Central WiFiManager
תאור
A simple solution for the remote management of wireless infrastructure

Central WifiManager is a free software controller for centralized control of wireless networks of small, medium and large enterprises. With it, administrators can remotely manage hundreds of access points, regardless of where they are currently located. For more effective management controller supports remote configuration of wireless network settings, monitor the network in real-time, secure authentication on the guest portal, automatic adjustment of the frequency plan and transmit power, the ability to group firmware upgrade and configuration of access points.

Management access from anywhere
The program controller D-Link can be installed in a local network or on a remote cloud platform. This solution allows the administrator to connect to the server and control the operation of devices from anywhere in the world where there is Internet access. Supports administration by multiple users with different levels of access.

Managed network of 1,000 points of access
Unlike hardware controllers, program the controller D-Link Central WiFiManager free of charge in the case of expansion of the wireless network does not require the purchase of additional licenses to increase the number of managed APs. Since the controller can control the operation of the access points 1000¹ D-Link regardless of where they are located. Among the supported models - DAP-2330 and DAP-2360 / B1 class N300, dual-band access point DAP-2690 / B1 class N600, DAP-2660 class AC1200, DAP-2695 class AC1750, and external dual-band access point DAP-3662 class AC1200 .

Ease of use
The administrator has access to the Central WiFiManager through the Internet from your computer, smartphone or tablet anytime, regardless of location. Configuring and managing a wireless network implemented by a simple and easy-to-use Web-based interface, which is available in Russian.

Enterprise-class Functionality
The controller is designed to meet the highest demands of modern business and offers a range of enterprise-level features, including:
authentication via external RADIUS servers, or LDAP, the ability to control radio frequencies to switch access points to the less loaded channel the automatic power settings to improve performance wireless network the ability to automatically eliminate "dead zones" in the event of failure of one of the TD Managed by increasing the capacity of the neighboring
load balancing between bands for dual-band TD.

Portal authentication for users of the visited network
The program controller supports differentiation of network traffic - domestic worker and the guest. A special portal allows full control of the visited network, and block access to the clients not authenticated.
מאפיינים כללים
Web-based management
• Software controller that can be installed on a Microsoft Windows computer and accessed through any device with a web browser such as a smartphone, tablet or computer

Multi-site management
• Multiple distributed sites can be managed from a central location
• The multi-tenant architecture provides multi-layer management authority

NAT pass-through
• Controllers can manage wireless access points in remote locations even if they are behind a NAT device (router or firewall)

Captive portal and access control
• Supports local DB, external RADIUS, LDAP, POP3 and Wi-Fi passcode authentication
• Supports user access control
• Customisable captive portal login page

Auto radio frequency (RF) management
• Supports automatic channel and output power optimisation
• Wireless radio on/off by scheduling

Bandwidth optimisation
• Optimises wireless bandwidth

Compatible with
• DAP-2230 - Wireless N PoE Access Point
• DAP-2310 - Wireless N Access Point
• DAP-2360 - Wireless N PoE Access Point (plenum-rated)
• DAP-2660 - Wireless AC1200 Simultaneous Dual-Band PoE Access Point
• DAP-2690 - Wireless N Simultaneous Dual-Band PoE Access Point
• DAP-2695 - Wireless AC1750 Simultaneous Dual-Band PoE Access Point
• DAP-3320 - Wireless PoE Outdoor Access Point
• DAP-3662 - Wireless AC1200 Simultaneous Dual-Band Outdoor PoE Access Point

WLAN Management
• Maximum APs per Device (Controller): 500

WLAN Management Features
• AP grouping
• Multi-tenancy
• Visualised topology
• NAT pass-through

AP-Controller Connection Mode
• Bridge mode

User Authentication
• Guest Portal
• Captive portal with customisable login page

Authentication Method
• Local
• POP3
• RADIUS
• LDAP
• Voucher

Hotspot Features
• Built-in support for voucher-based authentication
• Built-in hotspot manager for voucher creation and guest management
• Rate limiting and bandwidth control for guest and hotspot portal

Wireless Features
• RF Management and Control
• Auto Output Power Control
• Auto Channel
• Self-healing around failed APs
• Wireless radio on/off by scheduling

Multiple SSIDs per Radio(AP)
• 8

Advanced Wireless Features
• Band steering
• L2 roaming
• Bandwidth optimisation

WIDS System
• Rogue AP detection

Management Interface
• Web-based user interface

Minimum System Requirements
• Computer running Microsoft Windows 7 or Windows Server 2008/2012

Online Check
• Firmware
• Module

Scheduling
• Firmware update
• Configuration update

Wireless Access Points Compatible with Central WiFiManager

DAP-3662
• Support dual-band 802.11ac/n/g/b/a
• Outdoor deployment (IP68)
• 900 Mbps 5GHz speed
• 300 Mbps 2.4 GHz speed
• Up to 16 SSID
• 2 x Gigabit Ethernet
• Supports 802.3af PoE
• Internal antenna
• Wall or pole-mountable

DAP-3662
• Support 802.11n/g/b
• Outdoor deployment (IP55)
• 300 Mbps 2.4 GHz speed
• Up to 8 SSID
• 1 x Fast Ethernet
• Supports 802.3af PoE
• Internal antenna
• Wall or pole-mountable

DAP-2695
• Support dual-band 802.11ac/n/g/b/a
• Indoor deployment
• 1300 Mbps 5GHz speed
• 450 Mbps 2.4 GHz speed
• Up to 16 SSID
• 2 x Gigabit Ethernet
• Supports 802.3at PoE
• External antenna
• Wall-mountable or desktop placement

DAP-2660
• Support dual-band 802.11ac/n/g/b/a
• Indoor deployment
• 900 Mbps 5GHz speed
• 300 Mbps 2.4 GHz speed
• Up to 16 SSID
• 1 x Gigabit Ethernet
• Supports 802.3af PoE
• Internal antenna
• Wall/ceiling-mountable or desktop placement

DAP-2690
• Support dual-band 802.11n/g/b/a
• Indoor deployment
• 300 Mbps 5GHz speed
• 300 Mbps 2.4 GHz speed
• Up to 16 SSID
• 1 x Gigabit Ethernet
• Supports 802.3af PoE
• External antenna
• Wall-mountable or desktop placement

DAP-2360
• Support single-band 802.11n/g/b
• Indoor deployment
• 300 Mbps 2.4 GHz speed
• Up to 8 SSID
• 1 x Gigabit Ethernet
• Supports 802.3af PoE
• External antenna
• Wall-mountable or desktop placement

DAP-2310
• Support single-band 802.11n/g/b
• Indoor deployment
• 300 Mbps 2.4 GHz speed
• Up to 8 SSID
• 1 x Gigabit Ethernet
• External antenna
• Wall-mountable or desktop placement

DAP-2230
• Support single-band 802.11n/g/b
• Indoor deployment
• 300 Mbps 2.4 GHz speed
• Up to 8 SSID
• 1 x Fast Ethernet
• Supports 802.3af PoE
• Internal antenna
• Wall/ceiling-mountable