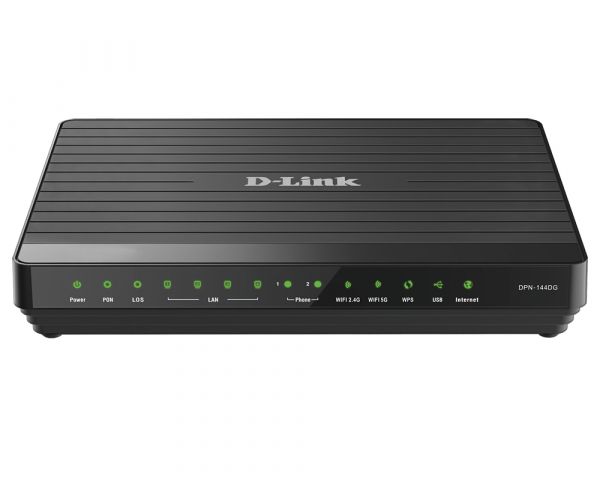 DPN-144DG
מיועד לפרויקטים
GPON ONT Dual Band Wireless AC1200 VoIP Gateway with 1 GPON Port, 4 10/100/1000Base-T Ports, 2 FXS Ports, and 1 USB Port
היכן לקנות
תאור
GPON Technology
DPN-144DG provides an optical line connection to a GPON OLT device. The key advantage of GPON technology is extraordinary bandwidth of the channel. This helps to deliver the next generation of high-speed Internet services to home and office users. DPN-144DG helps to provide a reliable, long-reaching last-mile connection by extending the high-bandwidth public network to people living and working in remote multi-unit buildings.
Triple Play Services
High-speed broadband access with the rate up to 2.4Gbps allows to provide customers with all high-demand services (such as HD IPTV, VoIP, Internet connection) simultaneously.
Voice
The device is equipped with two FSX ports which allow connection of analog phones for calls via Internet.
Ethernet WAN
Any Ethernet port of the device can be configured to connect to a private Ethernet line.
Wireless Interface
Using the DPN-144DG device, you are able to quickly create a high-speed wireless network at home or in your office, which lets computers and mobile devices access the Internet virtually anywhere (within the operational range of your wireless network). Simultaneous activity of 2.4GHz band and 5GHz band allows performing a wide range of tasks. The gateway can operate as a base station for connecting wireless devices of the standards 802.11a, 802.11b, 802.11g, 802.11n, and 802.11ac (at the wireless connection rate up to 1167Mbps).1
Secure Wireless Connection
DPN-144DG supports multiple functions for the wireless interface: several security standards (WEP, WPA/WPA2), MAC address filtering, WPS, WMM.
In addition, the device is equipped with a button for switching the Wi-Fi network off/on. If needed, for example, when you leave home, you can easily switch the gateway's WLAN by pressing the button, and devices connected to the LAN ports of the gateway will stay online.
Advanced Capabilities of Wireless Network
Smart adjustment of Wi-Fi clients is useful for networks based on several D-Link access points or routers – when the smart adjustment function is configured on each of them, a client always connects to the access point (router, gateway) with the highest signal level.
Support of guest Wi-Fi network allows you to create a separate wireless network with individual security settings and maximum rate limitation. Devices connected to the guest network will be able to access the Internet, but will be isolated from the devices and resources of the gateway's LAN.
USB Port
The device is equipped with a USB port for connecting a USB modem, which can be used to establish connection to the Internet. In addition, to the USB port of the gateway you can connect a USB storage device, which will be used as a network drive, or a printer.
Security
The VoIP gateway DPN-144DG includes a built-in firewall. The advanced security functions minimize threats of hacker attacks, prevent unwanted intrusions to your network, and block access to unwanted websites for users of your LAN.
In addition, the gateway supports IPsec and allows to create secure VPN tunnels.
Built-in Yandex.DNS service protects against malicious and fraudulent web sites and helps to block access to adult content on children's devices.
Easy Configuration and Update
You can configure the settings of DPN-144DG via the user-friendly web-based interface (the interface is available in two languages – in Russian and in English).
DPN-144DG itself checks the D-Link update server. If a new approved firmware is available, a notification will appear in the web-based interface of the device.
The built-in TR-069 client allows to perform remote configuration and diagnostics of the device independently from the customer.
1Up to 300Mbps for 2.4GHz and up to 867Mbps for 5GHz.
מאפיינים כללים
Hardware

Processor
• RTL9607
RAM
• 128MB, DDR3
Flash
• 128MB, NAND

Interfaces

• GPON port (SC/APC connector)

• 4 10/100/1000BASE-T LAN ports

• 2 RJ-11 FXS ports

• USB 2.0 port

LEDs

• Power

• PON

• LOS

• 4 LAN LEDs

• 2 Phone LEDs

• WIFI 2.4GHz

• WIFI 5GHz

• WPS

• USB

• Internet

Buttons

• ON/OFF button to power on/power off

• RESET button to restore factory default settings

• WPS button to set up wireless connection and enable/disable wireless network

Antenna

• Two internal antennas (3.5dBi gain for 2.4GHz and 5GHz)

MIMO

• 2 x 2

Power connector

• Power input connector (DC)

PON

GPON features

• Class B+ GPON optical transceiver

• Upstream (transmitter): 1310nm ± 50nm, 1.244Gbps upstream burst data rate

• Downstream (digital receiver): 1490nm ± 10nm, 2.488Gbit/s downstream continuous data rate

• Single mode fiber cable

• AES encryption

• Support of IGMP v1/v2 Snooping, 16 entries, enable/disable, Fast leaving

• MAC learning

• UNI port configuration (rate, duplex mode, flow control, disable/enable, auto mode)

• Maximum frame length to 1522 bytes

• Compliance to ONT dying gasp

• ONT authentication

Phone

General SIP features

• Individual account per port

• Invite with Challenge

• Register by IP address or domain name of SIP server

• Backup proxy support

• Support of DHCP option 120

• RFC3986 SIP URI format support

• Outbound proxy support

• STUN client

• NAT keep-alive

• Call types: voice/modem/fax

• User programmable Dial Plan

• Manual peer table (P2P)

• E.164 Numbering, ENUM support

Call features

• Direct IP-to-IP call without SIP proxy

• Call hold/retrieve

• Call awaiting

• Forwarding (unconditional, busy, no answer)

• Do Not Disturb

• Blocking hidden number calls

• Speed dialing

• Phone book

• Hotline

• Vertical service codes

• Filtering by IP address (white/black list)

• Alarm clock

Voice features

• Codecs: G.711 a/μ-law, G.729A, G.726, G.722, G.723.1

• DTMF detection and generation

• In-band DTMF, out-of-band DTMF (RFC2833, SIP-INFO)

• Comfort Noise Generation (CNG)

• Voice Activity Detection (VAD)

• Dynamic Jitter Buffer

• Call progress tone generation (FXS)

• DTMF/PULSE dial support

• Caller ID detection and generation

• T.30 FAX bypass to G.711, T.38 Real Time FAX Relay

• Adjustable Flash Time

• Volume control (speaker/microphone)

Software

WAN connection types

• Static IPv4 / Dynamic IPv4

• Static IPv6 / Dynamic IPv6

• PPPoE

• PPPoE IPv6

• PPPoE Dual Stack

• PPTP/L2TP

Network functions

• Support of IEEE 802.1X for Internet connection

• DHCP server/relay

• Stateful/Stateless mode for IPv6 address assignment, IPv6 prefix delegation

• DNS relay

• Dynamic DNS

• Static IP routing

• Static IPv6 routing

• IGMP Proxy

• RIP

• Support of UPnP IGD

• Support of VLAN

• Support of MVR

• WAN ping respond

• Support of SIP ALG

• Support of RTSP

• Autonegotiation of speed, duplex mode, and flow control/Manual speed and duplex mode setup for each Ethernet port

Firewall functions

• Network Address Translation (NAT)

• Stateful Packet Inspection (SPI)

• IP filter

• IPv6 filter

• MAC filter

• URL filter

• DMZ

• Prevention of ARP and DDoS attacks

• Virtual servers

• Built-in Yandex.DNS web content filtering service

VPN

• IPSec/PPTP/L2TP/PPPoE pass-through

• IPSec tunnels

USB interface functions

• USB modem1

   - Auto connection to available type of supported network (4G/3G/2G)

   - Auto configuration of connection upon plugging in USB modem

   - Enabling/disabling PIN code check, changing PIN code2 

• USB storage

   - File browser

   - Print server

   - Access to storage via accounts

   - Built-in Samba server

   - Built-in FTP server

   - Built-in DLNA server

   - Built-in Transmission torrent client; uploading/downloading files from/to USB storage

Management

• Local and remote access to settings through TELNET/WEB (HTTP/HTTPS)

• Bilingual web-based interface for configuration and management (Russian/English)

• Notification on connection problems and auto redirect to settings

• Firmware update via web-based interface

• Automatic notification on new firmware version

• Saving/restoring configuration to/from file

• Support of remote logging

• Automatic synchronization of system time with NTP server and manual time/date setup

• Ping utility

• Traceroute utility

• TR-069 client

Wireless Module Parameters

Standards

• IEEE 802.11a/n/ac

• IEEE 802.11b/g/n

Frequency range

• 2400 ~ 2483.5MHz

• 5150 ~ 5350MHz

• 5650 ~ 5725MHz

Wireless connection security

• WEP

• WPA/WPA2 (Personal/Enterprise)

• МАС filter

• WPS (PBC/PIN)

Advanced functions

• Support of client mode

• WMM (Wi-Fi QoS)

• Information on connected Wi-Fi clients

• Advanced settings

• Guest Wi-Fi / support of MBSSID

• Limitation of wireless network rate

• Periodic scan of channels, automatic switch to least loaded channel

Wireless connection rate

• IEEE 802.11a: 6, 9, 12, 18, 24, 36, 48, and 54Mbps

• IEEE 802.11b: 1, 2, 5.5, and 11Mbps

• IEEE 802.11g: 6, 9, 12, 18, 24, 36, 48, and 54Mbps

• IEEE 802.11n (2.4GHz/5GHz): from 6.5 to 300Mbps (from MCS0 to MCS15)

• IEEE 802.11ac (5GHz): from 6.5 to 867Mbps (from MCS0 to MSC9)

Physical Parameters

Dimensions (L x W x H)

• 228 x 160 x 41 mm (9 x 6.3 x 1.6 in)

Operating Environment

Power

• Output: 12V DC, 2.5A

Temperature

• Operating: from 0 to 40 °C

• Storage: from -40 to 70 °C

Humidity

• Operating: from 10% to 90% (non-condensing)

• Storage: from 5% to 95% (non-condensing)

Supported USB modems3
GSM

• Alcatel X500

• D-Link DWM-152C1

• D-Link DWM-156A6

• D-Link DWM-156A7

• D-Link DWM-156C1

• D-Link DWM-157B1

• D-Link DWM-157B1 (Velcom)

• D-Link DWM-158D1

• D-Link DWR-710

• Huawei E150

• Huawei E1550

• Huawei E156G

• Huawei E160G

• Huawei E169G

• Huawei E171

• Huawei E173 (Megafon)

• Huawei E220

• Huawei E3131 (МТС 420S)

• Huawei E352 (Megafon)

• Prolink PHS600

• Prolink PHS901

• ZTE MF112

• ZTE MF192

• ZTE MF626

• ZTE MF627

• ZTE MF652

• ZTE MF667

• ZTE MF668

• ZTE MF752

LTE

• Huawei E3131

• Huawei E3272

• Huawei E3351

• Huawei E3372

• Huawei E367

• Huawei E392

• Megafon M100-1

• Megafon M100-2

• Megafon M100-3

• Megafon M100-4

• Megafon M150-1

• Megafon M150-2

• Quanta 1K6E (Билайн 1K6E)

• Yota LU-150

• Yota WLTUBA-107

• ZTE MF823

• ZTE MF827

• МТС 824F

• МТС 827F

Smartphones in USB tethering mode
• Some models of Android smartphones

1In the next firmware versions.
2For GSM USB modems and some models of LTE USB modems
3The manufacturer does not guarantee proper operation of the gateway with every modification of the firmware of USB modems.
הורדות
DPN-144DG  GPON ONT Dual Band Wireless AC1200 VoIP Gateway with 1 GPON Port, 4 10/100/1000Base-T Ports, 2 FXS Ports, and 1 USB Port