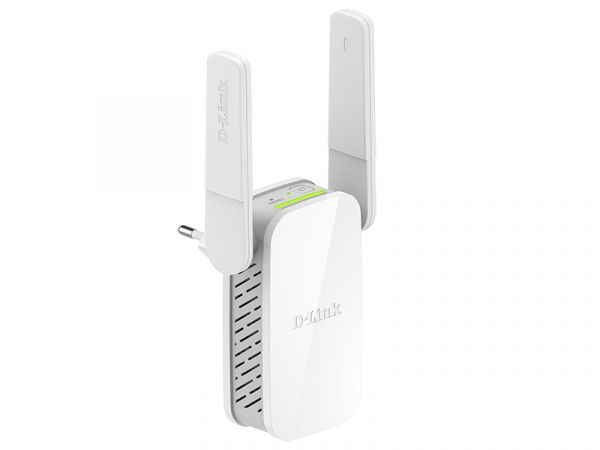 תאור
Wireless Interface
The wireless extender DAP-1610 is a portable device designed to increase the operational range of your wireless network. The extender supports operation with wireless devices of the standards 802.11a, 802.11b, 802.11g, 802.11n, and 802.11ac (at the wireless connection rate up to 1167Mbps ). Simultaneous activity of 2.4GHz band and 5GHz band allows performing a wide range of tasks.

Secure Wireless Connection
The device supports multiple functions for the wireless interface: several security standards (WEP, WPA/WPA2), MAC address filtering, different operation modes (repeater, client, access point), WPS, WMM.

Advanced Capabilities of Wireless Network
Smart adjustment of Wi-Fi clients is useful for networks based on several D-Link access points or routers – when the smart adjustment function is configured on each of them, a client always connects to the access point (router) with the highest signal level.

LAN Port
The wireless extender is equipped with one Fast Ethernet LAN port, which can be used to connect a wired client to the extender or to connect DAP-1610 to a wired router.

Signal Strength LED
The LED clearly shows the signal level of the wireless network to which DAP-1610 is connected. Due to this, you can easily find the best location for the extender.

Easy Configuration and Update
You can configure the settings of the DAP-1610 device via the user-friendly web-based interface (the interface is available in two languages – in Russian and in English).
The configuration wizard allows you to quickly switch the extender to the access point, repeater, or client mode and configure all needed settings for the selected mode in several simple steps.
Now you can simply update the firmware: when the Internet access is provided, the extender itself finds approved firmware on D-Link update server and notifies when ready to install it.

Repeater Mode
You can connect DAP-1610 in the repeater mode to a wireless router for extending the range of the existing wireless network.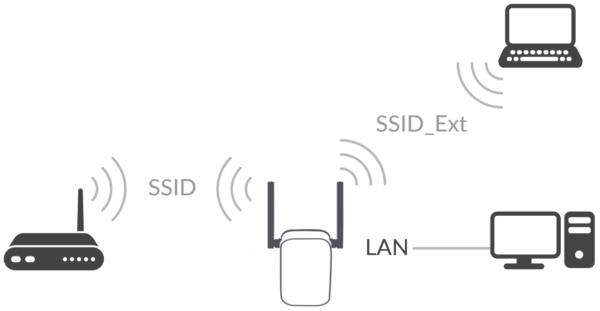 Client Mode
In the client mode, you can let a wired PC connected to DAP-1610 access the network of a wireless router.
Access Point Mode
You can connect DAP-1610 in the access point mode to a wired router for adding a wireless network to the existing local network.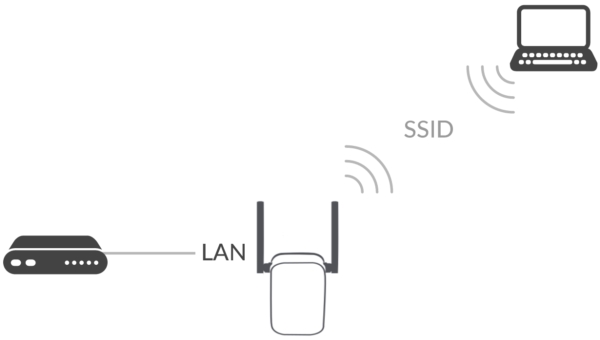 1Up to 300Mbps for 2.4GHz and up to 867Mbps for 5GHz.
מאפיינים כללים
Hardware

Processor

• MT7628NN (575/580MHz)

RAM

• 64MB, DDR2

Flash

• 8MB, SPI

Interfaces

• 10/100BASE-TX LAN port

LEDs

• POWER/WPS

• Wi-Fi Signal Strength

Buttons

• WPS button to set up wireless connection

• RESET button to restore factory default settings

Antenna

• Two external non-detachable antennas (3dBi gain for 2.4GHz and 2dBi gain for 5GHz)

MIMO

• 2 x 2

Power connector

• CEE 7/16 plug for AC power supply

Software

Network functions

• DHCP server

• Automatic obtainment of LAN IP address

• DNS relay

• Autonegotiation of speed, duplex mode, and flow control/Manual speed and duplex mode setup for the Ethernet port

Firewall functions

• MAC filter

Management

• Local and remote access to settings through TELNET/WEB (HTTP/HTTPS)

• Bilingual web-based interface for configuration and management (Russian/English)

• Firmware update via web-based interface

• Automatic notification on new firmware version

• Saving/restoring configuration to/from file

• Support of logging to remote host

• Automatic synchronization of system time with NTP server and manual time/date setup

• Ping utility

• Traceroute utility

Wireless Module Parameters

Standards

• IEEE 802.11a/n/ac

• IEEE 802.11b/g/n

Frequency range

• 2400 ~ 2483.5MHz

• 5150 ~ 5350MHz

• 5650 ~ 5725MHz

Wireless connection security

• WEP

• WPA/WPA2 (Personal/Enterprise)

• МАС filter

• WPS (PBC/PIN)

Advanced functions

• Support of client mode

• WMM (Wi-Fi QoS)

• Information on connected Wi-Fi clients

• Advanced settings

• Smart adjustment of Wi-Fi clients

• Support of MBSSID

• Periodic scan of channels, automatic switch to least loaded channel

• Autonegotiation of channel bandwidth in accordance with environment conditions (20/40 Coexistence)

Wireless connection rate

• IEEE 802.11a: 6, 9, 12, 18, 24, 36, 48, and 54Mbps

• IEEE 802.11g: 6, 9, 12, 18, 24, 36, 48, and 54Mbps

• IEEE 802.11n (2.4GHz/5GHz): from 6.5 to 300Mbps (from MCS0 to MCS15)

• IEEE 802.11ac (5GHz): from 6.5 to 867Mbps (from MCS0 to MSC9)

Transmitter output power

 

The maximum value of the transmitter output power depends upon the radio frequency regulations applied in your country

• 802.11a (typical at room temperature 25 °C)

  17dBm (±1dB) at 6Mbps

  14dBm (±1dB) at 54Mbps

   

• 802.11g (typical at room temperature 25 °C)

  16dBm (±1dB) at 6, 9, 12, 18, 24, 36Mbps

  14dBm (±1dB) at 48, 54Mbps

   

• 802.11n (typical at room temperature 25 °C)

  2.4GHz, HT20

  16dBm (±1dB) at MCS0~5

  14dBm (±1dB) at MCS6~7

  2.4GHz, HT40

  15dBm (±1dB) at MCS0~5

  13dBm (±1dB) at MCS6~7

   

• 802.11ac (typical at room temperature 25 °C)

  17dBm (±1dB) at MCS0

  13dBm (±1dB) at MCS9

Receiver sensitivity

• 802.11a (typical at PER = 10% (1000-byte PDUs) at room temperature 25 °C)

  -82dBm at 6Mbps

  -81dBm at 9Mbps

  -79dBm at 12Mbps

  -77dBm at 18Mbps

  -74dBm at 24Mbps

  -70dBm at 36Mbps

  -66dBm at 48Mbps

  -65dBm at 54Mbps

   

• 802.11g (typical at PER = 10% (1000-byte PDUs) at room temperature 25 °C)

  -82dBm at 6Mbps

  -81dBm at 9Mbps

  -79dBm at 12Mbps

  -77dBm at 18Mbps

  -74dBm at 24Mbps

  -70dBm at 36Mbps

  -66dBm at 48Mbps

  -65dBm at 54Mbps

   

• 802.11n (typical at PER = 10% (1000-byte PDUs))

  2.4GHz, HT20

  -82dBm at MCS0

  -79dBm at MCS1

  -77dBm at MCS2

  -74dBm at MCS3

  -70dBm at MCS4

  -66dBm at MCS5

  -65dBm at MCS6

  -64dBm at MCS7

  HT40

  -79dBm at MCS0

  -76dBm at MCS1

  -74dBm at MCS2

  -71dBm at MCS3

  -67dBm at MCS4

  -63dBm at MCS5

  -62dBm at MCS6

  -61dBm at MCS7

 

• 802.11ac (typical at PER = 10% (1000-byte PDUs))

  HT20

  -82dBm at MCS0

  -79dBm at MCS1

  -77dBm at MCS2

  -74dBm at MCS3

  -70dBm at MCS4

  -66dBm at MCS5

  -65dBm at MCS6

  -64dBm at MCS7

  -59dBm at MCS8

  -57dBm at MCS9

  HT40

  -79dBm at MCS0

  -76dBm at MCS1

  -74dBm at MCS2

  -71dBm at MCS3

  -67dBm at MCS4

  -63dBm at MCS5

  -62dBm at MCS6

  -61dBm at MCS7

  -56dBm at MCS8

  -54dBm at MCS9

  HT80

  -79dBm at MCS0

  -73dBm at MCS1

  -71dBm at MCS2

  -68dBm at MCS3

  -64dBm at MCS4

  -60dBm at MCS5

  -59dBm at MCS6

  -58dBm at MCS7

  -53dBm at MCS8

  -51dBm at MCS9

Modulation schemes

• 802.11a: BPSK, QPSK, 16QAM, 64QAM with OFDM

• 802.11g: BPSK, QPSK, 16QAM, 64QAM with OFDM

• 802.11n: BPSK, QPSK, 16QAM, 64QAM with OFDM

• 802.11ac: BPSK, QPSK, 16QAM, 64QAM, 256QAM with OFDM

Physical Parameters

Dimensions (L x W x H)

• 51 x 49 x 98 mm (2 x 1.91 x 3.85 in)

Weight

• 120 g (0.26 lb)

Operating Environment

Power

• Input: 110 to 240 V AC, 50/60 Hz

Temperature

• Operating: from 0 to 40 °C

• Storage: from -20 to 70 °C

Humidity

• Operating: from 10% to 90% (non-condensing)

• Storage: from 5% to 90% (non-condensing)

Delivery Package

• Extender DAP-1610

• "Quick Installation Guide" (brochure)
הורדות
DAP-1610   AC1200 Wi-Fi Range Extender