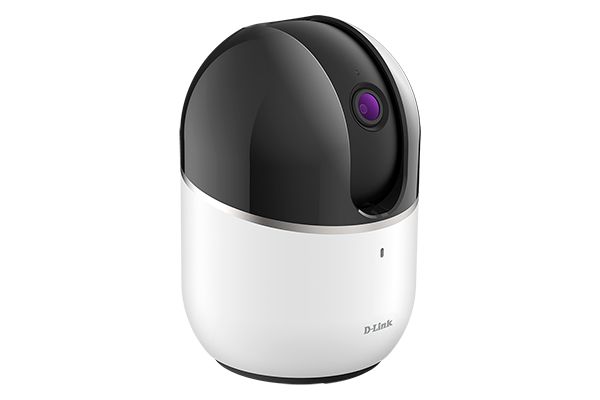 תאור
The DCS-8515LH HD Pan & Tilt Wi-Fi Camera provides a range of features to help you effectively monitor large areas of your home or small office at all hours of the day. The pan/tilt function allows the camera to patrol a wide area, while the built-in IR LEDs provide around the clock surveillance regardless of the lighting conditions. Extra details are captured in 720p high-definition, 1 megapixel resolution and H.264 compression saves space without sacrificing performance. Wireless connectivity means there is no need for additional cabling.
Peace of Mind with 24/7 Monitoring of any Environment
Send notifications with video clips whenever motion or sound is detected using just the DCS-8515LH and an Internet connection. You can select areas of the video image to monitor for motion, allowing you to effectively monitor areas such as entry ways. You can also set volume thresholds to determine the sound level required to trigger a notification, great for detecting the sound of an intruder or vehicle, or the cry of a baby. Night time monitoring is also possible thanks to built-in infrared LEDs which allow for night time viewing of up to 5 meters (16 feet), enabling round-the-clock monitoring of your home or small office. You can also use your phone to block the lens in order to prevent anything from being seen to assure ultimate privacy anytime you want.
Instant Access Anywhere with mydlink
Enhanced with the mydlink app*, the DCS-8515LH makes it easier and more convenient for you to keep an eye on your family, home or office, no matter where you are. You can view your camera's live video through the mydlink app from anywhere using a Wi-Fi or 3G/4G connection, anytime.
Anytime, Anywhere Access with mydlink Cloud Recording
Enhanced with mydlink cloud recording support, the DCS-8515LH makes it easy and convenient for you to look after your family and check up on your home or office. With a mydlink cloud recording subscription, you can have peace of mind with your video recordings sent automatically to a cloud server. Play back recordings from the cloud or download video clips to your mobile device from anywhere, anytime through the Internet. Access real-time live views of your cameras using the mydlink mobile app and set automated schedules via your mobile device, no matter where you are.
Sharp Image Monitoring from Different Angles
By providing you with sharp, responsive pan/tilt movement and digital zoom, the HD Pan & Tilt Wi-Fi Camera gives you full control. You can quickly scan a wide area from a variety of angles, and digital zoom lets you zoom in on specific areas for more detail. The DCS-8515LH can also be set to move to specific preset positions, allowing the camera to focus on particular areas of interest within the surveillance area.
מאפיינים כללים
Hardware Profile 
• 1/4" Megapixel progressive CMOS sensor
• Lens focal length: 2.55 mm
• Aperture: F2.2
• Minimum illumination:
  - 2.2 lux Color mode
  - 1.6 lux Black and White mode
  - 0 lux Black and White mode with IR LED on
• 5 meter smart IR illumination distance
• Built-in Infrared-Cut Removable (ICR) Filter module
• Angle of view (16:9):
  - (H) 96°
  - (V) 53°
  - (D) 120°
• Built-in Microphone
• Built-in Speaker
• microSD slot**
• Pan Range: -170° to +170° (total 340°); 30° per second
• Tilt Range: -10° to +95° (total 105°); 25° per second
Image Features 
• Configurable video resolution
• Configurable sound detection level
• Configurable motion detection windows
Video Compression 
• Simultaneous H.264 format compression
• JPEG for still images
Video Resolution
• Main profile: 720p (1280 x 720) at up to 30 fps 
• Second profile: 360p (640 × 360) at up to 30 fps
Audio Support
• MPEG-2 AAC LC
Wireless Connectivity
• 2.4 GHz: 802.11n/g/b with WPA/WPA2 encryption 
• Bluetooth Low Energy (BLE) 4.0
Network Protocols 
• IPv6
• IPv4
• ARP
• TCP/IP
• UDP
• ICMP
• DHCP-клиент
• HTTPS
• Bonjour
Event Management 
• Motion detection
• Sound detection
• Cloud recording
• SD card recording**
• Manually taken snapshots & video clips are saved to mobile device
• Push notifications
Mobile Support
• mydlink app* for iOS, and Android devices
Physical Parameters
Environment
• For indoor use only
Weight
• Camera: 340 g
• Wall Mount: 11 g
Dimensions  
• Diameter: 88 mm
• Height: 128.5 mm
Power Adapter
• Input: 100 to 240 V AC, 50/60 Hz
• Output: 5 V DC 1.2 A (Micro-USB)
Power Consumption 
• Max. 4.8 watts
Temperature 
• Operating: 0 to 40 °C
• Storage: -20 to 70 °C
Humidity 
• Operating: 20 to 80% non-condensing 
• Storage: 5% to 95% non-condensing
Certifications 
• CE
• CE LVD
• RCM
• FCC
• ICES
*Check device app store for OS requirements.
**Camera is compatible with microSD/SDHC/SDXC cards up to v3.01 with up to 256 GB of capacity. Camera is not compatible with v4.x cards.
הורדות
DCS-8515LH  HD Pan & Tilt Wi-Fi Camera