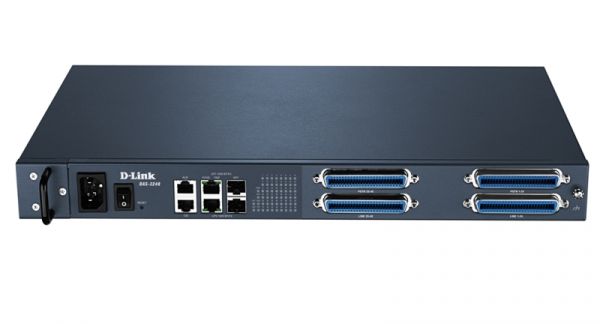 DAS-3248/EA/D1
מיועד לפרויקטים
IP DSLAM עם 48 פורטים ADSL ושתי יציאות משולבות ג'יגהביט/אופטי (SFP)
היכן לקנות
תאור
IP DSLAM DAS-3224 and DAS-3248 enable connection of subscriber equipment technology ADSL. 24-port IP DSLAM DAS-3224 and 48-port DAS-3248 equipped with a built-in splitter POTS. Due to the compact design of DAS-3224 and DAS-3248 can be easily installed in a standard rack height 1U. IP DSLAM DAS-3224 and DAS-3248 both support bandwidth management, traffic prioritization and filtering. In addition, DAS-3224 and DAS-3248 support the mechanism of QoS, necessary for the implementation of services Triple Play. Both devices support standard ADSL / ADSL2 / ADSL2 +. DAS-3224 and DAS-3248 is the ideal solution for network providers offering private and corporate clients with services that require high bandwidth (for example, video streaming, online gaming and Internet telephony).

Broadband subscriber for infrastructure
24/48-port IP DSLAM DAS-3224 and DAS-3248 is ideal for installation in residential apartment buildings, hotels, universities and multi-office commercial buildings. With support for next-generation telecommunications technology DAS-3224 and DAS-3248 enable service providers to deliver efficient, easily configurable, and affordable access to the Internet. Provision of multiple services in one transport network optimizes bandwidth and simplifies the management of network access.

Guaranteed bandwidth through the mechanism of QoS
To ensure the quality of service (Quality of Service) DAS-3224 and DAS-3248 supports 4 priority queues IEEE 802.1p, and DSCP, which allows for a minimum expectation for services that are sensitive to delay, such as voice or video, while traffic is not delay-sensitive services, including Web-traffic or file transfer to be transmitted depending on the available bandwidth.

Mechanism Seamless Rate Adaptation (SRA)
Seamless Rate Adaptation (SRA) - a mechanism for dynamic configuration and settings installed ADSL connection (without additional re-sync with the DSLAM), as defined in the specification ITU-T Rec. G.992.5. When using the SRA, and physical parameters of the speed of incoming and outgoing flows are automatically adjusted depending on the copper line.
מאפיינים כללים
Uplink-interface
2 combo port SFP / GE

network Interfaces
• 48-port ADSL / 2/2 + with built-in splitter POTS / ISDN
• 50-pin Telco (Centronic)
• Signal port (Alarm Relay) RJ-45

Interface ADSL / ADSL2 / ADSL2 +
• Downstream from 32 kbit / s to 25 Mbit / s
• Upstream from 32 kbit / s to 1 Mbit / s
• Compliance with ITU G.992.1 (G.DMT), G.DMT.bis, ITU G.992.2 (G.Lite), ANSI T1.413 issue 2, ITU G.994.1 (G.handshake) for ADSL, G.992.3 for ADSL2 and G.992.5 Annex M for ADSL2 +
• Advanced Power Management (L0, L2, L3) ADSL interfaces to optimize power consumption
• The distance to 5.4 km

Indicator
• Alarm relay (3 in / 1 out)

ATM
• RFC 1483/2684 multi-protocol encapsulation over ATM AAL5
• Automatic detection LLC / VCMUX
• VBR / GFR / UBR / ABR / CBR / VBR-nrt Policing
• VBR / GFR / UBR + / WFQ / UBR / GFR / VBR-nrt Shaping

Bridge
• Filtering traffic by type: tagged / untagged / Any frame
• VLAN Ingress Filtering
• Support Static VLAN and port-based VLAN
• Analysis of the priority value contained in the S-tag / C-tag
• Support for Transparent LAN Service (TLS)

VLAN
• Supports one or two labels
• N: 1/1: 1 VLAN

Switching table
• 16K entries MAC-addresses
• Support for dynamic and static entries
• Forwarding N: 1/1: 1 VLAN

Multicasting
• Up to 256 multicast addresses
• IGMP v1, v2, v3
• Multicast VLAN mapping
• Independent VLAN multicast (IVM)
• Shared VLAN Multicast (SVM)

Speed limit (Policer)
• For broadcast / unknown type of traffic
• ATM VC

QoS
• 802.1p, 4 priority queues
• DSCP

Access Control Lists
• Filtering MAC-address, IP-addresses, the value of Ether Type and port

Supported protocols
• IGMPv1, v2, v3 snooping and proxy
• PPPoE Intermediate Agent
• DHCP L2 Relay - TR101 Appendix B
• 802.1x
• 802.1D STP
• 802.1w RSTP
• SNTP-client
• SysLog-client

Management
• Command Line Interface CLI (RS-232) and management through Web-based interface / SNMP / TELNET
• Software upgrade via HTTP, FTP or TFTP
• Support for SNMP v2