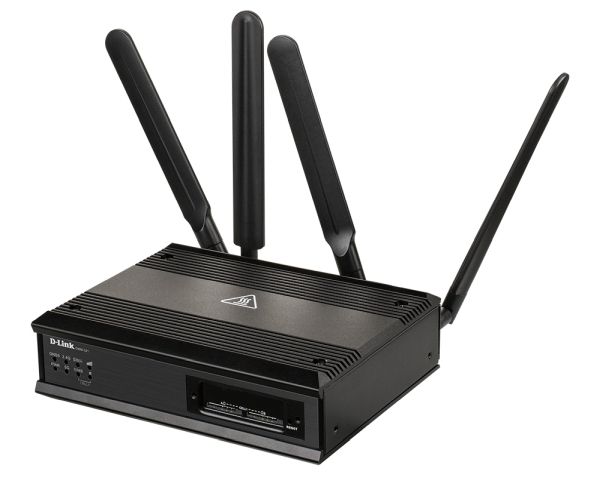 DWM-321
מיועד לפרויקטים
4G LTE Wireless AC1200 Router with One Module for Two SIM Cards and GLONASS/GPS Support
היכן לקנות
תאור
The D-Link DWM-321 wireless router has one LTE Cat. 4 interface and provides 3G/4G connection with up to 150 Mbps downlink speed and up to 50 Mbps uplink speed. The DWM-321 is an in-vehicle hotspot device, which allows passengers to get Internet access with wireless devices. In addition, you can use the DWM-321 to organize meetings, seminars, conferences and other events out of the office. The router has two USIM/SIM slots allowing you to use a USIM/SIM card with the most efficient billing plan and backup mobile connection if one of the mobile operators malfunctions (you can switch to redundant conection through the Web UI).
Versatile Usage
With WAN port and 3G/4G support, the DWM-321 allows you to backup wired connection with mobile connection and vice versa, and provide load balancing. Wide range of operating temperatures (-30 to 70 °C) allows you to use the DWM-321 in harsh environmental conditions.
GNSS Antenna*
You can connect the GNSS antenna* to the DWM-321 and track location of the vehicle and analyse its traffic route in details.
Usage of External Wi-Fi Antenna
The ANT24-CB01N conversion cable is required for connecting external Wi-Fi antenna (excluding ANT70-1400N). The ANT24-CB03N / ANT24-CB06N / ANT24-CB09N extension cables are recommended to use for increasing the distance between wireless device and external Wi-Fi antenna.
The ANT-SP lightning surge protection is recommended to use when installing Wi-Fi antenna outdoors.
* The GNSS antenna is not included in the package contents.
מאפיינים כללים
Hardware
CPU
• MT7621IAT (880 MHz)
DRAM
• 256 MB, NAND
Flash Memory
• 256 MB, DDR3
Built-in Modem
• Quectel EC25-E
Device Interfaces
• One 10/100/1000Base-T WAN/LAN port
• Two 10/100/1000Base-T LAN ports
• Two USIM/SIM slots
• Terminal block with PWR, GND, DI-1, DI-2, DO, IGN, Tx, Rx pins
LEDs
• GNSS
• PWR
• 2.4G
• 5G
• SIM A, SIM B (CELL 1)
Buttons
• Reset button
Antenna
• Two detachable LTE/3G antennas (3 dBi gain)
• Two detachable Wi-Fi antennas (5 dBi gain)
• Two SMA Female connectors for LTE/3G antennas
• Two SMA Male connectors for Wi-Fi antennas
• One SMA Female connector for GNSS antenna*
Software
WAN Connection Types
• Mobile Internet
• PPPoE
• IPv6 PPPoE
• PPPoE Dual Stack
• Static IPv4 / Dynamic IPv4
• Static IPv6 / Dynamic IPv6
• PPTP
• L2TP
Network features
• DHCP server/relay
• Enhanced configuration of built-in DHCP server
• IPv6 address assignment in Stateful/Stateless mode, IPv6 prefix delegation
• DNS relay
• Dynamic DNS
• Static IP routing
• Ping support from external network side (WAN ping respond)
• SIP ALG support
• RTSP support
• IPv4/v6 support
• VPN/VLAN
• RIP1/RIP2, OSPF**, BGP Routing
• Dual-SIM configuration
• WAN failover
Firewall Features
• NAT
• SPI
• IPS**
• IP Filter
• MAC Filter
• URL Filter
• Packet Filter
• Application Filter
• Content Filter
• DMZ
• Virtual servers
• Authentication: Captive Portal**
VPN
• IPsec/PPTP/L2TP pass-through
• OpenVPN**
• PPTP/L2TP tunnels
• GRE/EoGRE tunnels**
• IPsec tunnels
- Transport/tunnel mode
- IKEv1/IKEv2 protocol support
- DES encryption
- NAT Traversal
- DPD protocol support (Keep-alive feature for VPN tunnels)
Management and Monitoring
• Local and remote access to settings over SSH/TELNET/WEB (HTTP/HTTPS)
• Configuration and management Web interface in English
• Router firmware upgrade through Web interface
• Save and download configuration
• Event log transfer to remote server
• Automatical synchronization of system time with NTP server and manual configuration of date and time
• Ping utility
• Traceroute utility
• Schedules for MAC filter rules and automatical reboot
• SNMP agent (SNMPv2/v3 protocol)
Operation Modes
• AP**
• Router
• WDS**
• WDS AP**
LTE Module
4G LTE Module
• One 4G LTE module
4G Connection Speed***
• Downlink speed: 150 Mbps
• Uplink speed: 50 Mbps
Frequency Range****
• LTE FDD: B1/B3/B5/B7/B8/B20
• LTE TDD: B38/B40/B41
• WCDMA: B1/B5/B8
• GSM: B3/B8
Features
• Automatical connection to available type of supported network (4G/3G/2G)
• Automatical configuration of connection when inserting SIM card
• Enable/disable checking of PIN code, PIN code changing
• SMS sending, receiving, reading and deleting
• Support of USSD requests
Wireless Module
Wireless Standards
• IEEE 802.11n/ac
• IEEE 802.11b/g/n
Frequency Range
• 2400 ~ 2483.5 MHz
• 5150 ~ 5350 MHz
• 5650 ~ 5850 MHz
Wireless Security
• WEP
• WPA/WPA2
• WPA/WPA2-PSK
• MAC Filter
• 802.1x authentication
Additional Features
• WMM (Wi-Fi QoS)
• Information about connected Wi-Fi clients
• Wireless speed restriction
Wireless Speed
• Up to 867 Mbps – 5 GHz
• Up to 300 Mbps – 2.4 GHz
Physical Parameters
Dimensions (L x W x H)
• 160 x 125 x 47 mm
Power
• 9 V DC/ 2 A to 36 V DC/ 0.7 A +/-5%
Temperature
• Operating: -30 to 70°C
• Storage: -40 to 85°C
Humidity
• Operating: 10% to 95% non-condensing
• Storage: 0% to 95% non-condensing
Certifications
• RoHS
* The GNSS antenna is not included in the package contents.
** Unavailable for FW version 4.0.5.
*** Data rates are theoretical. Data transfer rate depends on network capacity and signal strength.
**** Supported frequency bands are dependent on regional variants.
הורדות
DWM-321  4G LTE Wireless AC1200 Router with One Module for Two SIM Cards and GLONASS/GPS Support