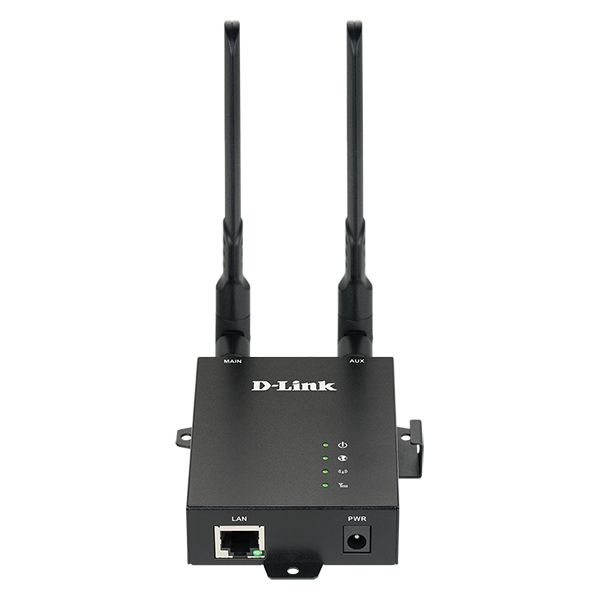 DWM-312
4G LTE M2M Router with one module for two SIM cards
היכן לקנות
תאור
Built-in LTE Modem
The router is equipped with a built-in LTE modem which provides 3G/4G mobile connection with fast downlink speeds of up to 150Mbps and uplink speeds of up to 50Mbps1. 
Security
The router DWM-312 includes a built-in firewall. The advanced security functions minimize threats of hacker attacks, prevent unwanted intrusions to your network, and block access to unwanted websites for users of your LAN.
The SSH protocol support provides more secure remote configuration and management of the router due to encryption of all transmitted traffic, including passwords.
In addition, the router supports IPsec and allows to create secure VPN tunnels. Support of the IKEv2 protocol allows to provide simplified message exchange and use asymmetric authentication engine upon configuration of an IPsec tunnel.
The router also supports the SkyDNS web content filtering service, which provides more settings and opportunities for safer Internet experience for home users of all ages and for professional activities of corporate users.
Now the schedules are also implemented; they can be applied to MAC filter rules and used to reboot the router at the specified time or every specified time period.
Easy configuration and update
You can configure the settings of the router DWM-312 via the user-friendly web-based interface (the interface is available in two languages – in Russian and in English).
You can simply update the firmware: the router itself finds approved firmware on D-Link update server and notifies when ready to install it.
1Data rates are theoretical. Data transfer rate depends on network capacity and signal strength.
מאפיינים כללים
Hardware

Processor

• MT7620A (580MHz)

RAM

• 128MB, DDR2

Flash

• 16MB, SPI

Built-in modem

• Quectel EC25-E

Interfaces

• 10/100BASE-TX LAN port

• 2 slots for SIM card (mini-SIM)

LEDs

• POWER

• INTERNET

• NETWORK TYPE

• SIGNAL STRENGTH

• LAN

Buttons

• RESET button to restore factory default settings

Antenna

• Two detachable LTE/3G antennas (3dBi gain)

• Two SMA Female connectors for LTE/3G antennas

Power connector

• Power input connector (DC)

Software

WAN connection types

• Mobile Internet

Network functions

• DHCP server/relay

• Advanced configuration of built-in DHCP server

• Stateful/Stateless mode for IPv6 address assignment, IPv6 prefix delegation

• DNS relay

• Dynamic DNS

• Static IP routing

• Static IPv6 routing

• Support of UPnP IGD

• WAN ping respond

• Support of SIP ALG

• Support of RTSP

• Autonegotiation of speed, duplex mode, and flow control/Manual speed and duplex mode setup for Ethernet port

Firewall functions

• Network Address Translation (NAT)

• Stateful Packet Inspection (SPI)

• IP filter

• IPv6 filter

• MAC filter

• URL filter

• DMZ

• Virtual servers

• Built-in SkyDNS web content filtering service

VPN

• IPsec/PPTP/L2TP/PPPoE pass-through

• PPTP/L2TP/GRE tunnels

• IPsec tunnels

  - Transport/Tunnel mode

  - IKEv1/IKEv2 support

  - DES encryption

  - NAT Traversal

  - Support of DPD (Keep-alive for VPN tunnels)

Management and monitoring

• Local and remote access to settings through SSH/TELNET/WEB (HTTP/HTTPS)

• Bilingual web-based interface for configuration and management (Russian/English)

• Notification on connection problems and auto redirect to settings

• Firmware update via web-based interface

• Automatic notification on new firmware version

• Saving/restoring configuration to/from file

• Support of logging to remote host

• Automatic synchronization of system time with NTP server and manual time/date setup

• Ping utility

• Traceroute utility

• TR-069 client

• Schedules for MAC filters rules and automatic reboot

• SNMP agent (SNMPv2/v3)

LTE Module Parameters

LTE connection rate1

• Downlink: up to 150Mbps

• Uplink: up to 50Mbps

Supported frequencies2

• LTE FDD: B1/B3/B5/B7/B8/B20

• LTE TDD: B38/B40/B41

• WCDMA: B1/B5/B8

• GSM: B3/B8

Functions

• Auto connection to available type of supported network (4G/3G/2G)

• Auto configuration of connection upon plugging in SIM card

• Enabling/disabling PIN code check, changing PIN code

• Sending/receiving/reading/removing SMS messages

• Support of USSD requests

Physical Parameters

Dimensions (L x W x H)

• 70 x 93 x 24 mm (2.76 x 3.66 x 0.92 in)

Weight

• 210 g (0.46 lb)

Operating Environment

Power

• Output: from 5V / 2A to 18V / 0.7A DC

Temperature

• Operating: from -20 to 60 °C

• Storage: from -40 to 85 °C

Humidity

• Operating: from 5% to 85% (non-condensing)

• Storage: from 0% to 95% (non-condensing)

Delivery Package

• Router DWM-312
• Two detachable LTE/3G antennas

• Power adapter DC 5V/2A

• "Quick Installation Guide" (brochure)
1Data rates are theoretical. Data transfer rate depends on network capacity and signal strength.
2Supported frequency bands are dependent on regional variants.
הורדות
DWM-312  4G LTE M2M Router with one module for two SIM cards