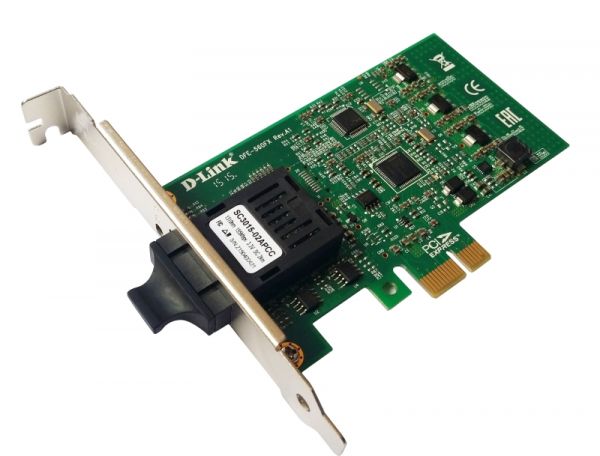 DFE-560FX
מתאם רשת PCI Express אופטי (SC)
היכן לקנות
תאור
DFE-560FX - network adapter is an optical connector SC-providing effective computer is connected to a Fast Ethernet network via an optical cable. The adapter is designed for the PCI Express bus and transfers data at a rate of 200 Mbit / s in full duplex mode. Supporting advanced features including priority queues and VLAN, this adapter is an ideal solution for applications demanding bandwidth, such as IP-telephony and video conferencing.

High performance and reliability
Adapter DFE-560FX allows to establish a reliable connection to the computer via an optical link. It can help you manage power workstation or a server from Fast Ethernet switch via fiber-optic connection. Ability to work with a data rate of 200 Mbit / s in full duplex mode, this adapter is suitable for use in environments with high electromagnetic interference, providing a multimode fiber optic cable to connect to the switch, located at a distance of 2 km. In the Bus Master PCI Express 1.1 Adapter DFE-560FX provides maximum performance. In the Bus Master data is transmitted to the speed multimegabitnoy directly between the adapter and the node bypassing the CPU, thus reducing the burden on him.

Flow control to minimize packet loss
DFE-560FX supports embedded flow control provides a means to protect data during transmission over the network. When connected to a switch Fast Ethernet, supports flow control, the adapter during peak receives signals from the switch regarding buffer overrun. The adapter delays transmission until until it receives a signal from a switch on its readiness to accept data.

VLAN to improve performance and safety
The network adapter supports IEEE 802.1Q VLAN, allowing you to create multiple subnets for each server or computer and isolate devices within each VLAN from the rest of the network to improve security and traffic control.

Optional remote boot PXE Boot
Network administrators can choose the scheme secure remote boot servers for diskless workstations using PXE (Pre-boot Execution Environment) from Intel. Workstations installed in the appropriate connector adapter boot ROM can load the operating system such as Windows, Linux and NetWare, installed on the server in order to run applications designated by the administrator.
מאפיינים כללים
Connector
• Optical connector SC-type

Indicators
• Connection
• Activity (Tx / Rx)

Standards
• IEEE 802.3u 100Base-FX
• IEEE 802.3ah 100Base-LX10 / -BX10
• 802.3x Flow Control
• IEEE 802.1Q VLAN tag-based, 32 groups
• PCI Express 1.1 (2,5 GT / s)
• Advanced Configuration and Power Interface (ACPI) v.1.0

Data rate
• 200 Mbit / s (full duplex)

Network cable
• 62,5 / 125 microns, or 50/125 micron multimode fiber optic cable (up to 2 km in full duplex mode)

Buffer RAM
• 2 KB FIFO for reception
• 2 KB FIFO for transmit

Flow Control
• IEEE 802.3x Flow Control in full duplex mode IRQ
• A dedicated system

I / O address
• A dedicated system

Location Boot ROM
• Check the BIOS

Supported servers download
• Intel PXE 2.1 Boot
• iSCSI Boot

Driver Support
• Microsoft Windows 8 32/64-bit
• Microsoft Windows 7 32/64-bit
• Microsoft Windows Vista 32/64-bit
• Microsoft Windows XP 32/64-bit
• Microsoft Windows Server 2012
• Microsoft Windows Server 2008
• Microsoft Windows Server 2003
• Microsoft Windows 2000
• Windows XP Embedded and KITL (sample drivers available for post-production)
• Windows CE (the sample driver)
• RHEL 4.6 / 5.1
• Linux kernel 2.4.36.2 - 2.6.24
• SLES 9 SP4 - 10 SP1
• DOS NDIS2
• FreeBSD 7.0
• SCO OpenServer / Unixware 7.1.x
• Novell Netware 6.5
• PXE Boot and iSCSI Boot
נתונים פיזיים
Sizes
• 115 x 69 mm

Power consumption
• Max. 0.5 W

Temperature
• Working from 00 to 400 ° C
• Storage: -250do 550C

Humidity
• Operating: 5% to 90% non-condensing

Certifications
• CE
• FCCClass B