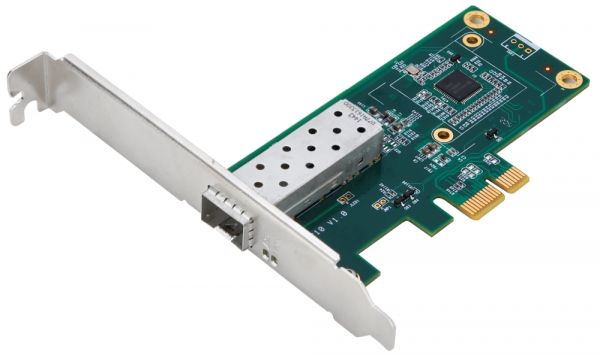 DGE-560SX
Single Port 1000Base-X SFP PCI Express Adapter
היכן לקנות
תאור
The high performance DGE-560SX PCI Express Gigabit Ethernet Network Adapter offers increased bandwidth and connection reliability than standard PCI network cards. This adapter supports data rates of up to 2 Gbps over fiber optic cable in full-duplex mode, eliminating the bottleneck that exists in 32-bit and 64-bit PCI bus architectures.
802.1Q VLAN Tagging
The DGE-560SX supports the onboard screening of 802.1Q VLAN Tagged Ethernet frames, allowing to create several subnets for each server and isolate devices within each VLAN from the other part of a network for security enhancement and traffic management.
Power Saving
The DGE-560SX supports power saving mode in your network. This adapter is compliant with IEEE 802.3az Energy-Efficient Ethernet and reduces the power consumption when network utilization is low.
Advanced Features
With support of such advanced features as 802.3x Flow Control and Jumbo frame, the DGE-560SX can easily interoperate with your current networking equipment. The DGE-560SX also supports 802.1p Priority Encoding.
מאפיינים כללים
Chipset
• Intel I210
Interfaces
• One 1000Base-X SFP port
Installation slot
• PCI Express x1
LEDs
• Link/Activity
Standards and Functions
• IEEE 802.3z 1000Base-SX
• IEEE 802.3z 1000Base-LX
• IEEE 802.3az Energy-Efficient Ethernet
• 802.3x Flow Control
• PCI Express 2.1 compliant
• 9.5 KB Jumbo Frame
• 802.1p Priority Encoding
• 802.1Q VLAN Tagging
• PXE boot and iSCSI boot
• WOL (Wake-on-LAN)
Duplex Mode
• 2 Gbps (full-duplex)
OS Support
• Microsoft Windows 10 (32/64), 8/8.1 (32/64), 7 (32/64), Vista (32/64), XP (32/64), 2000
• Microsoft Windows Server 2012, 2008 R2, 2003 (32/64)
• Mac OS 10.x (up to 10.9)
• Linux 2.4.x (up to 3.5)
Physical Parameters
Dimensions
• 107 x 54 mm
Bar Dimensions
• 121 x 22 mm
Max. Power Consimption
• 330 mW
Temperature
• Operating: 0 to 40 °C
• Storage: -20 to 70 °C
Humidity
• Operating: 10% to 90% non-condensing
• Storage: 5% to 90% non-condensing
הורדות
DGE-560SX/D1A  Single Port 1000Base-X SFP PCI Express Adapter